EA: Yeah, That One Steven Spielberg Video Game Is Never Coming Out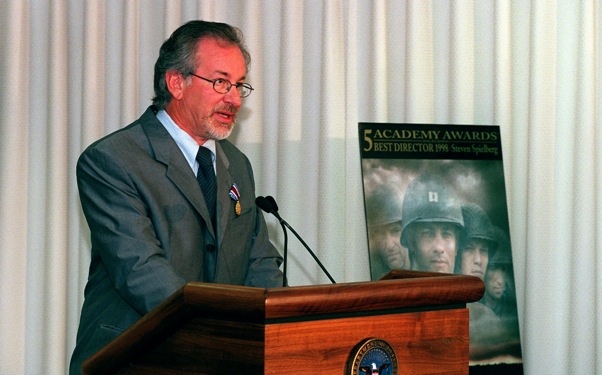 Posted by Evan Narcisse on
Spotting Steven Spielberg at the Electronics Entertainment Expo is kind of like playing "Where's Waldo?" You know he's going to be there; it's just a matter of where you'll see him. The first time I saw him at E3 a few years back, shock ran through me. "One of the greatest filmmakers ever loves video games?!" It's never surprising to see younger I'm pretty sure I saw him in Electronic Arts' massive booth, checking out (I think) a Medal of Honor game before that series got its controversial reboot in the new game that comes out this week. Spielberg actually had a hand in creating the WWII shooter series.
Anyway, it wasn't a surprise, then, when EA announced a partnership a few tears later between their LA development studio and Spielberg to create new video game properties. In the 2005 official statement, Spielberg then said:
"I have been playing EA games for years and have watched them master the interactive format." Spielberg said in a statement. "Having watched the game industry grow from a niche into a major creative force in entertainment, I have a great deal of respect for EA's understanding of the interactive format. I'm looking forward to working closely with the team in Los Angeles."
The first games to bear Spielberg's name were the Boom Blox games for the Wii. Formerly known under the PQRS codename, they were clever physics-based puzzles games with cute characters but not what anyone was expecting from the Spielberg/EA union. What people were really waiting for was LMNO, an ambitious, story-driven sci-fi project that was announced at the same time. A 2007 article from Newsweek–written by one N'Gai Croal–describes the game:
The second game, code-named LMNO and made for Xbox 360 and PS3, can be described as "North by Northwest" meets "E.T." –if E.T. were female, grown up and, um, hot. You don't play as the girl, however. You're an ex-secret agent, and the bond that you forge while on the run with the computer-controlled woman–good, bad, indifferent–determines the nature of her special abilities and the ways in which she'll assist you. Says Spielberg: "The challenge is, can the game have an emotional impact on players while they are actively manipulating the world?" Based on the clever ways in which he and EA are extracting a genuine performance from their digital Eve–complete with eyes that widen, lips that curl and translucent skin that lights up in different colors to express her quicksilver moods–we think Spielberg's got yet another hit on his hands.
But it seems like LMNO–pronounced 'elemental'–will never see the light of day. Developer Jake Kazdal–an industry veteran who worked at the EA LA studio, as well as at Sega and other companies–went on Gamasutra's podcast and told the story of how politics seemingly killed the game. Joystiq further expounds in a post full of other goodies [http://www.joystiq.com/2010/10/11/report-rez-2-prototype-was-in-the-works-project-lmno-canned/]:
Kazdal expanded on the project as it once was, saying, "I don't wanna get the EA police on me. I can't say too much. It was very ambitious. We had a small team — very smart people on it. And we spent a lot of time thinking and talking. And doing some stuff. And it just sort of … I don't know exactly what was the thing that made it fall apart." He further explained the cancellation of the project — a project he claims to have worked on for two and a half years — by saying, "I'm sure anybody you ask is gonna tell you something a little bit different, but it didn't end up ever taking off. There was some rival game stuff that may or may not have come out of EA that was basically the same thing minus some of the stuff we were doing. There was just a lot of politics."
Ironically enough, Kazdal's gone indie and the Skulls of the Shogun game that his Haunted Temple Studios is making has been hotly anticipated ever since showing at the Penny Arcade Expo in Seattle this summer. Chances are, politics won't torpedo this project.