Revived and Derived: "Freaks and Geeks" Ep. 18, "Discos and Dragons"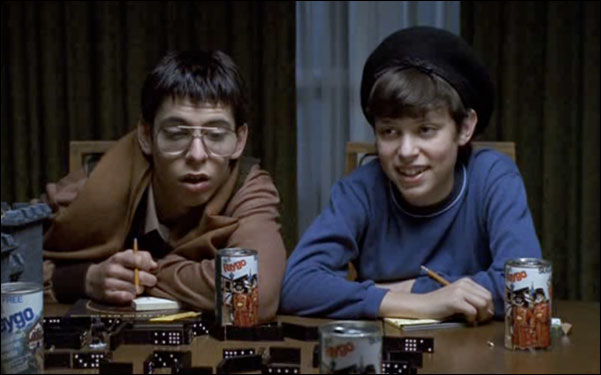 Posted by Alison Willmore on
"Freaks and Geeks" is now airing on IFC, and we thought we'd take this opportunity to revisit the show that launched a thousand bromance movies. Every week, Matt Singer and Alison Willmore will be offering their thoughts on that night's episode.
Episode 18
Discos and Dragons
Written by Paul Feig
Directed by Paul Feig
"Hey, I agree with you, man. That place sucks! And you're right — they're closing the disco next week and bringing in foxy boxing. You should come back and check it out. Rock and roll!" — Bouncer
Alison: And so, friends, we come to the end — the end of disco, the end of the McKinley High school year, and the end, regretfully, of "Freaks and Geeks." One of the very few benefits of early cancellation is that everyone knew that that end was coming, and "Discos and Dragons," the series finale, manages to provide a little closure, or at least forward movement, for all of our much-loved characters. Sam, Neal and Bill, along with Harris and Gordon, get consolation with regard to their dire geekiness when Daniel joins them for a Dungeons & Dragons session at which the freak prince, to everyone's surprise (most of all his own), has a great time. Nick finally, reluctantly, moves on from Lindsay, stops smoking pot and settles in with the Hustle and with Sarah (Lizzy Caplan), who seems his perfect match when it comes to throwing oneself alarmingly into a relationship. Ken is affirmed in his faith in the power of rock, Mr. Rosso in the healing power of the Grateful Dead. Kim gets to leave town, at least for the summer, and Lindsay picks a road trip with the Deadheads over the academic summit, well aware that there will be heavy consequences for her actions but not weighed down by regret.
Lindsay starts the show hoping for a boyfriend in Daniel, but she ends it in the company of Kim, the freak who was most hostile to her joining their group and who has become, unpredictably, a good friend. It fits in with the theme of this episode as one of characters ending up in places and with people they'd never have expected — Nick on the dance floor, Lindsay on that VW bus, Daniel at the D&D evening. Most of these storylines start off with characters revisiting familiar complaints. The geeks still don't understand why they get picked on and bullied, Nick may or may not be engaged in his most elaborate attempt yet to win Lindsay's affections, and Lindsay is once again embarrassed by and uncomfortable with her own advantages. But this time these plots seem to actually hold the promise of significant change.
Lindsay's conversation with Mr. Rosso about the summit sums up the amusing awkwardness of her situation and her unwanted prize: "How can I be in the top one percent? I don't study that much! Are the kids in Michigan schools that stupid?" "No, you're just that smart!" No matter how much Lindsay tries to escape her Mathlete past, her smarts shine out from under that army jacket — she can't seem to break free from her bright future. And the academic summit, with its prestige, its competition, its workload — it's everything old Lindsay would have fit right in with, and everything new Lindsay wants to avoid at all costs. She understands attending would be good for her, and that it's an offer most people would be happy to get, and Kim, already weary from listening to Daniel's woes, calls Lindsay out on her self pity, noting "you get to leave. I don't."
It's really Kim's observation of how unlikely it is that she'll ever get out of town that prompts Lindsay's decision — the tension running through her friendship with the freaks as, over episodes, it's grown into something genuine has always been due to the awareness that she's going to end up leaving them behind, heading to a college and opportunities they don't have open to them. Lindsay makes a choice that's not just about her wanting to become someone else, it's about helping a friend, and also simply relishing in the bright, irresponsible joy of youth, of friends, of dancing to music you love and having a good time. That goodbye to her family, and poor smitten Neal, is so intensely bittersweet because, well, it's never that easy. She's about to betray her parents' trust and hurt them like she's never before. But for the moment it's summer, the road and Jerry Garcia await, and you never expected things to end entirely happy in this show, did you?
Matt, I'm sure you're dying to discuss the magical disco stylings of Eugene, but before that I have a broader question for you. "Freaks and Geeks" is, as the title promises, the story of two outcast social groups by way of the two Weir siblings. While I imagine the creators' backgrounds fell more in line with those of the geeks (and feel free to correct me there), it seems to me the series skews more in favor of the freaks and Lindsay in terms of prominence, possibly because Lindsay's arc has proven more complicated. Do you agree?
Matt: I don't know, I think "Freaks and Geeks" has done a pretty good job of balancing its two halves. "Discos and Dragons" has two extremely poignant freak storylines — Lindsay leaves home for the summer, Nick resigns himself to an unhappy life without her — but some of the saddest moments of the episode belong to our resident nerds, who are warned by their A/V teacher than they should not expect their revenge for a long time to come. "I'm sick of being called a geek!" moans a frustrated Sam after a bunch of jocks knock all his books out of his hands. That would be a depressing line in any episode but it's a double bummer in a series finale. You won't be called a geek for long, Sam. Your show's getting canceled.
Before it says goodbye, "Freaks and Geeks" reminds us what it was here to do. Notice how much of "Discos and Dragons" is about how art can provide a means of escape from our terrible lives. Sam's stuck being a geek for at least a few more years, but he can comfort himself with a 16mm print of "Monty Python and the Holy Grail." Lindsay might not know what she should do over the summer, but listening to the Grateful Dead's "American Beauty" makes her smile. That's what great art like "Monty Python" or "American Beauty" or "Freaks and Geeks" does: takes us away from our troubles and reminds us we're not alone.
So much of "Discos and Dragons" is about that idea of escape: as Lindsay contemplates a summer away from home, Kim reminds her that some of her friends will be Norsemen for life, and the geeks find a way out of their troubles playing Dungeons & Dragons. Many of the best "Freaks and Geeks" storylines were about characters in search of their identity, and here's another one: as Daniel, forced to become a member of the McKinley A/V squad, joins the geeks for a game of D&D where he invents a new persona: Carlos the Dwarf.
Since we never got to see another episode, we'll never know if it sticks. But it shouldn't be too surprising that Daniel takes to D&D, and not just because dungeon master Harris predicted he'd like the game when the two had a heart to heart back in "Looks and Books." For all of Daniel's good looks and dirtbag swagger, he's just as powerless as the geeks; they can't stop their bullies, he can't pass a math test. After one frustration after another — he can't even thread a projector properly — no wonder its exciting to save a princess. As Gordon puts it, in a line that's actually a lot darker than it first appears, the best part of D&D is "you get to pretend to be someone you can't be in real life."
This is our last chance to talk about "Freaks and Geeks," so it feels like we should be tying a bow around the series. Alison, my gut tells me I need to ask you what your favorite episode or character was, or what you think you'll remember most about this series in 25 years. But "Discos & Dragons" such a rich episode that we've got so much more to talk about, particularly Nick's uber-depressing storyline about catching some "Saturday Night Fever." So, for your last trip to McKinley, I'm letting you decide. What do you want to talk about?