Disc Covering: "Wrong Side of Town," A Match Made in DTV Heaven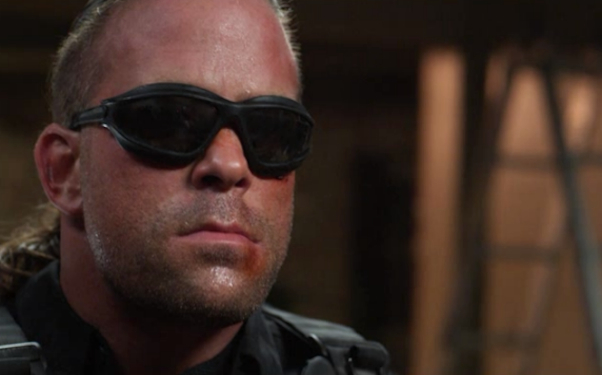 Posted by Matt Singer on
Wrestlers and DTV movies are made for each other (I've covered one such pairing in this column before). Most of these straight-to-DVD movies are just schlock action soap operas, and what is wrestling if not schlock action soap operas in front of a live studio audience? Even if they don't have much acting experience, wrestlers already have all the other necessary prereqs: lots of practice in front of the camera, the ability to do their own stunts, and built-in believability as ass kickers. Take a guy like Dave Bautista, former WWE Heavyweight Champion and the top-billed actor in "Wrong Side of Town." Do I want to see him in "Death of a Salesman?" No. Can he handle a story about two former Navy SEALS trying to survive after a bounty is placed on their heads? Absolutely.
Now that I think about it, I kind of do want to see Bautista's "Death of a Salesman." John Cena can play Biff.
Wrong Side of Town
Directed by David DeFalco
Tagline:"Who Wants to Die First" (NOTE: That's not a typo; the tagline is a question that doesn't include a question mark. Which I guess makes it a statement. This movie wants to die. Or maybe the cast does. Let's call it all of the above.)

Tweetable Plot Synopsis: A current professional wrestler plays a former Navy SEAL on the run on the "wrong side of town" after a gangster puts a bounty on his head.
Biggest Success: Want to see how to show a character's a scumbag in the shortest amount of time possible? Check out how "Wrong Side of Town" introduces Ethan (Ross Britz). After reading a porno mag, he takes out some coke and uses his oversized crucifix bling to shovel it into his nose. It takes maybe six seconds and zero lines of dialogue. Porno mag. Cross coke spoon. Snort. Done. This guy is bad news. Now that's narrative economy.
Biggest Failure: Once again we see that in the world of straight-to-DVD, there is very little truth in advertising. The "Wrong Side of Town" box art promises a lot of Dave Bautista, who gets top billing and central placement. But Bautista is "Wrong Side of Town"'s Billy Zane — he's got a brief scene with the film's real star, wrestler Rob Van Dam, where they allude to a shared past as Navy SEALS, another where he sells RVD out to some thugs and then changes his mind (by announcing "I've changed my mind!"), and another at the climax where he randomly knife fights a guy who also only appears in like three scenes. Oh, don't expect to see Ja Rule very much, either; he's in this even less.
Aren't there laws against this sort of thing? And if there aren't, isn't it just bad business practice? Maybe in the short-term it nets you a few extra rentals from curious browsers. In the long-run, you've killed the actor's brand, by teaching the audience to be wary of their name on a DVD box. It just doesn't seem smart.
Best Moment: Any moment Dave Bautista appears on screen with his teeny tiny gun. Bautista, according to his Wikipedia page, is 6 foot 6 inches and weighs 290 pounds. His neck is thicker than my torso. So why in the world did they give him that tiny little gun? He can barely hold it in his enormous hands! It looks like a teenager trying to shoot his baby brother's water pistol. He's giant Dave Bautista! They couldn't find this guy a rifle?
Sharpest Dialogue: "Wrong Side of Town"'s screenplay, by director David DeFalco, is loaded with dialogue of the kind you only find in weird DTV: stuff that's so divorced from the way people speak that it borders on the unintentionally poetic. Plus it's given an even more mesmerizing quality by the leaden, affectless, am-I-bored-or-did-I-take-too-much-Nyquil delivery of star Van Dam. Some highlights:
"I would love to stay and chat, but my empire calls."
"I'm not a meathead, I went to community college!"
"I love you too, Daddy. Go kick their asses!"
"He wasn't my brother. He was my son! He was my SON!"
You hear that Robert Towne? You just got served.
I Question: Rob Van Dam's near-instinctual ability to know that his wife is in trouble. Let me post a hypothetical situation to you: let's say you're out on a double date. The two women go to the restroom together, the men stay at the table. A few minutes later, one woman comes back and says that the other left the restroom before her, but hasn't turned up. What would you do? Probably assume she had to make a phone call or bumped into someone she knew in the club or just got lost. You'd wait a couple minutes, and if she didn't show up then, you'd go look for her.
Not Rob Van Dam. The instant his neighbor comes back from the bathroom without his wife, he leaps into acting, running around this club, banging down doors looking for her. And, of course, he's right! His wife is getting attacked by Ethan, the sleazy cross-coke gangster. But how did he know she wasn't just dawdling? Is his wife a stickler for promptness? Does he have a supernatural "RVD sense" that alerts him to danger?
Worthy of a Theatrical Release? No. But this is a perfect agreeable home viewing option with dopey, charming actors and dopey, charming action. Yet another fine combination of wrestlers and straight-to-DVD (the film is also available on Netflix Watch Instantly).
For Further Viewing: watch Dave Bautista on the set of "Wrong Side of Town." My favorite line: "It's really cool being behind-the-scenes, watching how things are shot, seeing all the stunts. A lot of it's actually really dangerous. We're not really using stuntmen." Watch your back Dave! And if anyone gives you any guff, just come at them with your itty bitty machine gun.