Disc Covering: "I Think We're Alone Now," With Two Very Interesting People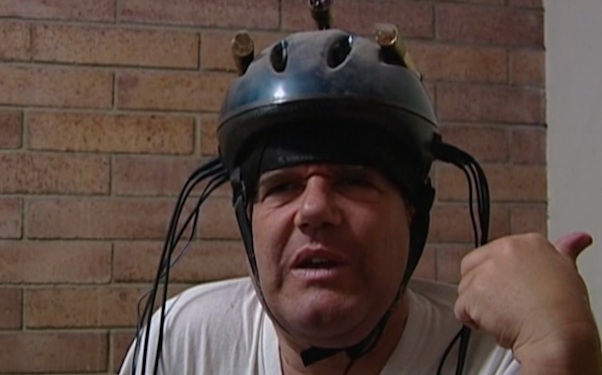 Posted by Matt Singer on
Human beings are bundles of contradictions. This week's direct-to-DVD column is about a film that explores one contradiction fundamental to human life: our need to belong and fit in within a peer group on the one hand, and the need to feel like we're special and stand out from the people around us on the other. It's a documentary about two fans of the '80s pop star Tiffany, though fans is too soft a word (and stalker may be too hard a word, since they don't want to hurt Tiffany, just feel like she cares about them as deeply as they care about her).
Both of these people — a middle-aged man with Asperger Syndrome and an intersex woman in her thirties — are outsiders who have difficulty fitting into society. Becoming fans of Tiffany in the 1980s, when she was the epitome of the mainstream, was an attempt to be included in that society. Maintaining that fandom well into the 2000s and keeping up that fandom to the point that you know everything about her speaks to a need to feel unique: to be the best and biggest Tiffany fan in the world. So what happens when two "best and biggest" Tiffany fans meet? Tension, my friends. Sweet, fascinating tension.
I Think We're Alone Now
Directed by Sean Donnelly
Tweetable Plot Synopsis: Interesting & kinda terrifying doc about 2 stalkerish fans of the '80s pop icon Tiffany. Yes, apparently some people still care about her.
Biggest Success: Director Sean Donnelly has two fascinating subjects here: Jeff Turner, who's been the past recipient of restraining orders from Tiffany because he's done things like tried to give her a samurai sword, and Kelly McCormick, whose passion for all things Tiffany began after she had a vision about her during a coma after a near-fatal bike accident. But these characters' frequently aberrant behavior could very easily make them the subject of ridicule, and turn "I Think We're Alone Now" into a freak show. Thankfully, it is not. Donnelly manages to capture Turner and McCormick for good and for bad, and his camera is always sympathetic and never judgmental (though it's occasionally embarrassed). It's a moving portrait of two troubled people, a scary look at the dark, unhealthy side of fandom, and, yes, an occasionally funny story about the weird things they're prone to do. (Sorry Jeff. Watching you strap on your "radionic psychotronic device" to commune spiritually with Tiffany cracked me up.)
Best Moment: Hard to pick one. The movie is just over an hour long, and many moments standout as perfect encapsulations of the characters' warped worldviews. Maybe the most memorable is Jeff's description to his Pastor — in front of the whole church! — of his trip to Glamourcon, which is described on the event's website (which features ads for Playboy products) as a "celebration and marketplace of pin-up art & glamour," but which is described by Jeff as a place to "renew friendships" with "erotic models" and "adult film stars." And as Jeff narrates his experiences at Glamourcon to a visibly uncomfortable man of the cloth, Donnelly shows us his interactions at Glamourcon with several stars including a visibly uncomfortable Tiffany. My reaction to this incredible sequence? Visible discomfort.
I Question: Though "I Think We're Alone Now" is more of a pair of interlocking character studies, it does build to a climax of sorts: Jeff and Kelly meet in Las Vegas to attend a Tiffany concert. The film shows them speaking the telephone for the first time, carrying on an awkward conversation, then meeting in Vegas where they hang out and share a hotel room. The scenes are mesmerizing because of the tension that arises between the two — both want to envision themselves as the alpha dogs of Tiffany fandom, and neither is ready to share her with anyone — but Donnelly never explains how these two hooked up in the first place, and I question whether he didn't connect them himself simply for the purpose of dramatic tension.
Lessons Learned: Never show up to a Tiffany concert early (especially on the West Coast) if you don't want to have a conversation or ten with Jeff Turner.
Worthy of a Theatrical Release? I can certainly understand why the film didn't get one — it's barely over an hour and it's portrait of fandom is about as bleak, depressing, and uncomfortable as any documentary you will ever see. This is no "Trekkies" where it's cute to run a Star Trek dentistry or spend all your money on action figures. Jeff and Kelly have Tiffany and almost nothing else. They live alone on disability, have very few friends, and wait for the day when Tiffany will realize that she's meant to be with them. But that's exactly what makes this film worthy, if nothing else, of viewing by a wider audience regardless of the platform (and, hey, if you've got Netflix, you can watch it instantly right now). I guess we can just chalk that up to another contradiction.
For Further Viewing: watch Jeff Turner's reaction to watching "I Think We're Alone Now" for the very first time.