Disc Covering: "Fred: The Movie," A Lot Like Fred: The YouTube Clips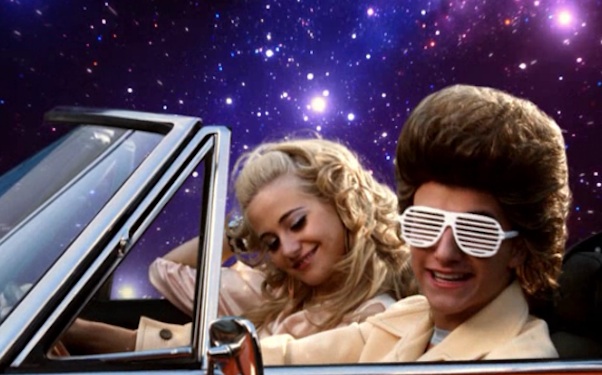 Posted by Matt Singer on
Fred is the biggest star on YouTube. His channel was the first in the site's history to hit a million subscribers. One of his videos, "Fred Tries to Ride a Bike," has been viewed 14.5 million times; that's a million more viewers than HBO had for the premiere of "Boardwalk Empire."
And until last week, I had never heard of this guy.
Why? Because Fred is a phenomenon amongst kids and I am a very, very old man (at least by their standards). Now Fred (a.k.a. teen actor Lucas Cruikshank) is starring in his first movie, which premiered on Nickelodeon then landed on DVD earlier this month. So how's it play for a fogie who doesn't "get" Fred?
Fred: The Movie
Directed by Clay Weiner
Tagline: "The Epic Journey to Find Judy!"

Tweetable Plot Synopsis: How do you blow up a three minute YouTube short into a feature? Just string like twenty-five of them together. Boom. Done.
Biggest Success: I will give Cruikshank this: he is a passionate performer. On YouTube, Fred is a six-year-old with a bad temper who looks down the barrel of the lens and yells and wails about whatever mega-crisis is bugging him that day (i.e. "Christmas is CREEPY! AAAAAAA!" etc.). In the film, Fred a 15-year-old high school student, but Cruikshank plays him the same way: with a manic energy that makes Jim Carrey look like Ben Stein in "Ferris Bueller's Day Off." His motormouthed delivery — accentuated online by an "Alvin and the Chipmunks"-style vocal effect that the film thankfully chose to leave behind — is like listening to someone on a diet of cocaine and Pixy Stix. Is it annoying? Yes, a thousand times yes. His voice is so high and he's so prone to screaming that I started to get sympathy pains in my vocal chords. But I do think that beneath that surface layer of "obnoxious twerp I'd like to smother with a pillow" there's a kernel of something interesting to Fred, as a symbol of youth culture's growing obsession with self-documentation and their belief that their most trivial problems carry apocalyptic import. And give Cruikshank credit for commitment. Oh boy, is he committed. (Or is it that I'd like to have him committed? I forget.)
Biggest Failure: is the one you probably expect: it's not easy to blow up a viral video into a feature film. "Fred Tries to Ride his Bicycle" is three minutes long. "Fred: The Movie"'s eighty. The character's whole schtick is that he's adorably annoying. But adorably annoying can work for three minutes. For eighty, it's borderline unbearable. It doesn't help that director Clay Weiner and writer David A. Goodman (an executive producer at "Family Guy") don't expand the Fred formula so much as they just repeat it over and over. There is an overarching narrative of sorts — Fred stalking his former next door neighbor Judy (Pixie Lott) — but it's just an excuse for a series of interconnected web shorts. You can almost imagine the titles as they happen: "Fred Tries Sardines," "Fred Rides the Bus," "Fred Hates the Woods," "Fred Thinks Latinos Are From Outer Space," and, of course, "Fred Finds a Pomeranian And Repeatedly Mistakes It For a Squirrel For Reasons I Will Never Understand No Matter How Long I Live."
Best Moment: Fred doesn't know his father. So when he needs fatherly advice, he imagines himself speaking with the father he wishes he had, which just happens to be John Cena, playing himself in a truly funny cameo. His pep talks consists of equal parts crazy wrestler promos and sincere parental concern: he'll put Fred in a headlock and break a vase over his head and then tell him he's got schmutz on his face and lick his finger and wipe it. Cena's movie roles have all been interchangeable, humorless badasses but here he gets to poke fun at his own tough guy images, and it's totally charming. He's only got three scenes, but it's the best he's ever been onscreen.
I Question: the meta joke Goodman throws in making fun of YouTube. Essentially, Fred's quest for his dream girl lands him at a party where he's the butt of everyone's jokes. His cruel classmates film the whole thing with their cell phones and put it on YouTube. Fred finds himself on the site and freaks out as a whopping 43 — no, now it's 51!! — people watch him embarrass himself. Meanwhile in real life, millions of people watch every single Fred video. Cute.
But here's the problem: Weiner translates the language of web videos (pretty successfully, actually) to film in "Fred: the Movie." Fred spends most of his time talking directly to the audience, explaining what's going on. But that in joke makes it clear that Fred's not making his own YouTube videos. Which means that when he's talking "to the camera" he's talking to no one but himself. So he's carrying on these extremely long and detailed conversations with voices in his head. Couple that with his obsessive pining for Judy, which is so insistent and one-sided, and Fred begins to take on creepy dimensions I don't think he's supposed to have. When you think about it, he's actually kind of psychotic. Could the whole film be a subversive take on childhood mental illness disguised as a goofy family comedy? No. But it kind of works as one anyway.
Worthy of a Theatrical Release? No, but I have to imagine Fred's fans would enjoy the film since it's loyal to the aesthetic of the original clips and Cruikshank would do anything for a laugh. I mean anything. It's only a matter of time before the French hail this guy a genius and start holding retrospectives of his work. Who needs "Boardwalk Empire?" Viva la Fred!
For Further Viewing: Check out Fred in action. Again, this got 14.5 million hits on YouTube. 14.5 million.