Cult Classic "Beyond Good & Evil" Coming Back as HD Downloadable Release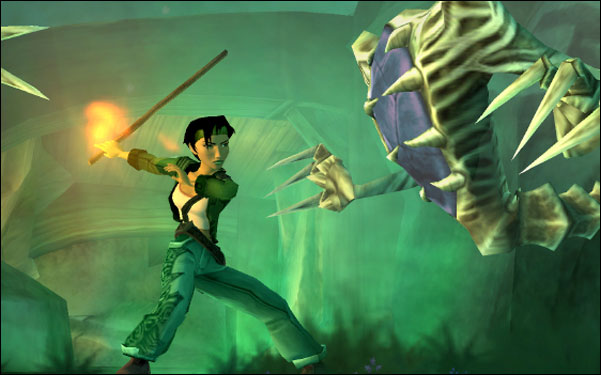 Posted by Evan Narcisse on
I've talked a bit about how difficult it can be to experience great older games once the hardware they appeared on goes out of vogue. Gaming's not like movies where there's a universally supported platform that you can access. PS3s won't all run PSa2 games, and even the ones that do only support a limited list. Same goes for Xbox 360 and the original Xbox games. That's how gems like Ubisoft's "Beyond Good and Evil" all through the cracks.
Mind you, the action-adventure game wasn't a major success when it came out in 2003. But, the critical acclaim and high praise from those who did buy and play it made a game that constantly gets name-checked in the conversations about modern-day video game classics.
Created by the same Michel Ancel and Ubi Montpelier studio that went on to do "Raving Rabbids", "BG&E" didn't offer up any whiz-bang gameplay mechanics. What it did do was tell an affecting story really well with a nice mix of racing, combat, platforming and photography elements. Yes, photography. See, lead character Jade was a close-to-broke photojournalist who kept money in her pocket by taking pictures of planet Hillys' fauna. That one mechanic–running around and taking pictures of animals–powered the game's economic system, but also made you feel deeply connected to the world. Of course, you wanted to save it after all that.
With the announcement that it'll be available next year in a newly polished edition, Ubisoft's giving folks the chance to get into the game when it never looked better. There's a lot more to love about "BG&E," as it boasts lots of humor, a great art style and solid gameplay feel, and I'll probably revisit it more in depth as it gets closer to re-release. No date or price were given, but it will be showing up on the Playstation Network and Xbox Live sometime next year.