Danny Huston is Back in "Black," a Complete "Grindhouse," and More New DVDs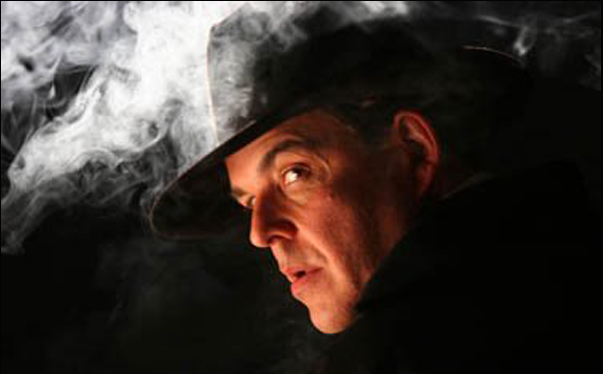 Posted by Stephen Saito on
A look at what's new on DVD today:
"Fade to Black" (2010)
Directed by Oliver Parker
Released by Image Entertainment
It looks like we'll have to update our list of actors who've played Orson Welles with this long-delayed drama from "The Importance of Being Earnest" director Parker, which stars Danny Huston as the "Touch of Evil" auteur who gets caught up in a murder mystery all his own on 1948's "Black Magic" in Italy when he finds out his name is on a hit list. Christopher Walken, Diego Luna and Paz Vega co-star.
"30 Days of Night: Dark Days" (2010)
Directed by Ben Ketai
Released by Sony Pictures Home Entertainment
Rare for a direct-to-video sequel, original author Steve Niles returns to co-write this follow-up to the 2007 graphic novel adaptation about a vampire attack in Alaska. This time, "Lost" star Kiele Sanchez is protecting her neck, along with Diora Baird, Harold Perrineau, Rhys Coiro and Mia Kirshner, to seek vengeance against the bloodsuckers that took her husband.
"Black Mountain Madman" (2010)
Directed by Ryan Marshall
Released by Cyber Pictures
Marshall sends up the slasher flick by heading into the woods of Oregon with five pot-smoking friends who go in search of the legendary local bogeyman.
"Bomber" (2010)
Directed by Paul Cotter
Released by Film Movement
A SXSW selection of 2009, Cotter's road trip comedy centers on an elderly couple whose ne'er do well son joins them on a journey to Germany where the family's patriarch seeks forgiveness.
"Destined to Be Ingested" (2010)
Directed by Sofian Khan
Released by Midnight Releasing
Since the title "Cannibal Holocaust" was already taken for one of the most infamous horror films of all time, producers of this island-set cannibal tale threw out the delightfully redundant "Holocaust Holocaust" in favor of the title you see now for this film about a couple who strike it rich in the stock market and book a cruise that's a one-way ticket into the clutches of a group of people eaters.
"Don't Let Me Drown" (2010)
Directed by Cruz Angeles
Released by Image Entertainment
A veteran of Sundance and Seattle 2009, Angeles sets his romantic drama against the post-9/11 landscape where a Brooklyn-based teen (E.J. Bonilla) meets a young woman (Gleendilys Inoa) whose sister died during the attacks and both find comfort in each other as a safe haven from their overbearing parents.
"'The Evil'/'Twice Dead'"
Directed by Gus Trikonis
Released by Shout! Factory
Roger Corman presents these two '80s-set haunted house flicks in a double feature: "The Evil," starring Richard Crenna as a drug rehabilitation counselor who finds an evil presence in the basement of his new clinic in an abandoned mansion, and "Twice Dead," which sees Todd Bridges and Tom Bresnahan find their new home inhabited by the ghost of a dead actor.
"Fire" (2010)
Directed by Raoul W. Heimrich
Released by Maverick Entertainment
"CSI" alum Gary Dourdan inadvertently becomes the center of a conspiracy when he and his wife apply for a bank loan and are taken hostage by a group of thieves. According to the single quote on the film's poster, Quentin Tarantino thinks it's a "great movie."
"Grindhouse" (2007)
Directed by Robert Rodriguez/Quentin Tarantino
Released by The Weinstein Company
Speaking of Tarantino, his homage to exploitation with Robert Rodriguez is finally being released in the original form it played theaters back in 2007, complete with trailers from Eli Roth ("Thanksgiving"), Rob Zombie ("Werewolf Women of the SS"), and Edgar Wright ("Don't"). For the updated set, Zombie, Wright and Roth have all done new commentaries and director's cuts, not to mention a new installment of Rodriguez's 10-minute cooking school, and making-of featurettes that weren't on the previous separate releases of Tarantino's "Death Proof" and Rodriguez's "Planet Terror."
"The Human Centipede" (2010)
Directed by Tom Six
Released by MPI Home Video
After introducing the world to heretofore unknown surgical procedures, Six's horror film grew from cult status to cultural mass when Stephen Colbert referred to it on this year's Emmys. Now, one can watch the exploits of the crazed Dr. Heiter (Dieter Laser) in the comfort of home, as the German surgeon experiments on two American women whose car breaks down.
"Humphrey Bogart Essential Collection"
Released by Warner Brothers
Blu-ray fans will applaud the coinciding release of "The Maltese Falcon" and "The Treasure of the Sierra Madre" in hi-def for the first time, but for Bogart fans with slightly deeper pockets, Warner Brothers has released this 24-film collection spread across 12 discs, including everything from "The Roaring Twenties" to "Key Largo." The set also includes a collectible book, a bonus disc with newsreels and cartoons from the era and postcards of Bogie one-sheets, among other goodies.
"The Karate Kid" (2010)
Directed by Harald Zwart
Released by Sony Pictures Home Entertainment
One of the surprise hits of the summer, Jaden Smith fills in for Ralph Macchio in this update of the 1984 coming-of-age film that has Smith moving to China to learn kung fu from Jackie Chan's Mr. Han.
"The Last Rites of Ransom Pride" (2010)
Directed by Tiller Russell
Released by Screen Media Films
For some, the mere idea of "Party Down"'s Lizzy Caplan armed with a shotgun as the lead of this western is enough to warrant a rental, but throw in Kris Kristofferson, Dwight Yoakam, Peter Dinklage and Jason Priestley and you've got yourself an intriguing oater about a woman who must bring her dead husband home for burial.
"Listen to Your Heart" (2010)
Directed by Matt Thompson
Released by Osiris Entertainment
Writer/Director/Actor Thompson makes his directorial debut on this drama about a New York singer/songwriter (Kent Moran) whose muse (Alexia Rassmussen) can't hear his music, but finds a more formidable obstacle in her overprotective mother (Cybill Shepherd) who keeps her from pursuing a relationship with the musician.
"Mid-August Lunch" (2010)
Directed by Gianni Di Gregorio
Released by Zeitgeist Films
Even though "Gomorrah" director Matteo Garrone is listed as a producer, expect the only mob presence in this light Italian comedy to be around the dining room table where a middle-aged man (played by writer/director Di Gregorio) is forced to take in his landlord's mother and aunt and his doctor's mother during the holiday of Ferragosto in order to pay off some debts. Di Grigorio earned a Donatello Award for Best New Director in his native country for the film. (Reviews from Alison Willmore and Lisa Rosman are here.)
"A Nightmare on Elm Street" (2010)
Directed by Samuel Bayer
Released by New Line
After directing legendary videos for Nirvana and Green Day, Bayer finally made his feature debut with this update of Freddy Krueger, starring Jackie Earle Haley as the man with the knife gloves who terrorizes the dreams of a group of high schoolers.
"The Oxford Murders" (2010)
Directed by Alex de la Iglesia
Released by Magnolia Pictures
Delayed for so long that Alex de la Iglesia's next film "The Last Circus" is already on the festival circuit, the mischievous Spanish auteur's first English-language foray is finally hitting American shores, with Elijah Wood and John Hurt playing a student and professor who attempt to solve a series of murders that appear to be rooted in mathematical code. (An interview with de la Iglesia is here.)
"The Rig" (2010)
Directed by Peter Atencio
Released by Anchor Bay Entertainment
William Forsythe leads a group of roughnecks to survive the crushing waves of a tropical storm while trapped on an oil rig in this aquatic thriller.
"Rust" (2010)
Directed by Corbin Bernsen
Released by Sony Pictures Home Entertainment
Corbin Bernsen wrote, directed and stars in this religious drama about a minister whose friend is accused in the arson murder that has rattled the town. Behind the scenes, the real Canadian town of Kipling helped finance the film.
"The Secret of Kells" (2010)
Directed by Tomm Moore
Released by New Video
The big surprise of this year's Oscar nominations in the animated feature category, don't expect this "Secret" to be held much longer. Brendan Gleeson is among the vocal contributors to this Irish adventure about the creation of the Book of Kells and the 12-year-old who blossoms under the tutelage of a matter illuminator to give life to the book. (Lisa Rosman's review is here.)
"Splice" (2010)
Directed by Vincenzo Natali
Released by Warner Bros.
Genetic mutation goes horribly awry in this thriller from "Cube" director Natali that stars Adrien Brody and Sarah Polley as the proud parents/scientists behind a new creature out of human and animal DNA that quickly groes into something out of their control. (Bruce Bennett's review is here.)
"Tomboys" (2009)
Directed by Nathan Hill
Released by Dreamscape
The feature debut of Australian actor/director Hill is a revenge thriller involving a group of rape victims who capture their tormentor and then decide whether they'll torture him as much as he did to them.
"The Undertaker" (1988)
Directed by Franco Steffanino
Released by Code Red
In this horror flick from the '80s, Joe Spinell stars as the titular mortician who takes in unwilling customers to keep him company at his funeral home.
"Woke Up Dead" (2010)
Directed by Jon Fasano
Released by Sony Pictures Home Entertainment
Once a series of Web shorts, this Jon Heder-starring comedy has been compiled into a feature-length film with the "Napoleon Dynamite" star playing a college student who believes he's dead after waking up in a bathtub and gets his pal (Josh Gad) to record the days that follow. Krysten Ritter, Wayne Knight and Jean Smart co-star.
New to Blu-ray:
[Additional Photos: "Grindhouse," The Weinstein Company, 2007; "The Oxford Murders," Magnolia Pictures, 2008]