Capcom's Keiji Inafune Wants to Kick Ass, Then Quit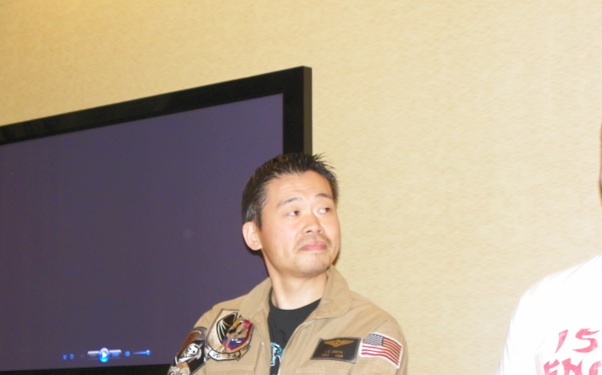 Posted by Evan Narcisse on
Via Kotaku's multilingual Brian Ashcraft comes choice quotes from one Keiji Inafune, given to a Japanese website:
After Inafune talks about challenges and daunting tasks, the interviewer says that the Dead Rising producer seems like he loves his job.

"It's the opposite," he replies. "I hate it! I want to retire early and take it easy."

Continuing, he added that is why he's working so hard now. He says if one likes their work, then they can take it slow. He says he could do, say, a small bit on a game like Dead Rising and then get paid a high salary.

"There are loads of creators like that," Inafune explains. "But I'm not like that. If things are difficult while they are doing it, they can become a leader and a creator."

For Inafune, making games isn't easy. It doesn't even sound like he's having fun. But that's not necessarily a bad thing. The man is working, not playing.
Ironically, Inafune just got a promotion this year to Global Head of Production, a gig that has him overseeing much of the company's development. Capcom's most recent release is the good-not-great "Dead Rising 2," an open-world zombie apocalypse set in a Vegas-style environment. It was developed by Blue Castle Games, a Canadian Studio that Capcom later acquired. The title represents a fusion of Japanese and Western styles that Inafune sees as vital if Japanese games development is to remain relevant.
Inafune's been super-critical of his countrymen, blaming their reliance on formulas as the reason his homeland's lost its dominance on the gaming landscape. Here he is on the New York Times' Bits blog, after the Tokyo Game Show:
Q.: Why do you think Japan is so behind?

A.: A lot of designers, if they find a genre that works for them, they stick with it. A lot of designers just stick to a set formula. That doesn't work any more. You can't just tweak the graphics, work just on image quality. You can't compete on that. The business side is not keeping up with investment. You need to be prepared to invest 4 billion yen or more on a game, and then spend 2 billion yen more to promote it. But Japanese companies can't do that. So we're losing out to the West in terms of investment in games. It's a vicious cycle, a deflationary spiral. Because you don't invest, you can't sell games, and because you don't sell games, you can't invest.

Q.: You've tried to tailor your games more to the West. But sometimes that's been a challenge, like Shadow of Rome. Can you talk more about that?

A.: Shadow of Rome was a failure. We westernized the game in a very superficial way. We simply thought, "If we do this, they're going to like it." But I realized we were being very superficial: to us it was turning eyes blue and changing the hair color. But we needed to go deeper than that. We need to study the West more seriously. So I've started going overseas much more often. I want to find ideas that are global. I don't think that Japanese games can't ever be popular overseas again. But they won't be popular any more in their pure state. It's like sushi. Everyone loves sushi in the West, but you can't just serve sushi over there like it is in Japan. I sometimes go to L.A. and think, "What's wrong with this restaurant's sushi?" But what sells over there is different.
This kind of frank open-mindedness is rare from Japanese developers. Hopefully, Inafune's attitude impacts positively on Capcom's own dev teams and those at rival companies, too.