"Back to the Future" in Blu, Uwe Boll's in "Darfur" and More New DVDs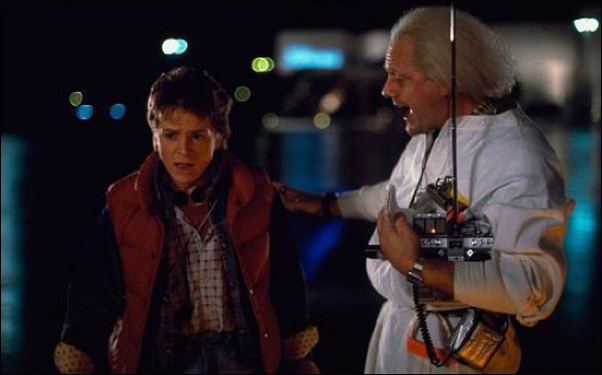 Posted by Stephen Saito on
A look at what's new on DVD today:
"Back to the Future: 25th Anniversary Trilogy"
Directed by Robert Zemeckis
Released by Universal Home Entertainment
Yes, we're finally getting the footage of the original Marty McFly, Eric Stoltz, for the first time, but for many simply having the hi-def version of Robert Zemeckis' time-travel franchise will be good enough. Commentaries, deleted scenes, a full-length documentary and much, much more come on this new set of the trilogy.
"Alien Anthology"
Directed by Ridley Scott, James Cameron, David Fincher, Jean-Pierre Jeunet
Released by Fox Home Entertainment
While not as much of an upgrade over its previous DVD release as "Back to the Future," the Blu-ray update of the four "Alien" films worth owning now boasts isolated scores for each film, all of Ridley Scott's sketches for the first "Alien," the uncut documentary of David Fincher's ill-fated "Alien 3" as well as plenty of new interactive material.
"Altitude" (2010)
Directed by Kaare Andrews
Released by Anchor Bay Entertainment
"Friday the 13th" star Julianna Guill and Jessica Lowndes are part of a group of teenagers forced to fend off an unidentified creature away from their single-engine plane in this high-flying thriller.
"Attack on Darfur" (2010)
Directed by Uwe Boll
Released by Phase 4 Films
After leaving the video game adaptation well dry, Uwe Boll takes a stab at serious subject matter with this action flick starring Billy Zane, Edward Furlong and Kristanna Loken as journalists who must decide whether to stay the course or turn back when their village in Sudan comes under siege.
"Backyard" (2009)
Directed by Carlos Carrera
Released by Maya Home Entertainment
"East Bound and Down" star Ana de la Reguera stars as a policewoman in over her head in Ciudad Juarez where women keep disappearing with disturbing frequency, leading her to go against her bosses' wishes to investigate. Jimmy Smits co-stars in this drama from "The Crime of Father Amaro" director Carlos Carrera.
"Bazaar Bizarre" (2004)
Directed by Benjamin Meade
Released by Troma
James Ellroy hosts this 2004 documentary about businessman by day/serial killer by night Bob Berdella.
"Cannibal Girls" (1973)
Directed by Ivan Reitman
Released by Shout! Factory
One of Ivan Reitman's earliest films has been restored and revived by Shout! Factory, bringing out the best in this $12,000 horror comedy starring "SCTV" stars Eugene Levy and Andrea Martin as a couple who unwittingly check into a bed and breakfast run by flesh eaters. The new disc comes complete with interviews with Reitman, Levy and producer Dan Goldberg and even the film's alternate soundtrack with the William Castle-esque "Warning Bell" sound cues.
"Chaplin at Keystone"
Released by Flicker Alley
Flicker Alley is releaseing this four-disc set comprised of 35 films Charlie Chaplin starred in during his early career at the silent comedy factory Keystone where he began to develop his persona as the Little Tramp. The set includes everything from shorts like "A Busy Day" to the newly restored feature "Tillie's Punctured Romance."
"Chicago" (1927)
Directed by Frank Urston
Released by Flicker Alley
If you liked Rob Marshall's Oscar-winning film about the infamous Roxie Hart murder trial, only without the music, you might want to check out the newly restored 1927 silent version taken from Maurine Watkins' original play, produced by none other than Cecil B. DeMille.
"Chronic Town" (2008)
Directed by Tom Hines
Released by Pathfinder Home Entertainment
After premiering at Sundance in 2008, Tom Hines' dramedy follows an Alaskan cabbie at a crossroads in his life. Familiar faces Paul Dooley, Stacy Edwards and Garry Marshall co-star.
"The Cursed"
Directed by Joel Bender
Released by Otter Creek Motion Pictures
It must be a special film to bring together buff brothers Louis and Costas Mandylor to play brothers onscreen who serve as the sheriff and deputy in a small town where the peace is disturbed by a mysterious stranger with potentially supernatural abilities.
"Dead Outside" (2008)
Directed by Kerry Anne Mullaney
Released by Vanguard Cinema
Although it sounds suspiciously similar to "28 Days Later," Kerry Anne Mullaney spins her own zombie tale on the Scottish countryside as a father (Alton Milne) who lost his wife and daughter to an outbreak six weeks prior who forms a bond with a young girl (Sandra Louise Douglas) as they take shelter in a barn.
"Death Tube" (2010)
Directed by Youhei Fukuda
Released by Cinema Epoch
Japanese director Yohei Fukuda imagines a video sharing site devoted to murder in this horror film about a man who spends his time watching gruesome kills on a site called Death Tube, only to become involved as more than an audience member.
"Flick" (2008)
Directed by David Howard
Released by Peach Arch
Writer/director David Howard's supernatural horror film stars Faye Dunaway as a cop brought back to investigate a series of murders that may have to do with the reappearance of a murder victim from the 1950s who is revived and looks for his girlfriend.
"Fools" (1970)
Directed by Tom Gries
Released by Olive Films
Jason Robards and Katharine Ross star as a pair of mismatched lovers in this 1970 drama.
"Four in a Jeep" (1951)
Directed by Leopold Lindtberg
Released by VCI Entertainment
A winner of the Golden Bear in Berlinale in 1951, Leopold Lindtberg's thriller pits four sergeants from the U.S., France, England and the Soviet Union against their superiors when their mission to capture a Soviet prison escapee is reversed into a plot to set him free when they take sympathy on the prisoner and his wife.
"The Girl Who Played With Fire" (2010)
Directed by Daniel Alfredson
Released by Music Box Films
Daniel Alfredson, the brother of "Let the Right One In" helmer Tomas, takes over the reins from "Dragon Tattoo" director Niels Arden Oplev for this thriller that sees muckraker Mikael Blomkvist working on a story about a sex trafficking ring that will upset Swedish society, but when the story is set to run, a couple of fellow Stockholm journalists are murdered and Lisabeth Salander is the chief suspect.
"Hausu" (1977)
Directed by Nobuhiko Obayashi
Released by Criterion Collection
Although Matt Singer confessed during this year's revival run of Nobuhiko Obayashi's completely lunatic "Hausu" that the film was "ahead of its time in 1977, it's ahead of its time now, and will continue to be ahead of its time until some point in the future when humans communicate telepathically and sleep in nutrient-rich fluid baths," Criterion knows it's been too long for American fans of this Japanese cult favorite to own the surreal adventures of a group of girls who venture into a haunted house unlike any other.
"Hush" (2010)
Directed by Mark Tonderai
Released by MPI Home Video
William Ash stars as a man who can't believe his eyes in this thriller where his girlfriend disappears, leading him into a dangerous chase with a mysterious trucker.
"The Infidel" (2010)
Directed by Josh Appignanesi
Released by Tribeca Film
After years of bit parts in films like "Pirates of the Caribbean" and "The Love Guru," British-Iranian comic Omar Djalili gets a star turn in this comedy about a Muslim cabbie who discovers late in life that he's actually Jewish, leading him to seek out lessons in Judaic ways from his fellow driver (Richard Schiff).
"King of the Avenue" (2010)
Directed by Ryan Combs
Released by First Look Studios
Simon Rex makes a pact with the devil (Ving Rhames) to rule Miami's drug trade, but isn't prepared for the consequences in this thriller. Esai Morales co-stars.
"Kisses" (2009)
Directed by Lance Daly
Released by Oscilloscope Laboratories
Kelly O'Neill and Shane Curry star as Kylie and Dylan, a pair of 10-year-olds who flee the suburbs for the streets of Dublin looking for Dylan's older brother who left home two years earlier after a run-in with their alcoholic father. Shot in spurts over seven months in 2007, the film depicts the burgeoning relationship between Kylie and Dylan as danger grows when night falls. (Matt Singer's review is here.)
"Lake Placid 3" (2010)
Directed by G.E. Furst
Released by Sony Pictures Home Entertainment
To think Bridget Fonda and Bill Pullman once starred in the start of this series years ago and the killer croc problem in Lake Placid still isn't solved. Yancy Butler and Colin Ferguson are the latest duo to try and see what's going on.
"Les Princes" (1983)
Directed by Tony Gatlif
Released by Pathfinder Home Entertainment
Tony Gatlif's 1983 debut finally arrives in the States, telling the story of a family of gypsies living on the fringe of Paris.
"Lynch Mob" (2010)
Directed by Byron Erwin
Released by Virgil Films and Entertainment
While it probably wouldn't be advised to go to a place named Lynchburg, Georgia for starters, that's especially true in this horror film starring Tony Darrow as a recent charge of the witness relocation program who must go back to his criminal ways if he wants to survive in the town full of cannibals.
"Mafu Cage" (1977)
Directed by Karen Arthur
Released by Scorpion Releasing
Lee Grant and Carol Kane play sisters who live together in a dilapidated mansion who see their levels of sanity start to crumble in this psychological thriller from director Karen Arthur.
"Make Out With Violence" (2009)
Directed by the Deagol Brothers
Released by Factory 25
The Deagol brothers' festival favorite that won best narrative feature prizes in Nashville and Oxford is an odd coming-of-age tale of twin brothers who spend the summer trying to revive their friend Wendy from the dead.
"Mentor" (2006)
Directed by David Langlitz
Released by MTI Home Video
MTI Home Video is dusting off David Langlitz's directorial debut from 2006, starring Rutger Hauer as a college professor who becomes too intertwined in a love triangle involving a former and current student (Dagmara Dominczyk and Matthew Davis, respectively).
"Mutants" (2009)
Directed by David Morlet
Released by MPI Home Video
A pregnant woman (Helene De Fougerolles) trudges through a post-apocalyptic world looking for a refuge from the zombies in this psychological thriller from French helmer David Morlet.
"Nice Guy Johnny" (2010)
Directed by Edward Burns
Released by MPI Home Video
Appearing on VOD the same day, Edward Burns writes, directs and stars as a skuzzy uncle in his latest comedy about an aspiring talk radio host (Matt Bush) whose weekend in the Hamptons has potentially life-changing ramifications when he meets a woman (Kerry Bishe) who could sway him from his current fiancee.