AMC Theatres Slashes Screens for "Hatchet II"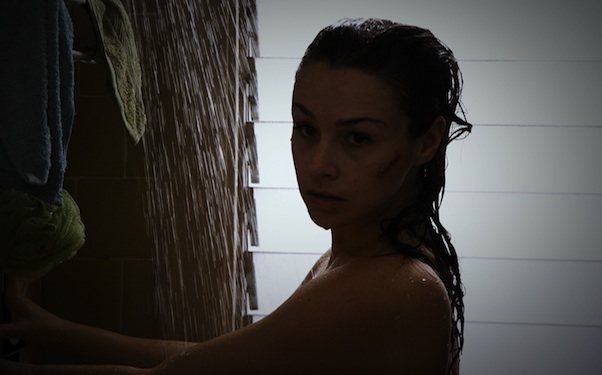 Posted by Matt Singer on
No good dead goes unpunished, not in real life and certainly not in horror films. When AMC Theatres decided to exhibit an unrated slasher movie like Adam Green's "Hatchet II" on 68 of its screens, they must have assumed that showing themselves to be a supporter of independent films and uncensored content would net them some good PR if nothing else. Not quite; when AMC yanked the film after just three days of release due to poor box office performance it set off an Internet firestorm. Green blamed the MPAA, telling Entertainment Weekly that his film's swift exit from movie screens "probably had something to do with the controversy online about an unrated movie playing in theaters." When AMC insisted their move was purely a "business decision," horror fans aimed their bile directly at the multiplex chain: if you've ever wanted to hear a large, multinational corporation described as a bunch of pussies, well, your day has finally come.
Green's problems with the MPAA go back to the first "Hatchet," which was released with an R rating only after repeat visits to the MPAA ratings board. Last week, Green talked about the experience with EW:
"They kept giving the movie an NC-17. There is absolutely no way that movie should have gotten an NC-17. All the gore in it is so ridiculous and over-the-top that you can't take it seriously. It was a terrible, terrible loss when "Hatchet I" came out in theaters. None of the fun stuff that people had been reading about for two years was in the movie anymore. But the MPAA is notoriously hard on independent movies… [They] are a very big and powerful — even though they're evil — organization. But if people support this, and we make enough noise at the box office, it will change the game for the genre. That's when it'll be a win. It's up to the fans now to support this, so it isn't all in vain, and we can start to change the system. I'm really hoping for a [box office] miracle."
Green and his marketers pinned their hopes for that miracle on AMC, and an ad campaign specifically tied to "Hatchet II"'s lack of a rating (I saw posters for the film at Fantastic Fest that even used the tagline "Support Unrated Horror"). If nothing else, "Hatchet II"'s $52,000 weekend gross proves that turning a gory, tongue-in-cheek slasher movie into a referendum on free speech isn't a shortcut to box office gold. Those "uncut and unrated" slogans are on DVDs because people want to see extreme blood and guts, not because they're looking to strike a blow against organized censorship. They're horror fans, not freedom fighters.
Given Green's history with the MPAA his attempts to scapegoat the organization for "Hatchet II"'s problems aren't surprising. And there's no question the film would have made more money if it had gotten an R rating (I haven't seen the film, so I can't comment on whether or not it deserved one). But to suggest that there's some sort of Star Chamber conspiracy demanding AMC get rid of "Hatchet II" is absolutely ludicrous, especially given the film's low grosses and even lower per screen average (PSA) of just $775 a screen. When a massive success starts vanishing from theaters, you cry conspiracy. When an underperformer does, it's an unfortunate but understandable business decision.
Some observers online cited the fact that AMC did not remove the R-rated horror film "Chain Letter" from its multiplexes (even though it had a lower PSA than "Hatchet II") as further evidence of said conspiracy. But as John Campea, a writer for AMC's Script to Screen blog, pointed out on his (currently very heated) Formspring page, "Chain Letter" had contracted with AMC for a "standard release" which guarantees at least a week's run in theaters. "Hatchet II" did not.
There are lessons here. First: in situations like this, independent filmmakers should get a guaranteed run in writing whenever possible. But separate from that, and maybe most importantly, they need to choose their release date carefully. "Hatchet II" opened on October 1st during the busiest time of the year for horror films, against "Chain Letter," another indie slasher movie, plus far bigger movies like "Case 39" and "Let Me In." Plus they were all up against "The Social Network," a film geared to the same young, male audience. In that sort of crowded marketplace you have to make yourself stand out. Being the "anti-censorship slasher" just didn't cut it.
Which is a shame. George Lucas used to talk about how the transformation in the exhibition business brought about by blockbusters like "Star Wars" was good for independent filmmakers. He claimed that big multiplexes meant more screens, which meant more places to show independent films. This story proves, once and for all, that that's simply not true. Companies like AMC support indie film only as far as audiences support them, and if they can make more money showing "The Social Network" on three screens instead of two, that's what they're going to do. They're a business, not an arts advocacy group. And if all they get for their trouble when they do go out on a limb is low grosses followed by bad publicity and name-calling, why would they ever take a risk again?