2010 Holiday Movie Guide – Online and VOD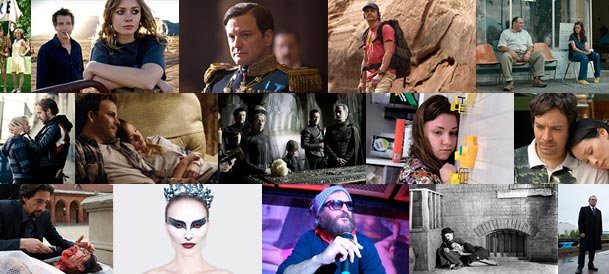 Posted by Stephen Saito on

While it could be the weather or the crowds that might dissuade people from heading to the theaters this holiday season, a handful of distributors are providing plenty of reasons to stay in with plenty of films available at just the touch of a button. IFC and Magnolia continue to bring the arthouse to your house with hot festival favorites such as Lena Dunham's comedy "Tiny Furniture" and the Kerry Washington-Anthony Mackie drama "Night Catches Us" arriving on demand at the same time they hit theaters, while companies like FilmBuff and Gravitas are debuting new films from Edward Burns ("Nice Guy Johnny") and Melissa Leo ("One Night") on an array of platforms to choose from. A complete guide to what's not at your local multiplex is below.
by Stephen Saito
Online and on demand for the holidays
Whether it's his dedication to remaining independent or the easygoing nature he's always projected through his films, Edward Burns has become an unlikely pioneer for writer/directors who bypass theaters to bring their films directly to the audiences where they live. After making his last comedy "Purple Violets" the first to debut on iTunes, Burns is going digital once again for "Nice Guy Johnny," a romantic comedy which involves a young deejay (Matt Bush) who is about give in to his fiancée's demand to get a serious job when he meets a free spirit (Kerry Bishé) who might change his mind. A premiere at this year's Tribeca Film Festival, the film will find an audience first on cable VOD and iTunes on October 26th before rolling out on other digital platforms on November 2nd.
Following its one-night event in theaters on October 21st, Cinetic FilmBuff will also invite audiences to watch the election night doc "11/4/08" from the comfort of home, debuting on iTunes, PlayStation, Amazon VOD and other broadband platforms starting October 22nd. A month later, Banksy's "street art disaster" doc "Exit Through the Gift Shop" forges its way to cable VOD and iTunes before hitting DVD and other digital platforms. Finally, the Outfest hit "My Normal," which centers on a young New Yorker (Nicole LaLiberte) caught between her desire to become a proper filmmaker and her day job as a dominatrix on the Lower East Side, will arrive on cable VOD, iTunes, and Amazon VOD the same day it will land on DVD on December 7th.
To accompany a newly redesigned Web site, Gravitas Ventures is offering over 80 films new to VOD between now and New Year's, even making room for holiday fare like "ThanksKilling" (now available – take that, Eli Roth!). In fact, there is a strain of dark humor in a few of Gravitas' November titles including the VOD premiere of the Heather Graham comedy "ExTerminators" (Nov. 2), which co-stars Jennifer Coolidge and Amber Heard as a trio of women who turn their anger issues with men into a profitable business, the Screamfest-winning undead comedy "Aaah! Zombies!" (Nov. 1) and the manga adaptation "Negative Happy Chainsaw Edge" (Nov. 15). More serious fare comes in the form of recent films from veteran filmmakers Henry Jaglom ("Irene in Time," Nov. 15) and Frederick Wiseman ("La Danse," Nov. 15) and celebrated documentaries like the Oscar-nominated "Most Dangerous Man in America: Daniel Ellsberg and the Pentagon Papers" (Nov. 5) and Doug Pray's advertising history "Art & Copy" (Nov. 1). Also newly available are the coming-of-age drama "Dakota Skye" (Nov. 1) and the Bollywood hit "Kaminey" (Nov. 1).
In December, there will be a pair of films for the tweens in your house — the musical "Standing Ovation" (Dec. 1) and the Lucas Grabeel-starring "High School Superhero" (Dec. 15) — but there is also plenty for the adults. Gravitas will enter the recent education doc fray with "The Cartel" (Dec. 1), followed by the VOD premiere of the lighter true story of Joe Redner, "Strip Club King" (Dec. 15). On the dramatic side of things, there will be Patrick Stewart's "MacBeth" (Dec. 1), the Alyssa Milano romantic comedy "My Girlfriend's Boyfriend" (Dec. 1), the Bollywood drama "Peepli Live" (Dec. 1), the David Keith smalltown drama "Boys of Summerville" (Dec. 1) and the Melissa Leo-headed ensemble drama "One Night" (Dec. 1)
Although most would agree Olivier Assayas' much lauded five-and-a-half hour crime epic "Carlos" would be best seen in a theater, IFC Films has made the potentially buttbreaking experience more palatable by offering it on demand, just as it will with many of the titles on their exciting holiday slate including a trio of films already available such as the Dermot Mulroney-Diane Kruger thriller "Inhale," the late Claude Chabrol's final mystery "Inspector Bellamy" and the Kristin Scott Thomas drama "Leaving." Soon those films will be joined in theaters and on demand by Lena Dunham's breakthrough comedy "Tiny Furniture" (Nov. 17) and Claire Denis' "White Material" (Nov. 24) and the new IFC Midnight title, "Heartless" (Nov. 19) with "21" star Jim Sturgess.
But as usual, IFC is also offering many VOD premieres of films from around the world that can be seen nowhere else in the States, starting with the French spelunking thriller "Highlane" (Oct. 20) and the Emmanuelle Bercot psychological drama "Student Services" (Oct. 27). The global offerings continue in November where IFC will premiere the odd British romance "The Orgasm Diaries" (Nov. 3, known better to some by its festival title "brilliantlove") and the thrillers "Beneath the Dark" (Nov. 5) and "Victim" (Nov. 17). Finally in December, IFC Midnight will debut a series of French chillers — Antoine Blossier's "Prey" (Dec. 3) and the Anne Parillaud thriller "In Their Sleep" (Dec. 3) – to compliment IFC's Gilles Marchand drama "Black Heaven" (Dec. 10) to close out the year.
Magnolia Pictures
Several of the highlights of Magnolia Pictures' stellar 2010 are still available through their Ultra VOD platforms including Amazon on Demand and iTunes, including the recent anthology doc "Freakonomics," the Joaquin Phoenix mock doc "I'm Still Here,", the Judy Greer-Patrick Wilson comedy "Barry Munday," and the Neil Marshall action epic "Centurion," not to mention the recent additions of "Enron" director Alex Gibney's Eliot Spitzer exposé "Client 9" and the stripped down sci-fier "Monsters." However, as is their wont, Magnolia will be bringing a trio of films to audiences at home nearly a month before they hit theaters. These debuts include the Black Panther romantic drama "Night Catches Us" (Oct. 29) with Anthony Mackie and Kerry Washington, the Ryan Gosling-Kirsten Dunst murder mystery "All Good Things" (Nov. 12) and the Tony Jaa pièce de résistance "Ong Bak 3" (Dec. 3).
The home of over 1600 documentaries is turning their attention to politics as the midterm elections draw closer, recently debuting a series of 15 films, each dealing with different social issues or politically themed, in what they've called their "Midterm Madness Festival." Between now and November 2nd, SnagFilms will host the online debuts of the award-winning medical marijuana doc "Waiting to Inhale," Mario Van Peebles' short "Bring Your 'A' Game," and Robert Yuhas' "Becoming Barack." Other films in the series include the ubiquitous "11/4/08," the election docs "Purple States: 14 Shorts on the 08 General Election and Primaries" and "What's the Matter with Kansas?", the high school-set "Prom Night in Mississippi" and "Electoral High School," the Wikipedia history "Truth in Numbers," Macky Alston's "Questioning Faith,", the agricultural doc "Ripe for Change," "Move On: The Movie," and the hot topic docs "Nuclear Tipping Point," "Operation Homecoming," and "Tying the Knot."