Yuen Woo Ping's the Stuff of "Legend" at Fantastic Fest 2010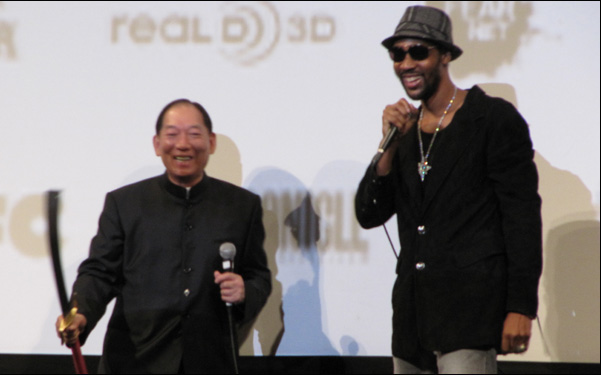 Posted by Stephen Saito on
"I'm going to say some things that probably can't be translated," said Tim League before handing the mic over to the Drafthouse's resident kung fu expert Lars Nilsen. "This guy has done some batshit crazy stuff."
Of course, he was referring to Saturday night's guest of honor Yuen Woo Ping, the master fight choreographer behind such films as "The Matrix" and "Crouching Tiger Hidden Dragon," who was at Fantastic Fest to unveil the North American premiere of his latest directorial effort, "True Legend," the origin story of one of his most famous films "Drunken Master." Instead of Jackie Chan, we get Chiu Man Cheuk as Su Can, a decorated warrior who retires from the army to become a Wushu instructor and spend more time with his wife and child, passing on the governorship that's been offered to him to his brother-in-arms Yuan (Andy On). For reasons that I never entirely understood, Yuan pays this favor back five years later by abducting Su's family and leaving him for dead, setting Su on the path to regain his confidence and ultimately develop his own style of martial arts.
Minus the confidence regained part, Nilsen said something similar about Yuen in his introduction for the filmmaker who has spent his career "taking a style [of martial arts] and creating a brand new style." Moments later (and only hours before he would join Elijah Wood, "Timecrimes" director Nacho Vigalondo and others on stage at the Highball for a crazy rendition of "I've Gotta Feeling"), The RZA came out on stage to present the Master with an even bigger sword than the one bestowed upon the Cormans the night before.
"It's an honor for me to be here," said the Wu-Tang Clan member who admitted he skipped school to watch Yuen's films as a child. Through a translator, Yuen told RZA, "I want to start a new film named "Wu Tang"…I hope you'll be in it."
In front of a crowd that included Elvis Mitchell and Toronto Film Fest Midnight madness programmer Colin Geddes, Fantastic Fest naturally played the trailers for the Master's "Fire Dragon," "Iron Monkey," and "Once Upon a Time in China" (which he choreographed for Tsui Hark) before "True Legend," which opened on an epic war battle under a waterfall that Yuen touted before the curtain raised. Indeed, the scene and the film as a whole blends the old with the new, taking Wo Ping's magic with wirework fight choreography and using backgrounds and techniques that could only be achieved through special effects.
Following the film, Nilsen praised Yuen for "the best use of CGI in an action movie I've seen yet," to which Yuen noted that he only employs it to "get more power and energy out of a fight scene" and "not as a main need or replacement." That was about as serious as the post-screening discussion got as the audience asked questions ranging from whether there was any actors Yuen couldn't teach kung fu ("There's one. He was a Chinese actor and you probably don't know him") to whether there was a new action star on the horizon ("There is a gap in martial arts films after Jackie Chan, Jet Li and Donnie Yen who is capable of both martial arts and acting potential").
Eventually, one person asked if anyone had ever recognized Yuen on the street and challenged him to fight. "I've never experienced that," said Yuen, before Nilsen jumped in without missing a beat, "If you recognized him, why would you try?"