You Gotta Fight For Your Right: 'Larry Flynt: The Right To Be Left Alone'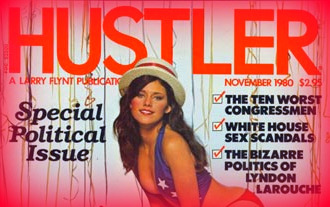 Posted by Melissa Locker on
When the Founding Fathers of this great land of ours rolled out of bed in the morning, powdered their wigs, beat a few colonials, and started crafting the Bill of Rights it seems unlikely they were thinking of the inalienable right to peddle smut. Yet with a hat tip to George Washington, that is exactly what Hustler founder Larry Flynt has been doing for years. His life's mission–to make and sell dirty magazines–has embroiled him in seemingly endless battles to expand the first amendment to include Hustler. But what Larry Flynt really wants is the right to be left alone.
In the 2007 film Larry Flynt: The Right to be Left Alone, Joan Brooker-Marks documents Mr. Flynt's struggles to be free from the constraints of so-called big government. His fight is shown via rarely seen television footage, news reels, and in-depth interviews with Mr. Flynt himself. The filmmaker follows Flynt's battles from his no-holds-barred war against President George W. Bust to the Supreme Court case against now-disgraced preacher Jerry Falwall to Flynt's own time on the moral high ground spent in jail for refusing to name a source. It is an eye-opening look at a pornographer who in many ways is driving the American conversation on the constitutional rights we hold dear.
Who knows, maybe the Founding Fathers would be proud of Larry Flynt's one-man drive to expand the First Amendment. Especially that Benjamin Franklin. He was a feisty one. Besides, the rest are busy on FourSquare.
'Larry Flynt: The Right To Be Left Alone' airs on IFC at 1 a.m. ET