Will Gluck Makes Comedy Look "Easy," Eh?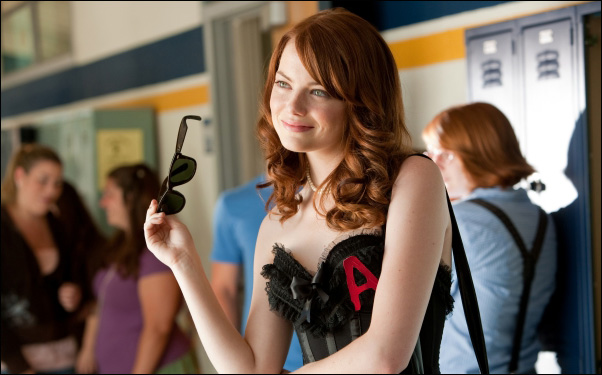 Posted by Stephen Saito on
It's interesting that barely anyone kisses in the film, let alone have sex, even though it's all the characters obsess about. Why hold back?
To me, the build-up to sex, to potential sex and the aftermath of sex, talking about it is 99.9 percent of the actual sexual act. The actual sexual act, especially in high school, is seconds long. It's not attractive, no one has fun, they want to get the hell out of there as quick as they can. No one ever said to you, "The best sex I ever had? When I was 15." So it's all about, in this society, talking about sex, so the act was not important. The physicality of it had zero importance to me and I really wanted to show that.
I remember how "Juno" got caught up in the culture wars and I think this film could have that potential if it's a big enough hit, given that its heroine is abstinent and her enemies are religiously motivated. Is that something you considered while making it? [mild spoiler ahead]
Here's the two things: one, I'm not preaching abstinence at all. What I'm preaching is mind your own business. I'm preaching that your reputation should not be based on your sexual activity and my favorite thing at the end of the movie, [Olive] says, "I might have sex now. I might have sex six months from now or my wedding day, but you know what? It's none of your goddamn business." That's what I'm preaching. It's not about sex.
The other thing I'm angry at myself a little bit is that I'm not taking a stand against evangelical Christians. What I was trying to portray was evangelicals — zealots. The adjective, not the noun. And I tried to pull it back as much as I could in editing, but if I could do it again, I wouldn't ever single out a religion because to me, it's not that. To me, it's just the holier than thou people that at such a young age think they know what's going on and they have no idea what's going on, so I never intended to make it a specific religion and I kind of apologize for that.
On a lighter note, some of the guys who pay Olive for fake sex bear familiar names for comedy nerds — "Cloudy With a Chance of Meatballs"' writer/directors Chris Miller and Phil Lord, "Sanjay" Chandrasekhar ("Super Troopers") — and directors Andrew Fleming ("Dick") and Rawson Marshall Thurber ("Dodgeball") make cameos. How did that work its way into the script?
Chris and Phil are good friends of mine, so I like to use real names in things. Andy Fleming has been in every one of my movies because I always like to put directors in movies because Andy puts me in his movies because it's a really fun experience to go to the other side for a second and see how the other side of it is, so I love doing that. But if anyone has to pay for sex, it's Phil Lord. And you can print that. [laughs]
There was a recent shot of you directing Justin Timberlake and Shaun White on the set of "Friends With Benefits." Given your love of pop culture, was that a bit mindblowing?
There is a whole scene with Shaun and Justin, and it is funny with Shaun and Justin because Shaun is playing Shaun, and [Justin's] basically playing Spencer Tracy. Justin's incredible. He's such an insanely talented guy and after "Social Network," people will be like "Whaaa?" So when this movie comes out, he'll be a bona fide actor.
Speaking of that, you got quite the amazing cast for both "Easy A" and "Friends With Benefits." Was it like shooting a different movie every day when you have so many actors in small, but pivotal roles?
Lisa [Kudrow], Patty [Clarkson] and Stanley [Tucci], they all worked a week, five days. And Thomas Haden Church worked a week too. Emma, every day, she'd get up and get to work with another Academy Award-nominated actor and it was amazing to watch. It was so fun to watch and it never got old because it was like "say goodbye to Thomas Haden Church, and [here's] Patty Clarkson, everybody!" So it was great.
[It's similar] on this movie here I'm doing now, because of Justin and Mila and Woody Harrelson and then Richard Jenkins and Patty Clarkson and Jason Segel and Rashida [Jones], they do this little thing, so it's always different. It keeps everything fresh. The one thing I have figured out is that if you schedule it smartly, and we have people that are brilliant at this, everything can work out. If you schedule it smartly and if people want to do it, it'll work out.
"Easy A" opens wide on September 17th.