Will Gluck Makes Comedy Look "Easy," Eh?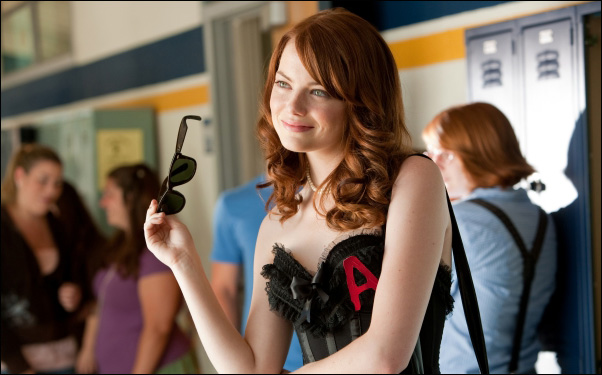 Posted by Stephen Saito on
For a comedy about rumors and innuendo, it is all too appropriate that "Easy A" has raised eyebrows as a selection at the Toronto Film Festival, a place not known for celebrating high-school-set satires. But it shouldn't take long for cynics to discover the truth of why it belongs more in the festival than the genre: it's exceptional.
Of course, the reasons for this have been hiding in plain sight. "Easy A" is driven in no small part by a starmaking turn from Emma Stone ("Zombieland") who finally finds a character as rich and complex as her distinctively raspy voice in the perpetually misunderstood Olive Pendergast, a high schooler in the desert town of Ojai that, emboldened by an English class assignment of "The Scarlet Letter," becomes a savior of her fellow virgins and outcasts when she decides to embrace hallway chatter that she's a harlot. Collecting gift cards from her pretend conquests who just want to fit in, along with the dirty looks from the school's religious sect, Olive is quick-witted yet still can't stay ahead of the speed of gossip and keenly aware that this screenplay is not to her liking, she longs for her "life to be like an '80s movie."
Enter the film's other secret weapon, writer/director Will Gluck, who has openly professed to wanting to make a film that "John Hughes wouldn't be embarrassed to watch." Which the "Breakfast Club" mastermind likely would, appreciating both "Easy A"'s invocation of his early-career irreverence and "Brat Pack"-era sincerity (not to mention the "Ferris Bueller" references, of which there are no fewer than 10). Yet Gluck has his own unique perspective, a style rare among modern comic directors that places equal value on visual panache as punchlines and veers between rude non-sequiturs and gently subversive skewering of pop culture. It's a mix of the silly and the sweet that's perhaps kept his fan club a little exclusive — go ahead and be shocked how funny his first film "Fired Up" actually is — but that's about to change.
In the middle of preparing for a crazy week that will have Gluck shuttling between the set of his next film, the Justin Timberlake-Mila Kunis romantic comedy "Friends With Benefits" and the film's premiere at the Toronto Film Festival, the director talked about hatching the next Julia Roberts, having friends "pay for sex," and his one regret about the film.
What's incredible about your career thus far is that you've been able to translate the off-kilter tone of your TV work ["Andy Richter Controls the Universe" and "The Loop"] into films, even if they weren't necessarily commercially successful. How is it that you've been allowed to be so independent within the studio system under Sony?
I met a guardian angel in [Screen Gems president] Clint Culpepper. "Fired Up" was his idea…not his, it was the studio's idea, but his title and he let me make the movie. And I had some success in television, but for some reason, he took a leap of faith and one thing Clint does is once he trusts someone's tone…comedy is all about tone, it's subjective – good or not, who knows? Once he picks someone's tone, he just let me go. He just didn't interfere. He knew what I did and accepted it and then "Easy A," he was just like "Here, see you later, buddy."
There's a reason why I continue to do movies at Sony for Amy [Pascal], Michael [Lynton] and Clint. As a filmmaker, it's the best situation in the world to be in because they give me everything I want, all the support they want, all the ideas they want… I mean they're great ideas. There's such an adversarial relationship with studio executives, but when you find someone who is as passionate and as smart as the people at Sony and Clint, it's the best. So I'm never going to leave unless they kick me out, which might happen. [slight laugh]
Are you excited about playing the Toronto Film Festival? It's not the type of film that normally goes.
I know, right? I am excited about Toronto. I'm in the middle of shooting my movie, but I'm thrilled and ridiculously humbled. I'm shocked at the response this is getting. I really believe a lot of the response is because of Emma Stone. I think that people are watching Julia Roberts about to be hatched and they want to get onboard.
Did you know you had something special with "Easy A," particularly with Emma Stone?
Like the old adage, no one ever sets out to make a bad movie. I just pour myself into everything I do, failure, success. I did know Emma was special from the very beginning and I've had the same crew forever, they've seen a lot. They do four movies a year, right? They knew. And when she came back yesterday [on "Friends With Benefits"], they were like, "oh my God, we'd forgotten." There's something about her, yeah.
You've talked about having an unusual high school experience, which was split between schools in New York and Tokyo. How do you think that perspective shaped the film?
The high schools I went to were big city high schools, which are much different than a lot of schools in America because in New York City when you leave the high school at three o'clock and you slip off into the subway, you're gone. No one cares on the subway that you looked at a girl that didn't like you in math class. You completely become your own person. But in small-town schools like most of America, you can't escape it because you go into town and everyone knows who you are and it's suffocating.
So I've always been kind of intrigued and idolized normal high schools, especially because my view of a high school has always been John Hughes' high school. That's what I thought high school was. So I really tried to in "Easy A" make that high school and it's interesting that Emma, who also left high school very early, also didn't have a normal high school experience, so this movie was made by two people whose whole view of high school was kind of through a cinematic lens.