Why? Why? Tell Them That It's 'Human Nature'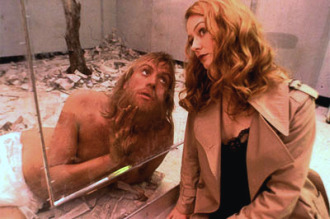 Posted by Melissa Locker on
Much like the Lord (or Buddha or Santa Claus), minds work in mystery ways. Especially the strange minds of Charlie Kaufman, Spike Jonze, and Michael Gondry. Jonze and Kaufman hit mainstream success with the incredibly meta and bizarre yet brilliant Being John Malkovich, where John Cusack and a remarkably unattractive Cameron Diaz found an entrance to actor John Malkovich's mind and body via a mysterious floor in a drab office building. Who thinks of that?
Their 2001 follow-up work is just as strangely genius and kneedeep in the oddball. In Human Nature, Tim Robbins stars as a scientist who is, unfortunately, dead. We know this because the film opens with him in the afterlife's waiting room with a giant hole in his head. How he got like this and why Patricia Arquette's Lila is locked in jail and Rhys Ifans' Puff is testifying before Congress makes up the bulk of the film. The cast of characters is compellingly quirky: Lila is the quintessential circus freak who is looking for love but her full-body hirsuteness is impeding her relationships until she meets a devoted electrolysis guru. Puff was raised in the wild but his socialization becomes the pet project of the virginal scientist. Tim Robbins' Nathan Bronfman is so repressed that he is more interested in teaching mice proper table etiquette than his sexy French lab assistant, Miranda Otto.
While the film never quite reaches the hilarious heights of Being John Malkovich, the production team of Spike Jonze and Charlie Kaufman works well with Michael Gondry directing. Under his watchful eye, Tim Robbins and Patricia Arquette deliver committed performances to some very strange people in extremely odd situations. The film is a beautiful romp through the minds of some very quirky characters and we don't mean the actors– We mean the producers.
'Human Nature' airs on IFC at 9:35 p.m. ET