Who the Heck is Iain Glen? Double Feature Day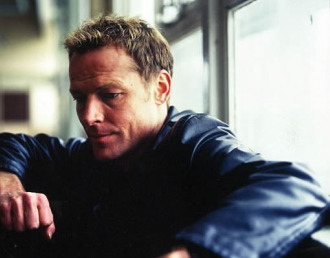 Posted by Melissa Locker on
There comes a time in every amateur film buff's movie going that they stop, stare at the screen, point and say, "Hey, it's that guy!" You may not know his name, but you know his face. He's not quite a star, but he makes a living as the supporting cast in a lot of movies as someone's brother, a chatty coffee shop worker, an ex-boyfriend, a good cop. You recognize him as part of the Hollywood solar system you just don't know his place in it. Today we're going to introduce you to one of those guys. His name is Iain Glen and we've decided he has earned his stripes in Lara Croft: Tomb Raider and MI-5 and deserves his own Double Feature Day.
Before Anna Paquin stepped into the darkly supernatural world of True Blood, she was in Darkness, a 2002 horror film. Iain Glen stars as her father trying to do the best for his family by moving them into a large house. Of course he never asks why the luxury pad was uninhabited, because if he had he may have found out about the disappearance of six children and the unholy something that lies beneath. Darkness starts at 3:15 p.m. ET.
In The Young Americans Harvey Keitel stars (not Iain Glen, never Iain Glen) as an American drug enforcement agent conscripted by the British police to help them crack a drug ring. The murderous syndicate is turning young club goers into ruthless killers and British policeman Iain Glen needs Keitel's help to rout out the bad ones who are, of course, American. The Young Americans starts at 4:45 p.m. ET.
Here is the rather creepy trailer for Darkness. Iain Glen is in at least two scenes, we swear: