What to Watch on IFC: September 13-September 19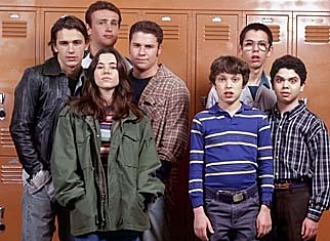 Posted by Melissa Locker on
Monday
A washed-up Broadway songwriter enlists the help of his young campers to put together a new production. Featuring music by Stephen Sondheim and the Rolling Stones, Camp is all the fun of summer camp and a Broadway musical rolled into one. At 4:05 p.m. ET
Tuesday
IFC's trip around the world one musician at a time continues when 360 Sessions heads to Cardiff, Wales, with Stereophonics. They give us the locals' tour of the town stopping at the recording studio and their favorite pub and make time for a few songs in between. At 9 p.m. ET
Wednesday
Who is Keyzer Soze? Find out when The Usual Suspects airs on IFC at 8 p.m. ET.
Thursday
When Nick (Aaron Eckhart) is kidnapped by a vigilante group for his tobacco lobbyist activities, we get a sharply satiric look at the underbelly of Washington D.C.'s politics. Katie Holmes, William H. Macy, and Rob Lowe all star inThank You for Smoking at 8 p.m. ET.
Friday
Forget work, turn down the Zeppelin CD, crawl out from under the bleachers and watch an all day marathon of Judd Apatow's Freaks and Geeks. The fun starts at 2:45 p.m. ET
Saturday
Gretchen Mol stars as perennial pin-up girl (and tattoo fave) Bettie Page in The Notorious Bettie Page. The biopic of the girl who rose from humble Tennessee roots to grace a hundred calendar pages airs at 8 p.m. ET.
Sunday
If you ever wonder what happened to the front man of awesome 80s metal group Twisted Sister? Wonder no more: Dee Snider makes his screenwriter and producer debut in Strangeland. He also stars in the horror film along with Robert Englund of Freddie Krueger fame. The scares start on IFC at 8:30 p.m. ET.