What in the World Are You Watching? 'Wilfred'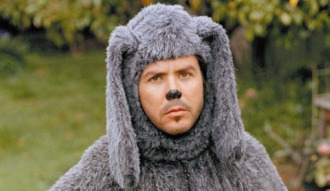 Posted by Melissa Locker on
If you find yourself sitting on the couch late at night, flipping through the channels, and you stop and stare, and then find yourself laughing uproariously, you may have discovered Wilfred. The show is a demented little gem that was plucked from the Australian airwaves to be shown for the first time in the United States on IFC. You're welcome.
Sarah is a great girl. She's fit, attractive, intelligent and funny. She is a real catch and boy-next-door Adam thinks he has hit the jackpot …until he meets Wilfred. Wilfred is Sarah's beloved dog, who is more than a little protective of his owner. They've both been hurt by a string of failed relationships before and Wilfred has come out the worse for wear. He's arrogant, manipulative and prone to more than a dog's share of psychological hang-ups and a serious pot habit. He's also a guy dressed up in a dog costume.
Wilfred is a hit cult series in Australia and we are doing our best to make it one here. If you haven't watched yet, or you're not a night owl, set your DVR to record the misadventures of a misanthropic pot smoking dog:
Wilfred airs Tuesdays on IFC. It is on tonight at 11:30 p.m. ET.