Werner Herzog on Death, Los Angeles and Avoiding Introspection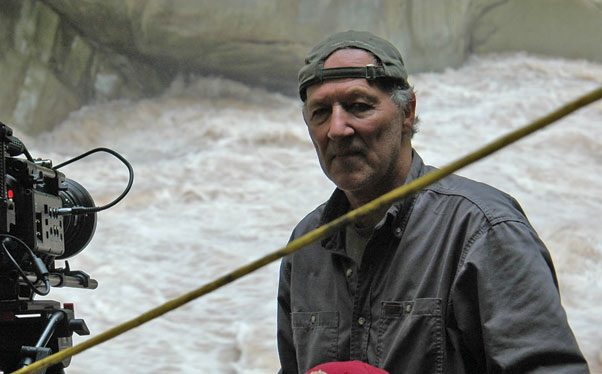 Posted by Bilge Ebiri on
Presumably, Werner Herzog needs no introduction. Like an atmospheric phenomenon or a law of physics, the German filmmaker has been some kind of constant for over more than four decades of world cinema. That he continues to be a major presence in the world of film — churning out both documentaries and narrative features with supernatural regularity – certainly speaks to his uncompromising nature. But it also speaks to his adaptability – the same guy who made deranged German jungle adventures with Klaus Kinski is now making deranged American cop flicks with Nicolas Cage.
With the upcoming DVD release of his striking, impossibly strange thriller "My Son, My Son, What Have Ye Done," in which Michael Shannon plays an actor whose experiences with the far edge of civilization cause him to go mad and kill his mother with a sword, Herzog continues his exploration of the ways that myth and banality cruelly intersect in the world. True to form, the relentlessly busy director also is about to premiere his latest docs "Happy People: A Year in the Taiga" at Telluride and "Cave of Forgotten Dreams" at the Toronto Film Festival. He spoke to us recently about his recent journeys in American cinema, his new documentaries, his love of Los Angeles, and about old friends.
First of all, I was sorry to read about the recent death of Bruno S., who starred in "Stroszek" and "The Enigma of Kaspar Hauser." Had you been in touch with him before he died?
In February, I spent a whole evening with him. He was already ailing. I remember that he had a handful of pills and complained about his heart condition. His name [Bruno Schleinstein] is known by now. At the time we made the films together, he didn't want his name to be revealed; he wanted to remain the unknown soldier of cinema. It saddens me deeply that he passed away.
What was he like?
We'd need 48 hours to get into that. He was a very complicated person. He was tragically destroyed in his childhood. A man with an aura of tragedy around him that is unprecedented on any film screen in the world. We've never had anyone like him. In a way he was the best actor with whom I worked.
You seem to be constantly working, and always on a broad range of subjects. Do you just stumble into these subjects, or do you have some idea beforehand of what you want to do next?
Normally, the films stumble into me. It's not that I'm sitting there and trying to figure out from the bestseller list which book could I convert into a film. The film I just finished — "Happy People: A Year in the Taiga" — was a complete stumbling of a film into me, almost literally. I went to the house of a friend, and I only stopped by because there was a huge parking spot near him. I stopped and I knocked on his door. And I see on his plasma screen there's something playing. He wanted to turn it off, and I said, "No, no, this looks interesting." And I ended up watching four hours of this Russian film about hunters in Siberia [originally directed by Dmitry Vasyukov]. And I thought one should make an international version of it.
The film was way too long, the commentary was not right, the music was bad. And we said, why not? And within a few weeks, I was working on this. I wrote a new commentary and spoke it myself, and got Klaus Badelt to compose music for it. There's such wonderful material in it — it was such a joy to work on it. That's the wonderful thing about Los Angeles. Things get done here. It's not just people talking.
A lot of directors I talk to have a lot of terrible things to say about Los Angeles. But you're something of a cheerleader for the city.
I moved to Los Angeles because my wife and I decided we had to live in the city with the most substance in the United States. And I do not regret it for a second. Don't be misled by the superficial glitz and glamour of Hollywood. It's the city with the most cultural substance. If you want to go into finance, go to New York. If you're in the oil business, go to Houston. If you want substance, go to Los Angeles. I'm just proclaiming the banalities of tomorrow. [laughs]
You've also got a documentary premiering in Toronto soon.
Yes. It is my film about Paleolithic caves, "Cave of Forgotten Dreams." This film, I must say, has been a longtime fascination of mine. It was the first independent fascination I had, when I was 12 — independent of school and family.
So it was a long time lingering, and then I heard about the Chauvet Cave, which [has] the oldest cave paintings ever found, more than twice as old as anything else ever found. Dating back 32,000 years, a time when Neanderthal man was roaming around. And it's fantastic, completely accomplished art. Phenomenal.
The film is going to be in 3D?
Yes. In principle, I am a skeptic of 3D, but in this case, it was the best decision. Some subjects are made for 3D, literally. You will see when you see the film.
"My Son, My Son, What Have Ye Done?" feels like something of a departure for you. It seems to take place in a very ordered world — very suburban and placid, and has a very precise, ordered style to go along with it.
I think your observation about the very well-ordered American suburbia is interesting, because it makes it scarier that this ordered world is invaded by fear and horror. And when you speak about this orderly world, it points to the film itself, because the film is so very disciplined in its narrative and structure. In that sense, you're right, it's like no other film I have made.
There's the slow invasion of fear into such an orderly world, which makes the film in a strange way very scary for me — existentially scary. It's not like the axe coming at you; there's a certain anonymous, ominous fear creeping up on you in this world. That made the story more fascinating for me.
Michael Shannon's character is like someone out of myth adrift in a very orderly, American environment.
Yes. Or someone who has an almost quasi-religious mission, who listens to his inner voices. But I think we should put "orderly" in quotes, because it goes completely wild from these spaces. I mean, we have the largest tree stump in the world and a midget on top of it. The tiniest horse in the world mounted by a tiny rider. We are going into the wildest possible corners of the imagination. But you have to have a solid basis from where you depart.