Watch: Crocodiles "Hearts of Love"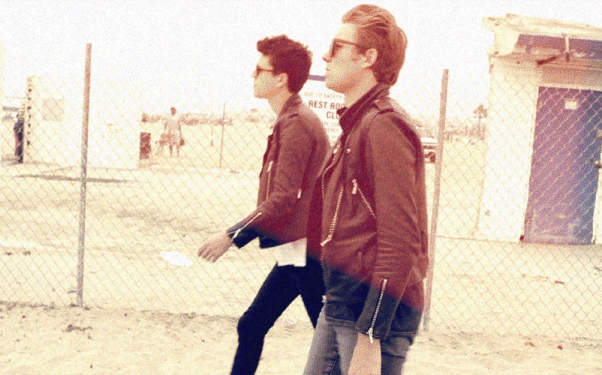 Posted by Brandon Kim on
I recently met up with the talented young director, Sam Macon, just after an unfortunate roadside fiasco in Brooklyn that sent at least one person to the hospital. Shaken, but still men, we dusted ourselves off and retired to a cafe with our laptops to drink copious amounts of espresso while checking out this video he'd just shot for San Diego's noise pop punks, Crocodiles.
Macon is well spoken, well dressed, gentlemanly, and intelligent. Men adore him and women follow him. But I'm convinced he is a Pied Piper of mayhem, a devilish Johnny Appleseed, sprinkling little seeds of chaos wherever he goes. "I wanted to paint a postcard of California," he said of the video which he shot in LA and San Diego with the band, "One that stretched from surf and sun to the Manson murders."
I like violence in videos when it's well done, when it surprises or serves the song. Never got over that boyhood thing with switchblades either. The gore in the "gutting scene" was done with beef livers. Macon said they were at least five days old. They "had been in a 'cooler,' with no ice, in the trunk of my rental car," he added. A similar rental car was involved in a certain aforementioned, roadside fiasco.
Crocodiles will be in New York City playing two shows later this month — Sept. 22nd at the Mercury Lounge and Sept 24th at Glasslands — in support of their upcoming full length album "Sleep Forever."
Download Crocodiles – "Fires of Comparison" EP, entirely free from Fat Possum.