Toronto 2010: "Trigger," "Incendies," Reviewed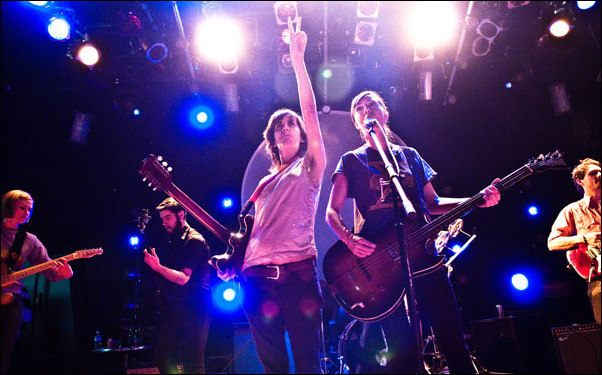 Posted by Stephen Saito on
Reviewed at the 2010 Toronto Film Festival.
It is hard to imagine a more appropriate film than "Trigger" to open the Bell Lightbox in Toronto, though festival organizers who intend the gleaming cube in the middle of downtown to be their new home might do well to prepare to have the roof blown off after this premiere alone. For the most part, the latest from "Pontypool" director Bruce McDonald is actually quite quiet, a tête-à-tête between two of Canada's finest actresses Molly Parker and Tracy Wright as they navigate a one-off reunion of their grrrl rock band from the '90s. And while their band Trigger is quite loud — think Veruca Salt with a dash of Stevie Nicks — it's the little throwaway moments offstage that speak volumes.
Like a soothing B-side to McDonald's grungy 1996 punk mockumentary "Hard Core Logo," McDonald is once again drawn to the idea of what happens when rock stars grow up, but "Trigger" is free of the narrative that insists that it involves a comeback tour to make it successful. Instead, Parker's Kat and Wright's Vic will be just relieved to make it through the night.
Although it's never made explicit why they broke up in the first place, it's clear from Kat's late arrival to dinner that Trigger didn't exactly end on amicable terms, and Daniel MacIvor's screenplay is economical enough to have the mere mention of a tourstop suggest the sour times in their relationship. Now, Kat is a music supervisor for Lifetime in Silver Lake and Vic, a recovering addict with a long-gestating solo album who carries with her a copy of "The Spirituality of Imperfection."
Neither Kat or Vic went on to live perfect lives, as evidenced by the random flights of fancy that McDonald spices up the film with — fantasy sequences that show the buttoned-down Kat breathing fire shortly before making out with a businessman at another table while Vic retreats to the bathroom to freebase some coke. Yet both evade the trap of being too irreparably damaged to be compelling merely out of pity, summed up nicely by Vic when she tells Kat at dinner, "You're terminally unique."
The night is dotted by such observations as the two stroll around Toronto, leaving dinner to make a cameo at the concert in their honor, break into Allan Gardens (already seen once this year in "Chloe"), and eventually end up at aftershow party at a nearby art school, where past resentments are finally brought to a boil, in a virtual travelogue of the city that is given as nice a platform as the film's two lead actresses. (Also worth noting is how Canucks Don McKellar (Wright's husband), Callum Keith Rennie and Sarah Polley all show up in small but uniquely crafted parts.)
It is a particularly rewarding showcase for Wright, who passed away in June of pancreatic cancer. (Her other final film "You Are Here" is also playing the festival.) Wright's sunken eyes bring an instant credibility to the world-weary Vic, but it's a true rebel spirit that electrifies her conversations with Parker, who is as fun and flirty as she's ever been here, but with the strain of knowing she can't reclaim her youth. Still, "Trigger" is decidedly not some solemn rumination on the past, but a party built upon making lemonade out of lemons. Make that hard lemonade.
Celebration isn't the word that comes to mind for "Incendies," though it arrives at its premiere in its native country after first being feted in Venice and Telluride. Yet I found myself at a remove from much of the film, whose title translates to "Scorched," first being impressed by its provocative opening sequence — a dialogue-free tracking shot in a Middle Eastern classroom where a group of boys are getting their heads shaved to Radiohead's "You and Whose Army" that feels like the start of something dangerous — and then dismayed to discover a drama that occasionally lived up to such a daring introduction.
It is only minutes later in the staid office of a notary that one realizes director Denis Villeneuve is interested in disconnection, both a major theme and a weakness of his adaptation of Wajdi Mouawad's play which follows twins Jeanne (Mélissa Désormeaux-Poulin) and Simon (Maxim Gaudette) as they attempt to find their father and the brother they never knew they had to hand off letters from their late mother Nawal (Lubna Azabal).
Too talented to dismiss as a mere imitator of Alejandro Gonzalez Inarritu's fractured narratives, but too much of an influence to ignore, Villeneuve works backwards from the reading of Nawal's will to reveal that long before she was a notary's secretary, her life was marked by a series of tragedies from the birth of a child she had to give up almost immediately after seeing the child's father shot in front of her to being the lone survivor on a bus that gets riddled with bullets and set on fire.
It's to Villeneuve's credit that Nawal's constant misfortune never becomes comical despite reaching nearly implausible depths, but it's the story's structure that ultimately fails "Incendies" since Nawal is considerably more interesting than her two largely indifferent children, who get their own parallel storyline, and knowing she survives to the present day drains the film of much of its potential dramatic tension.
One could argue that's besides the point because Villeneuve's narrative is as much about the ongoing miseries in the Middle East as it is about the individual story of Nawal, with the Lebanese Civil War of the '70s and '80s serving as the film's backdrop. Even though Villeneuve finds a uniquely damning way to suggest the cycle continues while resolving Nawal's storyline for the film's conclusion, "Incendies" still never feels like a whole, ultimately leaving more questions to be asked than Jeanne and Simon have the time or interest in finding out the answers for.
"Trigger" and "Incendies" are both without U.S. distribution.