Toronto 2010: "Julia's Eyes" and "Vanishing on 7th Street," Reviewed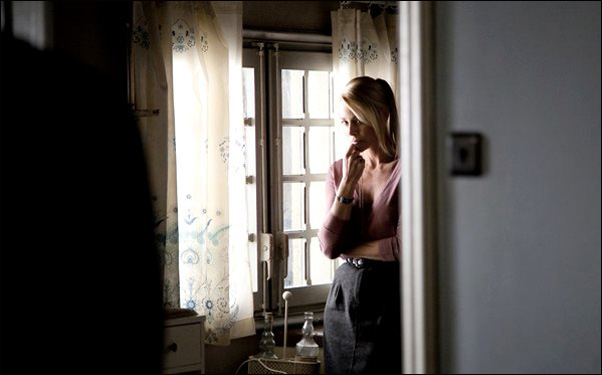 Posted by Stephen Saito on
Reviewed at the 2010 Toronto Film Festival.
As admirable as it is that Guillermo Del Toro has been supporting new Spanish filmmakers, I'm beginning to worry the steady stream of talented writer/directors he's been throwing his weight behind might ultimately become competitors. They're certainly good enough. Like J.A. Bayona, the director of 2007's "The Orphanage," Guillem Morales proves with "Julia's Eyes" that the most exciting horror films in the world right now are being produced in Spain, where a Baroque, classical style has been reinvented with a touch of the desaturated austerity of J-horror to birth some seriously freaky shit.
Whereas "The Orphanage" had one of the scariest jump scares of recent memory, "Julia's Eyes" would be worth seeing alone for two of the creepiest sequences I can remember using found light, with one scene using just the intermittent light of a Blackberry down a hallway of pipes to build the tension. The smartphone belongs to Julia (Belén Rueda), whose blind sister Sara dies at the beginning of the film, leading Julia to return home, unconvinced by local authorities that her sister's death was a suicide. Julia is also starting to lose her vision, and along with her skeptical husband (Lluís Homar), she's being pulled into the same life that led to her sister's demise, with a suspicious caretaker to help her and eccentric neighbors who can't be trusted, either. To say much more would give way to massive spoilers, but the audience is aware from the very beginning that Sara's death wasn't a suicide and the other murders that follow are committed by someone in the neighborhood.
The primary flaw of "Julia's Eyes" is there may actually be too many neighbors since Morales' film is occasionally slowgoing, even in a genre known for taking its time. Sometimes this is successful, like a particularly unsettling early scene where Julia visits her late sister's gym locker room and finds a group of undressed women changing clothes and talking to each other with no awareness that Julia is standing amongst them – it lasts nearly five minutes and gradually gets more and more uncomfortable. But it is less interesting in the moments where Morales excessively sets up the mysterious caretaker without ever showing his face or some of the meandering conversations Julia has with anyone other than her husband, which add needless complications to the plot and seem to bide time until the next big scare.
Which there are in spades. If Morales took anything from Del Toro, it's an appreciation for sound design and a belief in building towards the big scene. In "Julia's Eyes," it's the crackle of an antique camera's flash bulb that makes one's blood curdle, often punctuated by how Morales turns whatever light source is organic to any particular scene into the pulse of the film. "Julia's Eyes" doesn't deviate enough from other Spanish thrillers of late to consider it a breakthrough, but it is a more than solid entry into the genre with some truly extraordinary thrills to be had.
Light is also the pulse of Brad Anderson's "Vanishing on 7th Street," but in a way that's far more literal than "Julia's Eyes." Hayden Christensen (in one of his best performances to date), Thandie Newton, John Leguizamo and the young Jacob Latimore star as a group of strangers who are drawn towards the light of a speakeasy after an unexplained power outage leaves Detroit, and likely the rest of the world, cloaked in darkness that disappears anyone who isn't holding a flashlight, a lighter or something that can keep away the shade. The film plays out almost like a small-scale version of "I Am Legend," minus the CG zombies and putting in their place the creepier echoes of the unknown in the shadows to terrorize the quartet as they escape onto the empty streets around the bar, a safe haven thanks to its persnickety power generator, to try and find a way to prolong their lives and not evaporate into the piles of empty clothes they see around them.
In introducing the screening Monday, Christensen told TIFF's Midnight Madness programmer Colin Geddes that he was drawn to the film's "metaphors and subtext of what isn't going on" and believe me, some will think there won't be a lot going on. Fans of Anderson's might liken it to "Session 9," which impressed not with its threadbare storyline but its evocation of dread. There aren't really character arcs so much as there are varying levels of fear and desperation in "Vanishing on 7th Street" amongst Christensen's proactive newsman Luke, Newton's frightened nurse Rosemary, Leguizamo's crippled projectionist Paul, and Latimore's fickle James.
Even though there are flashbacks to their lives pre-eclipse, you don't get to know them in any meaningful way, nor do you ever learn what caused the darkness. Still, Anderson remains committed to challenging himself, this time shooting nearly an entire movie in the dark, and even if "Vanishing on 7th Street" never delivers the knockout blow that's usually crucial to films as suspenseful as this aspires to be, it's a testament to its director that it remains engaging throughout and puts an extra spring into your step once you leave the darkened theater.
"Julia's Eyes" and "Vanishing on 7th Street" do not yet have U.S. distribution.