Toronto 2010: James Gunn's "Super" Duper Achievement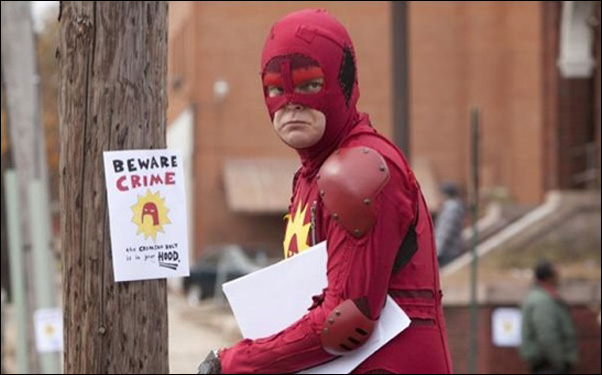 Posted by Stephen Saito on
Considering all the other subversive stuff in "Super," it makes a certain degree of sense that in making a film about a self-made superhero of questionable sanity and suspect superpowers, James Gunn found the full command of his own abilities as a writer/director. Known for such cult faves "Tromeo and Juliet" and "Slither," Gunn has been a master of the gross-out gag and the witty retort for quite some time, but in "Super," he does the unexpected in making a delightfully obscene film where puke jokes and savage beatings are in service of something genuinely philosophical.
It's a comedy first, every frame of which is as lovingly handmade as the costume of The Crimson Bolt, the alter ego of Frank D'Arbo (Rainn Wilson), a fry cook whose wife (Liv Tyler) falls back into her drug addiction and into the arms of a local drug kingpin (Kevin Bacon). Convinced he's been touched by the finger of God, The Crimson Bolt has no talents to speak of, except a particularly good scrambled eggs recipe and enough money to buy himself a sturdy pipe wrench with which to whack local drug dealers, child molesters and thieves before taking on the thugs who've taken his wife. He is joined in his pursuit of cleaning up the community by a comic store clerk named Libby (Ellen Page), who reinvents herself as Boltie, an unusually frisky and enthusiastic sidekick who may be even crazier than Frank is.
However, Frank's journey doesn't end with blowing up bad guys and splitting their skulls in two – it is the start of a life where he begins to realize its full possibilities as well as even greater tragedies than he's ever known before. "Super" also could be interpreted as a metaphor for Gunn's own struggle to put the film together, having spent seven years developing it and stitching together a cast out of friends and family — as he'll talk about below, he's made a tradition out of killing his brother Sean on screen — that make this a labor of love that clearly everyone from Wilson to Page to Tyler to Bacon enjoyed working on. The wait was worth it: our sister company IFC Films picked up the film over the weekend, but before they did, I got to talk to Gunn and coincidentally, opened up by talking about its commercial prospects.
I don't know what kind of success "Super" will have theatrically, but it feels like the kind of film that will live on forever – it's already being referred to as an "instant cult classic."
That's what I hope for. Quite honestly, all I care about is that this movie really affects a few people in a big way and that's so much more important to me than making a shitload of money. We made it for very little, so it's going to make it's money back. It's just a matter of really affecting a few people in an awesome way.
Even though so much time has passed since you first wrote it, do you find the film's themes resonate with you more now?
The ending of the movie is why I wanted to make this movie. That was the thing I couldn't get out of my mind because I was writing it so quickly, but the ending, I know it's difficult to talk about the ending in an interview, but the moment where Frank says to the audience, "I know you think you know what this is about, but maybe you don't," it really was a case of automatic writing for me where that was Frank speaking to me because I did think the movie was about something and it ended up being about something completely different. Those moments of revelation in writing and storytelling for me, at least, are few and far between where I'm taken to one place to another and I don't really know where I'm going next. That's what I wanted to do with this movie is to be able to have people not know where it's going next and I think we succeeded in that, if nothing else.
If the script didn't change, did the visual style for it change over the years?
It stayed exactly the same. In fact, to tell you the truth, I drew the storyboards for the finger of God sequence right after I wrote the movie and I have a big bulletin board in my office at home and I had those little tiny drawings of that storyboard on my wall for the past seven years. It really didn't change at all.
The movies I like watching the most are these sort of cinema verite, handheld films where you really get gritty with people. But I also have this strange affinity for old Rock Hudson/Doris Day movies and things that sort of pop out where you see the frames, where you have these 2D animation moments and split-screens and things like that. So much of "Super" is about these contrasts, the gritty and the fake – and to be able to have those two things side-by-side throughout the movie is what I wanted to do from the beginning. Steve Gainer is the DP on the movie and he's the DP I've always wanted. He understands my brain completely.
I'm also a much more confident filmmaker than when I did "Slither." We planned out every tiny little move in that movie from the beginning and we memorized it and we knew it from the beginning. I was just much more comfortable. I think during "Slither" at times, I was probably a little bit afraid of looking like an idiot because my expertise is with actors and storytelling and pacing and it isn't with cameras and I learned a lot through that process to really be more confident and I think that's true of this film, so this film I think is a more accurate reflection of my own vision and how I see films.
Given the amount of time you spent on it and how many different media you used – you wrote songs, you've got animation — when you were talking to producers, how much did you bring into the room with you?
Everything. I told everyone straight up that this was the way the movie was going to be. We had original producers about five years ago who were on the film and it was the same script, but those guys were very afraid of the violence. We were going to make the film for a little bit more money and they were very afraid of the violence. The only substantial change in the script was there was another death in the movie where Boltie crushes that guy's head with the bronze statue [laughs]. [The scene is here:]
That's the one thing they talked me out of. That's the one place where I pulled back and I think they were right about that. But I could tell even from the beginning, if the movie was made at that time, they would've been chipping away at the violence in the movie.
When I talked to the producers and even the foreign sales agents, from the beginning, it's like this is not a movie for everybody. It isn't. It's a movie for some people. And it's a movie of extremes and if this movie is going to be different or stand out, we make it for this budget, it's got to be something that does more than other movies and for us to pull back, I actually think makes it less commercial in its own niche.
As for all the different superhero movies that came out in the interim, what were you thinking during that time?
I was thinking oh fuck, this sucks! I'm not going to lie. It sucked. And Mark Millar's an online friend of mine and he told me he was writing the "Kick-Ass" comic and I'm like whoa…I've got this movie. So it sucked, but you know, there are 3000 bank heist movies, so I think we have room for four non-superpowered superhero movies, which are all pretty fucking different really. Tonally, they're very different from each other.