Toronto 2010: "Everything Must Go," Reviewed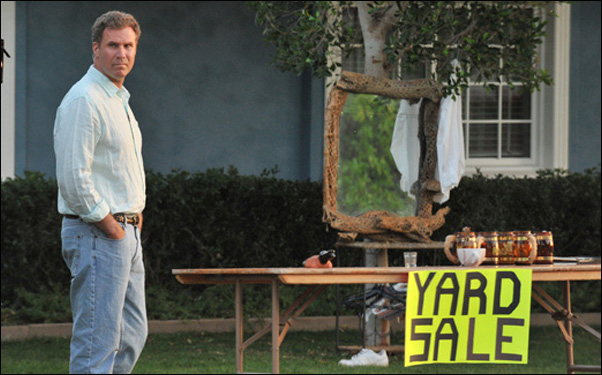 Posted by Stephen Saito on
Reviewed at the 2010 Toronto Film Festival.
It didn't take long to start pondering the irony of writer/director Dan Rush's surname while watching "Everything Must Go," an adaptation of a Raymond Carver short story that would've been best left that way. Instead, it is a 95-minute opportunity wasted as Will Ferrell mopes around the front lawn of his home waiting for an epiphany that never arrives.
Ferrell plays Nick Halsey, a sadsack regional VP who is fired from his corporate gig, primarily comprised of giving inspirational speeches, and left by his wife on the same day. Although a return of Halsey's battle with alcoholism is cited as the reason why the missus left, no such excuse is giving for laying out all of his stuff in front and not wanting to return. She may've had enough of him, but the only reasonable explanation is it provides the set up for one of those seriocomic examinations of middle age and suburban life, complete with a wry, hopeful score, elegant but subdued cinematography and an actor who would like to be known for more than comedy.
As far as the latter is concerned, Ferrell is a believable everyman, but morose to the point of indifference (not his, but ours). Since Halsey loses his job mere minutes into the film, he's understandably deflated, and the additional indignities of losing his wallet and subsequently, his car to repossession push him back into drinking, which Rush doesn't play for laughs, instead using the beer cans for angry outbursts where something needs to be thrown. Naturally, Ferrell can do the big emotions, but he appears a little less comfortable expressing the smaller ones unless it's the punchline for a joke (and in fact a simple smirk provides one of the film's bigger laughs). After plunging a Swiss Army knife engraved with his name into the tire of his former boss at work, the film's energy seems to go out with the air. Unfortunately, that's just five minutes in.
Even though his unseen wife can't be around him, he is far less offensive to the hot pregnant neighbor (Rebecca Hall) across the street and a young pudgy African-American kid (Christopher "C.J." Wallace, who shares the effortless charisma of his late real-life father, the Notorious B.I.G.) who rides his bike down the block. The latter helps him with his eventual yard sale, which serves as his excuse to keep the cops at bay as he lives on the street, while the former gives him someone closer in age to talk to with problems of her own, serving the roles of a surrogate son and wife when Halsey has no one else, except an AA sponsor (Michael Pena) who one could hardly call a friend, having once arresting him during his day job as a cop for breaking into his own house while intoxicated.
One can tell the script for "Everything Must Go" must've been good, not only by the impressive cast that Rush assembled as a first-time writer/director, but in bits and spurts of cleverly devised dialogue throughout. Though one can feel the weight of every conversation in the film as having some profound meaning that the film can't always deliver on, Rush has a light enough touch to not make it feel oppressive, even though as a director he needs to develop a better sense of picking up the pace. Ultimately, "Everything Must Go" isn't a bad film, just an unnecessary one given all the other high-minded films that have ruminated on the perils of suburbia and the messed-up people who live in track housing. It's even set in Arizona, so the desert is not just a metaphorical one for Halsey, but a literal one and speaking only for myself, it left me parched.
"Everything Must Go" does not yet have U.S. distribution.