Toronto 2010: "All About Love," Reviewed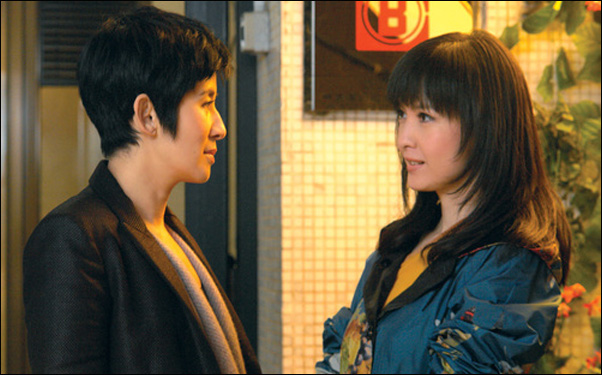 Posted by Stephen Saito on
Reviewed at the 2010 Toronto Film Festival.
You wouldn't be wrong to think "All About Love" feels a bit like how American films dealt with gay subject matter in the 1980s – with caution and reserve, indulging in soft focus and the occasional swell of a sappy love song in the background. But it should be remembered, of all the good ones at least, that they were building towards bigger breakthroughs with deceptively simple stories that served to lift gay characters to the level of straight ones in like-minded films.
This isn't to say that one should grade Ann Hui's romantic comedy on a curve, since it's a well-told story that stands on its own. But it's important to note Hui's struggle to film it without censorship in her home country of China, where it will be banned from ever playing in public since the suggestion of two women falling in love is too bold, let alone the idea they want to raise a family without a man in the mix. Which is exactly what happens when Anita (Vivian Chow) and Macy (Sandra Ng), a pair of schoolgirls who fell in love while they were in their teens rediscover their spark after running into each other at a prenatal clinic.
Both Anita and Macy have unwanted pregnancies by men who can't handle commitment. Anita's one-night stand is barely 20 and desperately wants to be in her life, though she has no interest in him. Meanwhile Macy, a successful attorney, is already reevaluating her sexuality by the time she sleeps with her married client, who shows no interest in raising a kid when he initially finds out.
However, the men take a backseat to what becomes a film that normalizes same-sex relationships as subtly as "The Kids Are All Right," minus the kids since they aren't born yet. In fact, the drama of the two women's pregnancies are kept to a minimum as well, leaving the focus on a perfectly functional relationship between two women, apparently based on a true story, which comes through in the intelligence and unforced nature of its characters.
That sentiment also extends to Hui's direction, which is warm without overdoing it (except for the music). It's not surprising to learn that Hui originally envisioned the story as part of a television series since "All About Love" feels highly serialized, with casual conversations between Anita and Macy and their groups of friends taking their time and story strands weaving together towards a cohesive whole. There's some things that aren't subtle — Hui can't help but put posters of Rosie the Riveter in Macy's office alongside posters of feminist slogans, even though Macy's client is charged with domestic abuse — yet there's an effortlessness that pervades the entire movie, making this an occasion when love comes easy, but it's changing people's minds that's hard.
"All About Love" doesn't yet have U.S. distribution.