"The Man From Nowhere," Reviewed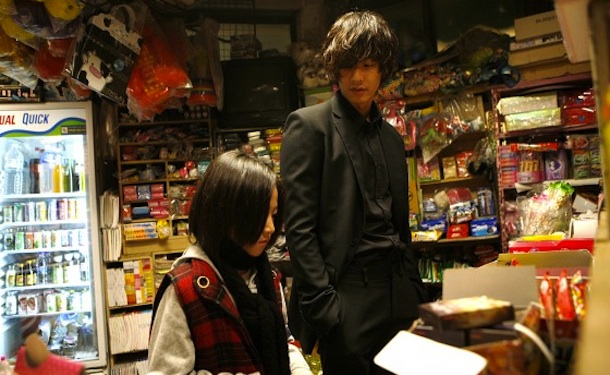 Posted by Matt Singer on
On the basis of its three films at Fantastic Fest, I think it's time someone had a talk with South Korea about its self-image problem. This country is making some phenomenal movies but boy is it down on itself. The Korean contingent at this festival portrays itself as a place where everyone is either a vicious bloodthirsty psychopath or an innocent victim waiting to be defiled by a vicious bloodthirsty psychopath. Consider the brutal revenge thriller "The Man From Nowhere." The title suggests Leone, but Leone never made something this bleak, unless my memory's hazy and "The Good, The Bad, & The Ugly" included a subplot about Eastwood trying to shut down a child organ harvesting ring.
The Eastwood figure here is named Cha Tae-sik (Won Bin). His foo-foo haircut and rippling physique scream K-pop star, but the jagged scars on his knuckles whisper something in your ear about a violent past. Cha lives a quiet life as the most intense pawn shop owner in history until the day the adorable little girl who lives upstairs is kidnapped by drug dealers angry with her mother for stealing their product. The gangsters blackmail Cha, then frame him and leave him for the cops but Cha busts out of jail and goes on a quest to save his neighbor and make the people who took her pay.
Note that he doesn't wait to prove his innocence (which probably wouldn't be that difficult). Cha, like basically everyone else in the Korean movies I saw here at Fantastic Fest, has no faith in the police. Cops in these films are inadequate to the needs of society. If you want to get something done, you better be ready to do it yourself. And you better not be afraid to spill some blood. And I mean a lot of blood. If "The Man From Nowhere," "I Saw the Devil," and "Bedevilled" are any indication and the laws of supply and demand mean anything at all, Karo syrup must be the most valuable commodity in all of Korea.
Unlike "I Saw the Devil," which mucks around with revenge picture's standard format and morality, "The Man From Nowhere" basks in the conventions of the genre. What elevates the typical material is the atypical ferocity of its execution. At one point, Cha takes out one of the gangsters' facilities by rigging a slow gas leak and setting off an enormous explosion. The gesture feels symbolic of Cha and the film's rage about the crappy state of the world, as pressure building slowly to a massive white-hot eruption. This is an angry movie about an angry man, but the intensity of Won Bin's performance makes Cha an easy guy to root for. Won's tremendous, and he's even better when you realize that he's the same actor who played the mentally handicapped son in Bong Joon-ho's "Mother." Won is clearly more than a one trick pony of smolder and rage.
"The Man From Nowhere" is directed by Lee Jung-beom. I'll be looking forward to whatever he makes next. There are scenes — a Leone-esque standoff across a crowded techno club, a savage knife fight — and shots — Cha runs through a hallway, dives through a window, and jumps to the street below and the camera follows him the whole way — that have already taken permanent residence in the Movie Hall of Fame section of my brain. Maybe someday American audiences will get to see the lighter side of Korean cinema. In the meantime, there's no denying these dark films' power. The man might be from nowhere, but the movies could only come from Korea.