The Man Behind the Music of HBO's "True Blood," Gary Calamar, Part 1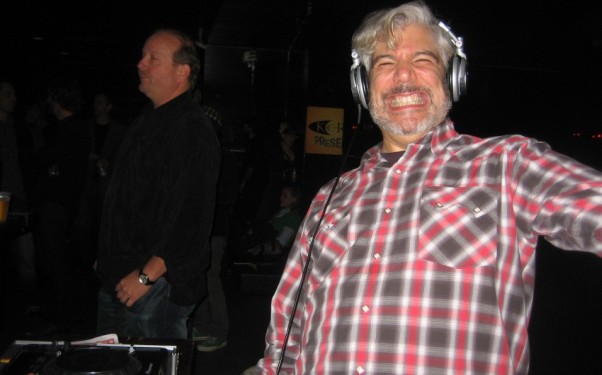 Posted by Brandon Kim on
HBO's "True Blood" is great TV for many reasons, not least of which is it's music, and the dangerous, swampy vibe it often amplifies. Much of the music compliments the show's main location, and music supervisor Gary Calamar even employs local musicians from Louisiana like Allen Toussaint and C.C. Adcock to lend the show an authentic regional sound. When not working on the soundtrack for "True Blood," Calamar, who also was behind the music of "Six Feet Under," music supes for other shows like "Men of a Certain Age," and "House M.D." He's also a working DJ who has had a nighttime show on KCRW for something like 13 years, spinning pop, roots rock, blues, and soul. As you can imagine, he gets a lot of soundtrack ideas for his day job, during his night job. He's a busy man, but he found the time to get down with me recently about the impossibility of using Led Zeppelin in TV, the cultural importance of the record store, and of course, the music of "True Blood."
What is the sound of Bon Temps?
It's got a few different sounds. I mean, it's got the sound of Merlotte's, which is a little bit more, upbeat bar music, rockabilly, southern Rock. And then in the first season we had some music for Sookie playing at her house, which was like the Watson Twins covering The Cure and stuff like that. But, yeah, all of it has sort of a dark undercurrent to it like a lot of New Orleans blues seems to have. Those classics Slim Harpo, Willie Dixon, and Howlin' Wolf. Those are what really kind of speak to me as the sound of Bon Temps.
I heard [series creator] Alan Ball say a rule of his was to "Never use opera music" in a vampire show, one of the things he decided early on along with not giving them cheesy contact lenses…
I don't remember Alan actually saying that to me. But I think his goal was to have a non-traditional kind of sound to the show. And not use, you know, sort of overly dramatic types of music that have been used in vampire series in the past, or movies in the past.
Which is made clear right away with the theme, Jace Everett's "Bad Things." It sets the tone brilliantly for the show.

Yeah, we got lucky with that. Alan actually found that.
["True Blood" Opening credits, featuring Jace Everett's "Bad Things."]
I heard it was first just a placeholder – how did you decide on keeping it?
It was just a placeholder. Yeah, you know, Alan's method of writing is when he's on his computer he'll write for a while and then he'll take an iTunes break. 100 dollars later he'll come back and finish up the script [laughter]. But apparently that song, "Bad Things" by Jace Everett, was like the single of the week on iTunes. We all liked it but we all kind of thought that we would eventually find the one. But the more we placed other songs against it we realized that it actually was the one. It was perfect and it had just that right combination of menace, romance, sexiness, and humor to it.
So Alan Ball's pretty hands on then?
He is pretty hands on! He's definitely very smart about music and has great taste. Yeah, he's absolutely hands on in pretty much all aspects. Every meeting that I'm at, he's always there. And he is always very opinionated. You know, he's open to everybody's ideas but, he knows what he likes and he knows what will work for the show.
Each of the episodes are named after a song that's used in the episode, aren't they?
Yep, that's true. Which sometimes, as a music supervisor, can be… some extra work for me.
How maddening is it to make that work all the time?
Yeah, it's difficult, especially if we're thinking about a budget. You know, maybe initially they'll name it after a song which for some reason is too expensive for us or we can't license it for whatever reason. A few time we have gone back and changed a title of an episode just because the song didn't work out as originally planned. But I think it's a nice little feature, makes [my] job a little more fun and interesting.
So it's the writers initially, who throw these title song ideas out, and they're like "Alright Gary, make this work for us?"
The writers, yeah.
And then, you may end up changing it?
In the first season we didn't go back and change titles, we just found a way to make it work. This season, we have changed the title a few times as we got down to the wire and realized the song title that the writer originally had was not working for whatever reason. But, yeah, the writers are very involved with the music choices. Oft times they will write a particular song into the script. Or they will have a song in mind when they choose the title of the episode. They obviously have some great insight into the vibe and the energy that's going on in that particular episode. Having said that, sometimes the songs that they pick initially make it and sometimes they don't. Sometimes we'll see the song up against the picture and we'll realize it looks good on paper but, it's just not quite working. [laughs] That's when I come in and provide alts for them.
What's one of those episodes where it wasn't working?
There was one song that was written in the show called, "Hitting the Floor," I forget exactly who the artist was. We had our spotting session, which was where we all sit down, Alan Ball, myself, the writers, the editor, and we talk about the music — what we like and don't like. And "Hitting The Floor" was not working, even though there was a scene in that episode where, very strategically, a head, a chopped-off head hits the floor. [laughter] But the song was not working. Well, I actually knew of a great song by P.J. Harvey called "Hitting the Ground." So, we changed the title [from "Floor" to "Ground"], and it still worked thematically.
P. J. Harvey & Gordon Gano – "Hitting the Ground"
Stay tuned to IFC News for rest of the interview with Gary Calamar — Read Part 2 here!