Revived and Derived: "Freaks and Geeks" Ep. 12, "The Garage Door"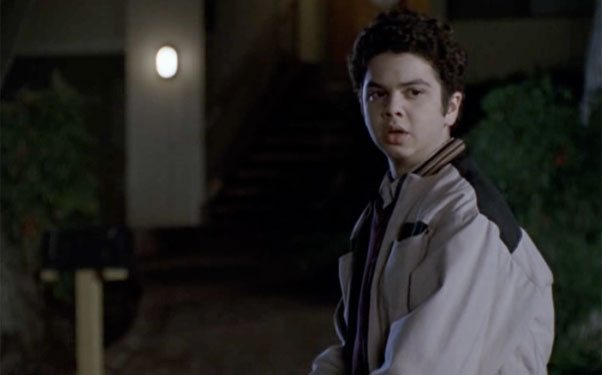 Posted by Alison Willmore on
"Freaks and Geeks" is now airing on IFC, and we thought we'd take this opportunity to revisit the show that launched a thousand bromance movies. Every week, Matt Singer and Alison Willmore will be offering their thoughts on that night's episode.
Episode 12
"The Garage Door"
Written by Gabe Sachs & Jeff Judah & Patty Lin
Directed by Bryan Gordon
"You'll never be friends. Maybe in, like, two years, but you're never really going to be friends again until Nick gets another girlfriend, and then you're just going to want him back, and then this whole thing's going to start over again." — Kim
Alison: Romantic concerns rule this episode of "Freaks & Geeks," which offers a spectrum of relationships starting, progressing and ending. There's Ken's crush on "tuba girl" Amy (Jessica Campbell, best known as Tammy "Who cares about this stupid election?" Metzler), there's Daniel's new turn-the-other-cheek strategy with Kim and there's Nick and Lindsay's simultaneous cold shouldering of one another, spurred on by diametrically opposed motivations. And in the midst of all these charming travails of the heart, there's the harrowing, hurtful tale of Sam accidentally discovering that Neal's dad, Dr. Vic Schweiber (Sam McMurray), is having an affair, a thread that ends with Neal riding his bike off into the evening by himself, determined to find the garage that matches the opener he discovered in his father's car, and with it, proof of his father's infidelity.
For once, it's the geek storyline that's filled with pathos, while the freak side shoulders the comedy (though there's genuine angst in Nick's quietly getting his heart broken for the second time by Lindsay at the Laser Dome). And while I know that "Freaks and Geeks" have never stinted on harsh realities, this instance feels harsher than most. Understanding that adults can be just as fallible, selfish and flawed as kids is a major signpost on the road to adulthood, and Sam and Neal are unwillingly hurtled past it in this episode (Bill, for all his naïveté, seems to have reached some form of that realization ages ago, possibly due to his home life).
Worse, it comes to them through Neal's jocular dad, who all three of the geeks adore — he's fun and funny, he likes the same things they do, like video games and "Saturday Night Live," he relates and can talk to them in a way that, say, Harold Weir can't, and he genuinely enjoys spending time with them. And the flipside of that openness can be seen in the funny-horrible scene in which Dr. Schweiber books Sam for an early check-up in order to grill him on what he thinks and what he's said about that department store rendezvous with "an old high school friend of mine… from high school."
After insisting to Sam that nothing happened between him and his mystery woman, Dr. Schweiber then rambles on about his midlife crisis, that "when you get older you get bored," that he didn't date many women before he met Neal's mother and that he just needs time to get his life in order. Yeowch. Sam, naturally, can't contribute much to this terribly lonely torrent of oversharing, as he's got a cheek retractor in his mouth.
Of course, romantically untried Sam and his friends wouldn't be able to relate anyway. When the geeks take a break from their bike tour of the neighborhood (set to the Cars' "Good Times Roll," though they most certainly are not) to discuss adultery, Sam points out "I don't even know how you even get one girl — how does anyone get two?" And eventually Sam and Bill have to go home, a act that looks disloyal only to Neal, who's still holding out for solid, soul-crushing proof of his father's dishonesty and infidelity — he needs to see it for himself.
As forlorn a spectacle as Neal's solo ride through the empty nighttime streets is, it's topped by Sam's crumpling in the face of the surprise gift of an Atari from his parents, something he would have jumped for joy about a few days ago, but that here reminds him of everything he's just witnessed and that prompts him to give Harold a teary hug. Sometimes it's not so bad to have uncool parents — sometimes you don't need to be understood, just loved.
But enough tragedy! Matt, what did you make of Seth Rogen's first big storyline in this series, and how charming was he playing unexpectedly smitten? And is there any better delivery of a line in this episode than his of "I feel odd"?
Matt:It's definitely the first true taste of Rogen's talent on "Freaks and Geeks." And it's definitely the proverbial soft and comforting Tootsie Roll center inside an otherwise hard and unforgiving Tootsie Roll Pop of an episode. It's difficult not to talk about tragedy this week, Alison, because there's just so much of it! I'll be honest, as "The Garage Door" built to its epic, multi-storyline crescendo to the sounds of Lynyrd Skynyrd's "Free Bird" (the song's structure mirrors the episode's) I got a little choked up. This is one sad, beautiful television show.
In a lot of ways, "The Garage Door" feels like a bleak addendum to the recent episode "The Diary." In that one, Mr. and Mrs. Weir freak out about the complacency comfortable suburban lives only to discover they like things that way. Jean feels unappreciated and uninspired, but Harold, in a heartfelt speech, restores her faith by professes his undying love for her and their pot roast lifestyle. By celebrating the Weirs and their relationship, that episode basically celebrated boredom.
But this week, when unfaithful Dr. Schweiber drops that word in his kvetching session to Sam — "When you get older, you get bored," he warns — the show acknowledges that the Weirs' contentment is rare. The melancholy of the Schweiber family storyline is amplified by the fact that it takes a rare "Freaks and Geeks" happy ending and retroactively darkens it.
Back to Ken's storyline for a moment. We do learn one tidbit about him that renders most of our pontificating from last week about his origins in the freaks and his tense relationship with Lindsay unlikely. When Daniel finds Ken spying on Amy practicing with the band, he's excited. "We've been waiting since third grade for you to like somebody!" he says. There goes our idea that Ken was the new guy in the group before Lindsay. Still, that doesn't change the fact that he is more well off than the rest of the freaks, which keeps our theory that he's worried about being replaced by Lindsay in play.
In my mind, there are two key lines in this episode, Alison, and you already touched on one of them: a bewildered Sam trying to come to grips with the concept of adultery by wondering how a guy lands one woman, let alone two. The other one is spoken by Nick in the midst of that emotionally devastating finale. Lindsay tells Nick that she doesn't want to get back together, and a crushed Nick has no choice but to play along. Pretty soon, the other two couples — Kim and Daniel, Amy and Ken — are tongue wrestling to Skynyrd, leaving Lindsay and Nick to stare awkward at the laser light show.
"I'd be lying if I didn't say this was painful," Nick says with a forced smile. There, in a nutshell, is the show's entire thesis: that the inherent state of being in high school, and most of life in general, is pain, and that to pretend otherwise is to lie. Most other teen dramas are fantasies: how we wished we looked, or what we wished we did. Paul Feig and Judd Apatow felt it was better to tell the truth and feel sad, than to invent a fantasy world of escapism and feel happy.
But — again — enough tragedy! Alison, less than a week after we devoted an entire podcast to infidelity in the movies, here's a whole episode of "Freaks and Geeks" about that very subject. How do you this show's representation of adultery compares with the conservative ones we felt dominated most American cinema? And who's got the better Shatner impression? Neal or Dr. Schweiber?