Revived and Derived: "Freaks and Geeks" Ep. 10, "The Diary"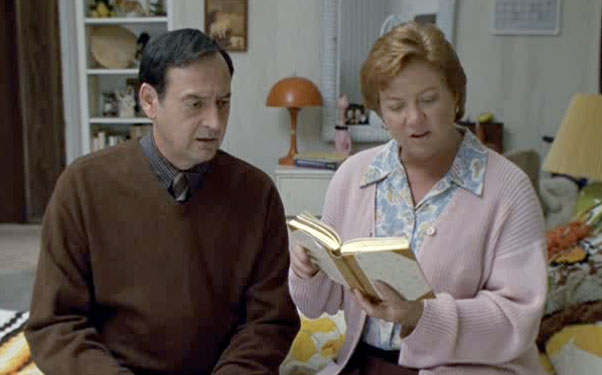 Posted by Alison Willmore on
"Freaks and Geeks" is now airing on IFC, and we thought we'd take this opportunity to revisit the show that launched a thousand bromance movies. Every week, Matt Singer and Alison Willmore will be offering their thoughts on that night's episode.
Episode 10
"The Diary"
Directed by Ken Olin
Written by Judd Apatow (story) & Rebecca Kirshner (story and teleplay)
"Who wants their kid to have sex and do drugs? Nobody." –Daniel
Alison: The search for identity and one's place is in the crowd is a central theme of "Freaks and Geeks," and in this episode, everyone's fighting to change how they're perceived and have been labeled by those around them. Lindsay wants her parents to see Kim as she sees her, as a fearless friend and not a sinister "bad banana" (and what's wrong with apples, I ask?). Kim needs Lindsay to think of her as someone worth standing up for, Jean's shaken by the revelation that her daughter believes her parents to be nothing more than repressed robots going through a routine. And all Bill desires is a chance at playing infield ("you know, I'm really shortstop," he tells Gordon Crisp), to prove that he might not be the hopelessly unathletic geek everyone assumes he is (not that he's particularly convinced he isn't, but he thinks he at least deserves a try).
We've been overdue a parental intervention into Lindsay's world from Mr. and Mrs. Weir, who've been comfortably raising decent, obedient children for long enough that they seem to have affected a willful blindness about the eldest's recent lifestyle choices. And funnily enough, after hosting a kegger, cheating on a test, accidentally egging her brother and flirting with losing her virginity to Nick — the show has a pattern of pulling back from the expected consequences — what Lindsay's caught at, what pushes things over the line in the eyes of her mom and dad, is practically innocuous.
She hitchhikes with Kim, whose car is, I'm guessing, in the shop, and so small is the town that the man who picks them up is one of her dad's customers. It's ends up being Kim's unpleasant mother (Ann Dowd) (last seen in "Kim Kelly Is My Friend"), rather than Kim herself, who unintentionally causes the Weirs to call an end to Lindsay's friendship with her daughter by performing a self-congratulatory ode to her own parenting skills when it comes to her alleged demon spawn on the world's tiniest violin.
The easy two-facedness of Kim's mom stands in contrast to Kim's own transparent vulnerability here. Her toughness, as scary as it can be, has become something Lindsay admires, while she's oblivious to the fact that her friend is actually hurt, and why. It's easy to say you don't care about what two adults you have no connection with think of you — it's far harder to take the fact that your friend, someone you've opened up to, might agree with their dismissive assessment of you.
My favorite part of the freaks storyline — beyond the classroom take-down of Jack Kerouac at the end, striking a blow on behalf of anyone who's ever had to listen to someone over-romanticize "On the Road" — is the walk in the park, which provides another reminder that Daniel is the most insightful character in this series underneath his James Dean act. His counter to Kim's endless complaints about the Weirs embodies the empathy "Freaks and Geeks" as a series usually demonstrates far more than any one character — it's the rare teenager who'd be able to see things from a protective parent's perspective and not just his own. It's nicely acted by Franco, and encapsulates the push and pull, and underlying fondness, of Daniel and Kim's tempestuous relationship.
Matt, the geeks side of this episode is a virtual parade of great Bill moments, bookended by those two music montages. While I love the crane shot that ends the first one, with Bill picked last for the team, it's the bit in the second one (set to the overture from "Rocky II"!) where Neal signals a pitch to Sam and Sam responds with a bewildered "what?!" that just kills me. What's your favorite of the two, and your take in general of the geeks' day in the sun?
Matt: "Day in the sun" is a good choice of words, Alison, because of the overwhelming brightness of those outdoor sequences. The sun's so strong in some of those scenes the characters literally have to shield their eyes to make out what's happening on the field. I haven't spent a lot of time in suburban Michigan, but the beautiful light raining down on Coach Fredericks' (Tom Wilson) gym class sure looks like golden California sunshine to me.
Both geek sequences — "geekquences"? — you mention are good, but I'll give the edge to the first one, where the geeks are chosen last to play softball, for a few reasons. First of all, the prevailing mood of the latter sequence, where Bill proves his merit as a shortstop (if not a scorekeeper), is triumphant, while, as we've affirmed week after week in this column, "Freaks and Geeks" is at its best when it mixes comedy and tragedy. That's what the first montage does so well. It manages to elevate Bill's hilariously small plight into an existential crisis of epic scope without ever removing tongue from cheek. Plus, episode director Ken Olin's choice to conclude that first scene with a sweeping crane shot that frames a devastated Martin Starr with the McKinley scoreboard and the words "STRIKE" and OUT," is visual storytelling of a caliber that just wasn't seen on broadcast television in 1999.
You're right on the money about this episode's predominant theme being the gulf between the way people want to be perceived and the way they are perceived by others. Most "Freaks and Geeks" episodes have stuff bubbling beneath their superficial storylines, but few go so deeply into a single idea and explore it through all of the show's different social structures, from freak to geek to parent to teacher. I particularly like the way the characters in "The Diary" upend those perceptions through their own actions: the freak acting like a geek (Kim attempts to engage with a class assignment), the geek acting like a freak (Bill makes prank phone calls to Coach Fredericks to protest the unfair softball teams), the hard-ass teacher who acts like a slob (Fredericks receives Bill's calls in his underwear, chowing on ice cream), and the straight-laced mom acting like a freak of a different sort (by getting it on with her husband for hours on end).
I know I've brought this up in our column before Alison, but if there's one thing about "Freaks and Geeks" that doesn't jive with my memory of watching the show for the first time a decade ago, it's just how minor a character Seth Rogen's Ken was on the show. Maybe it's the fact that he's gone on to the most high profile movie career of any of main cast (though Jason Segel's a close second) or the fact that he played a much more central role, acting as well as writing, on Judd Apatow's follow-up series "Undeclared," but I could have sworn Rogen was more crucial to "Freaks and Geeks." He'll start to come into focus more clearly as the series reaches his conclusion, but he's totally absent from three of the first nine episodes, and he's nowhere to be seen once again in "The Diary."
Meanwhile poor Busy Phillips plays arguably the third or fourth most important character in the series, and has appeared in every episode so far, but she only receives a lowly "Also Starring" credit. Alison why do you think Rogen's appearances are so sporadic? Were the writers just devoid of ideas for the character? Or could it be that they had so large a cast, with so many storylines to juggle, that poor Ken — who was always more of the comic relief than the focus, at least until "The Little Things" — someone had to sit on the bench once in a while?