The Coen Brothers at Their Quirky Best in 'Barton Fink'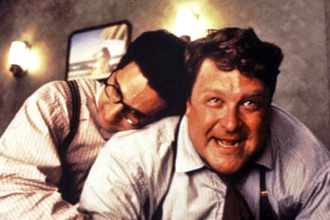 Posted by Melissa Locker on
When Joel and Ethan Coen (perhaps better known as the Coen Brothers) go dark and quirky, they go all the way. In their fourth film, 1994's Barton Fink, combines comic moments with pervasive anxiety and increasingly tense interactions between neurotic and (seemingly) normal characters. They top it all off with a horrific dramatic twist that will leave the audience scratching their heads, in a good way.
In 'Barton Fink', John Turturro stars as the title character, a screenwriter struggling with writer's block after being lured to 1940s Hollywood from a successful career on Broadway. He sits in his bleak room desperate to come up with something, anything, to say. Through his door comes a cavalcade of characters, including the straight-laced and jolly insurance salesman played by John Goodman. Also joining Barton in his seemingly increasingly small room, is a pesky mosquito and a package that may or may not contain a severed head. It's a story that could only come from the minds of the Coen Brothers and is far darker than any Twilight Zone episode.
The movie is a rarified piece of comedic yet horrifying filmmaking from the Coen Brothers, and while it is not as funny as "Raising Arizona" or as complexly morose as "Blood Simple", it is a triumph for the brothers and audience members alike.
Watch the trailer and then tune in at 6 p.m. ET tonight: