Ten Things We Learned From 'Freaks & Geeks'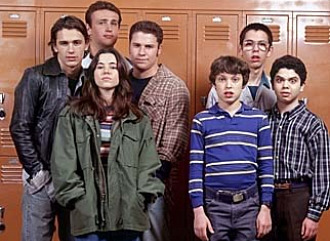 Posted by Melissa Locker on
It's Friday and in honor of that momentous day of the week, IFC has a marathon of Judd Apatow's painfully hilarious short-lived television showFreaks and Geeks. You're welcome. The proper show of gratitude is to quit your day job (or set your DVR) and settle in to watch back-to-back-to-back episodes of what is arguably the Best. Television. Show. Ever.
While we were sitting under the bleachers, …er, studying, we came up with a list of all the valuable lessons we've learned from Freaks and Geeks. Obviously we could expand upon this to include things like: James Franco always looks stoned hot. Even Busy Phillips can't make a puffy ski jacket look good. Not everyone can pull off feathered hair. Never borrow your parents' station wagon without asking. Martin Starr is a god. But we're underachievers so we just came up with ten.
Did we miss something? Watch the marathon and add your own lessons in the comments:
The Top Ten Lessons Learned from Freaks & Geeks:
1. Less is more when it comes to drum kits.
2. Never write an anonymous note on your Star Trek notebook paper.
3. Don't start celebrating after the first out in a softball game.
4. $5 may sound like a good price for sex, but you will regret it for the rest of your life.
5. Not every chicken is a petty-pet chicken.
6. There is no street in Benton Harbor named Benton Harbor Street.
7. Sometimes, not often, math is cool.
8. Don't trust a man who tries to sell you a light blue leisure suit.
9. Expect your parents to read your diary.
10. Just ask WWJBD? (What Would John Bonham Do?)
It may not be a lesson, but one thing we know from watching this show, being a geek is hard:
IFC's Freaks and Geeks marathon starts at 2:45 p.m. ET