Play a Round of Cameo Bingo with 'Tapeheads'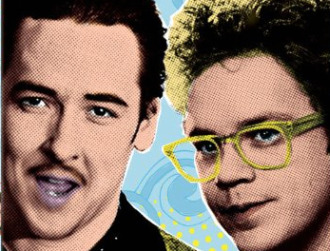 Posted by Melissa Locker on
Way back in 1988, John Cusack and Tim Robbins starred as two security guards with MTV dreams and a love of The Swanky Modes. They start making music videos in their spare time and their eventual success is marred by some light political intrigue. It's a fun movie for those who grew up in the era of MTV and the music that accompanies the film does not disappoint.
The soundtrack to Tapeheads was a roll call of rock acts of the era: Bo Diddley, King Cotton, the Dead Kennedys, and Devo all contributed to the film's soundtrack. Also on the soundtrack (although not the released version) was the song "Repave America" written and performed by conservative folk singer Bob Roberts (a.k.a. Tim Robbins). Four years later he would get his own movie released, Bob Roberts.
Adding to the fun of the film are a number of cameos from Very Important People in the music business in the late 80s. So we thought we would come up with a little game for you to play along at home. See if you can spot all five of these cameos while you watch Tapeheads. Get all five and yell "Cameo!" at the top of your lungs, your neighbors will love it.
"Weird Al" Yankovic, accordion enthusiast and satirical songster:
Martha Quinn, who was one of the very first MTV video jockeys:
Ted Nugent, who needs no explanation:
Jello Biafra, lead singer of iconic punk band The Dead Kennedys:
Courtney Love, lead singer of Hole. Hint: You may want to look for a slightly more shall we say, au natural version of Ms. Love:
Tapeheads airs on IFC at 3 p.m. ET