Steve Zahn's "Marshall" Plan, a Double Bill in Chelsea and More New DVDs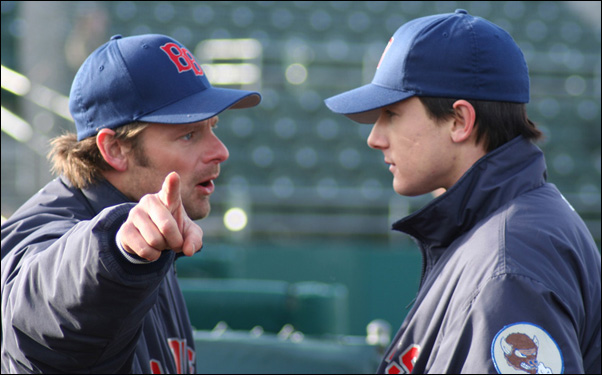 Posted by Stephen Saito on
A look at what's new on DVD today:
"Calvin Marshall" (2010)
Directed by Gary Lundgren
Released by Passion River
Steve Zahn exemplifies the adage those who can't do teach as a college baseball coach who never was quite good enough to make the majors who sees something of himself in an enthusiastic but unskilled player (Alex Frost) that he keeps on the team in writer/director Gary Lundgren's feature debut.
"Chelsea on the Rocks" (2009)
Directed by Abel Ferrara
Released by Hannover House
"Bad Lieutenant" director Ferrara compiles a biography of the famed Chelsea Hotel in New York through archival footage, reenactments and interviews with the many artists who have stayed there throughout the years from Milos Forman and R. Crumb to Ethan Hawke and Gaby Hoffman.
"Claang the Game" (2009)
Directed by Stefano Milla
Released by Triumphant Entertainment
A game of "Claang," a strategy-heavy match of wits, leads to a discussion between a duke and a humble traveler in ninth-century England about its historical origins in this epic action film from Italy.
"Eclipse Series 24: Actuality Dramas of Allan King"
Directed by Allan King
Released by Criterion Collection
One of Canada's most cherished filmmakers is getting some well-deserved exposure internationally with this Criterion Eclipse set of five of his humanist dramas and documentaries from the '60s, '70s and '00s: "Warrendale," "A Married Couple," "Come On Children" "Dying at Grace," and "Memory for Claire, Max, Ida and Company."
"The Experiment" (2010)
Directed by Paul Scheuring
Released by Sony Pictures Home Entertainment
"Prison Break" mastermind Scheuring probably thought a remake of Oliver Hirschbiegel's 2001 thriller "Das Experiment," which was inspired by the "Stanford Prison Experiment" pitting a group of regular joes against each other as inmates and guards, was a natural segueway into features. However, it's likely all didn't go according to plan since this Adrien Brody/Forest Whittaker starrer is headed straight to video. (Matt Singer's review is here.)
"The Films of Nikita Mikhalkov, Volume 1"
Directed by Nikita Mikhalkov
Released by Kino Video
Finally acknowledged in the U.S. with an Oscar for his 1994 drama "Burnt by the Sun," legendary Russian director Mikhalkov is receiving a retrospective of some of his greatest hits in this new boxed set from Kino that features 1976's "A Slave of Love," 1979's "Five Evenings," 1980's "Oblomov," 1984's "Without Witness" and of course, "Burnt by the Sun."
"I.C.U." (2009)
Directed by Aash Aaron
Released by Osiris Entertainment
Aaron puts a contemporary Australian spin on "Rear Window" with this thriller about three teens who believe they've stumbled onto a serial killer living next door to them in an apartment building, yet don't know that they are the ones being watched by someone via the building's many security cameras.
"Kandahar Break" (2009)
Directed by David Whitney
Released by Peach Arch
Hired by the Taliban to clear land mines in Afghanistan, a member of a British squadron goes rogue after falling in love with his interpreter, much to the chagrin of the local police chief who chases him across the border into Pakistan in this thriller.
"The Locksmith" (2010)
Directed by Brad and Todd Barnes
Released by First Look Studios
While fellow low-budget Sundance NEXT selections Drake Doremus' "Douchebag" and Katie Aselton's "The Freebie" are making their way into theaters in the next couple weeks, Brad and Todd Barnes' comedy that was the actual winner of the group will premiere on DVD. Back when it debuted in Park City, Alison Willmore called the film, starring Anslem Richardson as the titular locksmith who gets roped into helping out a woman (Ana Reeder) who suspects her boyfriend is cheating on her, "a slight but charming comedy that keeps undermining its own strenuously quirky set pieces with an overwhelming generosity towards its characters."
"Ondine" (2009)
Directed by Neil Jordan
Released by Magnolia Pictures
After directing the Jodie Foster revenge thriller "The Brave One," Neil Jordan delivers a fairy tale for adults with this drama starring Colin Farrell as an Irish fisherman who catches what his daughter believes to be a mythical selkie (Alicja Bacheda). (Interviews with Jordan and Farrell are here.)
"Racing Dreams" (2009)
Directed by Marshall Curry
Released by Hannover House
The latest from Oscar-nominated "Street Fight" director Marshall Curry won best documentary prizes at Tribeca and Jacksonville last year, which probably didn't especially impress the kids depicted in "Racing Dreams," three of the top go-kart racers in the country who are used to awards at ages 11-13. But Curry goes beyond the track to follow the rather extraordinary lives of Annabeth, Josh and Brandon, the trio of pre-teen drivers on the fast track to NASCAR who face roadblocks in the form of balancing school with racing, the cost of competing and in Brandon's case, a family situation that's ever evolving. After capturing 500 hours of footage, Curry captures one year in their lives. (An interview with Curry is here.)
"Robin Hood" (2010)
Directed by Ridley Scott
Released by Universal Pictures
Originally intended to be a radical reworking of the story told through the eyes of the Sheriff of Nottingham, this redo with Russell Crowe handling the bow and arrow opted for the familiar, with Cate Blanchett as a more forward-thinking Maid Marian. (Matt Zoller Seitz's review of the film is here.)
"The Secret in Their Eyes" (2009)
Directed by Juan José Campanella
Released by Sony Pictures Home Entertainment
After a sojourn in American television directing episodes of "Law & Order," among other shows, "Son of the Bride" director Campanella travels back to Argentina for this Oscar-nominated adaptation of Eduardo Sacheri's novel about a state prosecutor (Ricardo Darin) reflecting on a rape and murder investigation that occurred 25 years earlier for a book he's writing and discovers new evidence in the case as well as the spark of rekindling a romance with the judge in the case (Soledad Villamil). (Bilge Ebiri's review is here.)
"Stomp the Yard: Homecoming" (2010)
Directed by Rob Hardy
Released by Sony Pictures Home Entertainment
Hardy, an executive producer on the original "Stomp the Yard," moves into the director's chair and even brings back star Columbus Short to put in an appearance in this DTV sequel that sees another student with mad dance skills (Collins Pennie) trying to keep up with his classes as he gets ready for a major step competition.
"Stripped Naked" (2009)
Directed by Lee Demarbre
Released by Anchor Bay
A stripper (Sarah Allen) stumbles upon $90,000 lying next to three dead men after a drug deal goes awry and goes on the run in this thriller from the director of "Jesus Christ Vampire Hunter."
"Triple Dog" (2009)
Directed by Pascal Franchot
Released by Well Go USA
"Life Unexpected" star Brittany Robertson shows off her dark side in this sleepover gone horribly wrong when a group of high schoolers challenge each other to riskier dares during a popular girl's birthday party. Judging from the trailer, it's not PG-13.
"(Untitled)" (2009)
Directed by Jonathan Parker
Released by Screen Media Films
If last week was Duncan Ward's turn to send-up the British art scene with "Boogie Woogie," "Bartelby" director Parker takes his turn in the U.S. with this comedy starring Adam Goldberg as an eccentric composer who falls for a gallery owner (Marley Shelton) in Chelsea. Vinnie Jones, Eion Bailey and Lucy Punch round out the community around them.
"Vigilante" (1983)
Directed by William Lustig
Released by Blue Underground
Fred Williamson and Robert Forster team up in Lustig's sweaty thriller where the two factory workers attempt to take back the streets from the local gangs in New York on their own terms since the police don't seem interested in protecting their turf.
Also making their first appearance on Blu-ray: "American Beauty," "The Peacemaker"
[Additional Photos: "Burnt by the Sun," Sony Pictures Classics, 1994; "Ondine," Magnolia Pictures, 2010; "(Untitled)," Screen Media Films, 2009]