The Makers of "Stake Land" on Raising the Stakes of the Vampire Film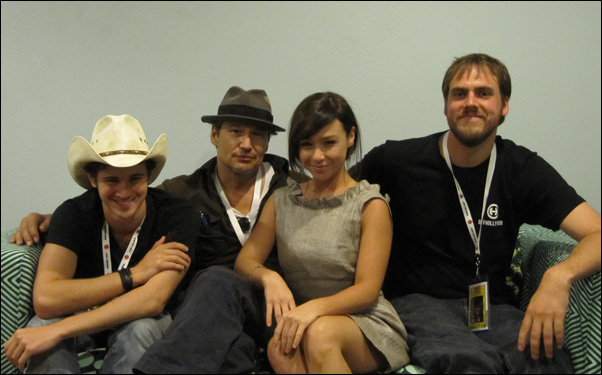 Posted by Stephen Saito on
It's been a wild week for the cast and crew of "Stake Land," who wasted no time after enjoying the triumph of winning the Midnight Madness Audience Award at this year's Toronto Film Festival to hopping on a plane to Fantastic Fest where they were greeted with similar applause during their premiere in Austin Saturday night. Such a quick turnaround might be considered an anomaly for the vampire film of late, an unusual take on the genre that's meant to be savored rather than devoured, a road movie set against the harsh backdrop of the bitter American northwest after a virus has turned much of the world into bloodsuckers.
Inspired by westerns like "The Searchers," director Jim Mickle and writer/star Nick Damici wanted to do some vast after last working together on the claustrophobic zombie flick "Mulberry Street" in 2006 and in fact, it would be easy to say they've raised the stakes with their latest film. Starring Damici and "Gossip Girl"'s Connor Paolo as a veteran vamp hunter and a newbie stake specialist, respectively, "Stake Land" follows the pair as they make their way towards New Eden (i.e. Canada), picking up fellow survivors Kelly McGillis, Danielle Harris and Sean Nelson along the way, and fending off the growing cult of The Brotherhood, a group of Bible-beating crazies led by a coolly seductive Michael Cerveris (Broadway's "Sweeney Todd").
While Mickle isn't hesitant about delivering the frights, he and Damici are also not shy about rethinking the way the world ends from the countless other films that have come before; different breeds and races of vampires may threaten to sink their teeth into the remaining humans, but that doesn't nearly compare with the sinking feeling of isolation and despair that pervades the country, which makes it all that much sweeter when the quintet of survivors find the occasional enclave of the living who take an extra bit of pleasure in the most mundane of things. (A rather ordinary house party, captured in a single take, is the setting for one of the film's most joyous and subsequently scary moments.)
After its Fantastic Fest debut, I got a chance to speak to Mickle, Damici, Paolo and Harris (who feels like a "proud mama" with two films in the fest, the other being Adam Green's "Hatchet II") who talked about "Stake Land"'s evolution into a feature, the influence of America's current political climate and making vampires scary again.
How did this idea start?
Jim Mickle: It started as a Web series and it was kind of out of frustration of not being able to get bigger movies made or financing for a couple of the things we were trying to do. At the time, we just moved and I didn't have a TV. I wanted to zone out and watch something online and looking for Web series, I realized that the Web series aren't very good. I haven't checked [back online] in a long time, but it felt like this is something to try to do. I talked to Nick and he sent me 10 pages of this thing that was just a killer read. Originally, it was like 12 webisodes and then it turned into 24 and at some point, [producer] Larry Fessenden came on and said, "You have a possibility to make a film here. What if we condensed all these together?" So it kind of spawned from that.
Nick, how do the goals change when you change from a series to a feature – I imagine there's more than just getting to points of closure.
ND: I took the best of what I really liked out of the Web series, the types of vampires, the general arc of the story and just put it into a new world basically and condensed it down into a script where we could more control the world. The Web series was set in a modern world. It wasn't an apocalyptic place. So that kind of changed everything.
Jim, I've heard you describe this as a "'Grapes of Wrath' with vampires." How much did the world outside affect what you wanted to do with this?
JM: A lot, because there was a point where the script was a fun sort of buddy road movie and then we were trying to find the glue that would connect all the stories and make it one. It was right around the time of the elections and Nick just disappeared for a weekend and said "I'm going to get all this to fit together." He came back with something that was completely different from what had come before, but held on to all the great moments that everyone liked. It had this glue of the world had crumbled and fallen apart, a little bit more holding up a mirror to what was going on at the time. The Tea Party wasn't around, I think, when we were beginning, but they were brewing.
ND: There was a lot of anti-Obama sentiment.
Connor Paolo: Brewing, heh. [laughs]
Connor and Danielle, you're both known for playing roles that are usually a little more pronounced. Was it interesting to hit different beats than you normally have to play?
Danielle Harris: Yeah, the hardest thing for an actor to do is leave themselves alone and you really don't have a choice, so I'm amazed when I see the film — I would leave every day, going I don't feel like I did anything today. And then you watch it and you're like, there's actually so much that I've realized here.
As characters, as people, we built our relationships together because we were uncomfortable outdoors and freezing, working late and really having to trust each other as people and getting to know each other. I think you see those relationships grow throughout when you watch the movie because they were actually developing when we were filming, so I think it comes across that way.
During the post-screening Q & A, you said you actually took an unusual break in between filming during the spring and the winter. Did knowing what you had in the can during the first half help shape what you did in the second?
ND: Just what you said. We did have that leisure – it was very good. We could step away for a few months and really be able to look at some of the stuff we'd done and then retool the second half to really get it to where we saw it was organically going, which may not have agreed with where we had planned to go, but it was where it should go, so it allowed us to do that whereas if we had just pushed through the shoot, it would've been much more as the original script was.
DH: It was a blessing at that time.
JM: Yeah, these guys get to know each other. When you do a movie, it's like this weird, intense thing and it's a life-changing experience. Then you walk away from it and it's like you kind of forget about it. But this time, you can do the intense thing and walk away from it and come back with all the same people and get to do it all over again, only now there's a chemistry. Everyone has a feel for stuff and you can hit the ground running without starting from scratch again.
Was it actually easier for you as actors to pick it back up?
CP: Nick and I never left it really because, as you see in the film, we have our own type of martial arts that we do and we trained for that almost daily, so I was very much with him during the off-times and as a result, kept things very alive in my mind. It sounds small, but even something as simple as growing my hair out just kept [things going]. As an actor, you do a film and you always look back and go, "I could've done this" and the nice thing about this hiatus was any of the things that you felt you kind of had a shortcoming in the first half, you're like now I know what I want to hit with this character.