Sofia Coppola's "Somewhere" Wins Venice, Draws Controversy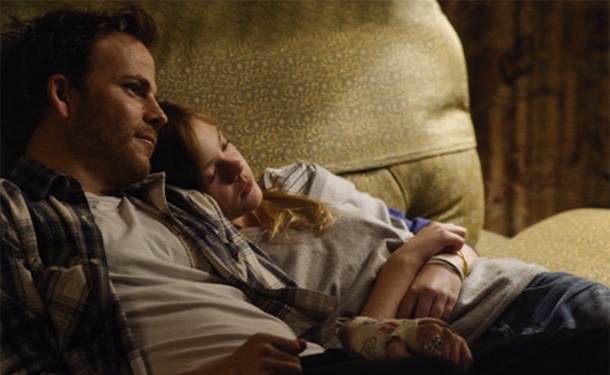 Posted by Matt Singer on
Top prize at this year's Venice Film Festival went to Sofia Coppola for her film "Somewhere," a film about a washed-up actor (played by Stephen Dorff) getting to know his 11-year-old daughter (basically it's "I'm Still Here," only less fictionalized). But somewhere in the Italian press, a controversy quickly began brewing over Coppola's victory. The reason? The Venice jury was headed by Quentin Tarantino, who once dated Coppola.
The Hollywood Reporter quotes Paolo Mereghetti, film critic of Italy's largest newpaper, as saying "The presidency of Quentin Tarantino runs the risk of turning into the most obvious conflict of interest possible if you remember that 'Somewhere' and 'Road to Nowhere' were charming and interesting in their own ways, but nothing more than that." "Road to Nowhere," by the way, is a new film from Monte Hellman, who directed the car chase classic (and "Death Proof" inspiration) "Two Lane Blacktop." Hellman, a mentor of Tarantino, received a special prize from the Venice jury "for overall work."
Do I think Tarantino was "playing favorites" with the award for Hellman? Probably. But so what? He invented a career achievement award and gave it to him. The Coppola accusation is far more serious, but also far less likely. I don't know the state of Tarantino's current relationship with Coppola and I haven't seen "Somewhere." But the mere description sounds like something up Tarantino's alley in two big ways: a sad story of the Los Angeles underbelly (which describes every movie Tarantino made before "Death Proof") and a faded star reclamation project for Dorff. Throw in some shots of women's feet and Tarantino could have directed it himself. If he hadn't had a relationship with its director, and he'd given the prize to "Somewhere" anyway, would we accuse him of liking it simply because it seemed like a movie he would make?
No, because that's the guy's taste. And if you don't want Quentin Tarantino to give prizes to movies that fit his taste, don't put him in a position to give out prizes to movies that fit his taste. Tarantino was announced as the head of the Venice jury on May 6, at the same time both Coppola and Hellman were announced as early members of the festival's lineup. If the films weren't worthy of consideration, or if there was concern on the part of the festival about a potential conflict of interest, they shouldn't have been invited.
And why put all the blame on Tarantino? It wasn't the QT Film Festival. He didn't pick the films and he didn't have the only vote. He was the head of a seven member jury, including composer Danny Elfman and director Arnaud Desplechin. Do they all have personal relationships with Coppola? Should we accuse them of trying to get on the Coppola wine comp list?
With respect to Mr. Mereghetti, the decisions of Tarantino's jury, like the decisions of all juries at all festivals, are subjective. If they'd selected Mereghetti's favorite film as the best feature, a "Somewhere" fan could have just as easily accused Tarantino of snubbing it because an ex-girlfriend he doesn't get along with had made it. It was a no-win situation for him, and, unfortunately, for Coppola, who now has a proverbial asterisk branded into her Golden Lion.
For a full list of winners from Venice, go to the festival's official website.