Smackdown: 'American Psycho' vs. 'Wall Street 2'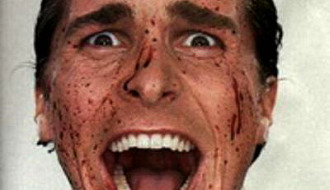 Posted by Melissa Locker on
Quick: Who would you rather be stuck in an elevator with Patrick Bateman or Gordon Gekko?
Totally Gordon Gekko, right? Less likely to put an axe in your head is definitely a pro when considering elevator companions. But once you start thinking about it, you realize that Gordon Gekko might try to convince you that mortgage-backed securities weren't that bad, that Bruno Magli loafers are classic style, that toxic assets just suffer from bad PR, getting all "Greed is Good", and claiming that Bernard Madoff was just sloppy and if you slip him your life savings he'll definitely make sure you're a millionaire before your retire at 90. Suddenly, Elevator B sounds pretty doable. I mean, Patrick Bateman couldn't get an axe or nail gun past security anyway, probably. Hopefully. Maybe you should just stay out of elevators for awhile.
Oliver Stone's Wall Street 2: Money Never Sleeps is the much delayed sequel to his smash hit of greed gone wild, the more succinctly-named Wall Street. Michael Douglas starred as the money-grubbing Gordon Gekko who would do anything for a stock tip and screw anyone for a buck. Wall Street 2 finds him softened after spending 20 years in jail for his considerable albeit financial crimes. Patrick Bateman is not soft. Not at all. And his crimes are not financial. He stems from Bret Easton Ellis' novel American Psycho, where he lives and breathes Wall Street, but releases his stress with ice masks, exercise, and, oh yeah, brutally murdering people.
Both charming characters, for sure. Now an elevator ride is pretty short, so who would you rather spend two hours with? A confirmed psycho with good hygiene or a man who fleeced America and made grandma eat cat food during her dotage? Analyze the trailers and compare the characters for yourself. But, before you answer, remember that American Psycho is airing for free tonight on IFC at 11:15 p.m. ET. You can use your savings to short sell some yogurt or something.
Here's Christian Bale in American Psycho:
Here's Michael Douglas (and, fine, Shia LaBoeuf) in Wall Street 2: Money Never Sleeps:
American Psycho airs on IFC at 11:15 p.m. ET; Wall Street 2: Money Never Sleeps will cost you $12 at your local movie theater.