Scandinavian Interiors: "Corridor" and "Fatso," Reviewed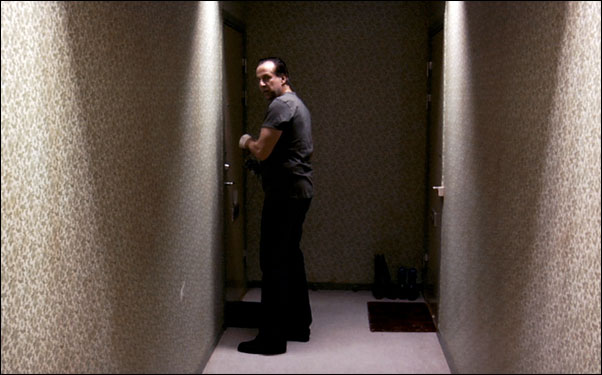 Posted by Alison Willmore on
Reviewed at Fantastic Fest 2010.
The lonely men of the Swedish "Corridor" and the Norwegian "Fatso" have a lot in common. They live by themselves, they're uncomfortable with other people, they like to eat in front of their TVs, and their solitary lives are disrupted by flaky, outgoing girls who drive them nuts with their loud lovemaking and demands for interaction.
The woman in "Corridor" (written and directed by the Johans Lundborg and Storm) is Lotte (Ylva Gallon), a hairdresser who corrals her downstairs neighbor Frank (Emil Johnsen) into first helping her move desk, then in loaning her some laundry detergent, then in shifting her boyfriend Micke's (Peter Stormare) motorcycle. Micke has some anger issues, and Frank, an anal-retentive med student who would rather spend all of his time studying, finds the addition of Lotte and her lover to the building begins to really get in the way of his work. "Corridor" doesn't offer anything groundbreaking in the world of claustrophobic dark comedies, but it makes thorough use of its setting, a building with pairs of apartments set in cluttered hallways coming off a spiral staircase, and thin walls and creaking floors that telegraph every approach.
Frank's not entirely together, it's soon clear, though we see everything from his paranoid, sleep-deprived point of view. Even before he starts to obsess that Micke's done something to Lotte and will soon come for him, Frank is unable to tolerate others — he hates that the neighbor's kid leaves her scooter by his door, he doesn't socialize with his classmates, he curt with the elderly woman who manages the building. It's to "Corridor"'s benefit that there's no explanation given for what's made him so uptight (beyond the hint of high family expectations), and that the film maintains its dry sense of humor throughout. A scene where Micke puts chewing gum over Frank's peephole, leaving him unable to see whether the coast is clear, speaks more to urban isolation than a thousand scenes of forlorn dinners. Unwilling to move from where he's holding the door shut, Frank calls everyone in his phone, attempting to get someone to agree to come over and help him. No one will. It's late, the buses have stopped running.
Arild Fröhlich's "Fatso" could also be described as a dark comedy, though the route it ends up taking is softer than that of "Corridor." Rino (Nils Jørgen Kaalstad), its hero, is an overweight compulsive masturbator who lives alone in a spacious apartment still decorated the way his grandmother kept it when she was alive. He has one friend, a dirty-talking, hard-drinking, chain-smoking asthmatic named Fillip (Kyrre Hellum), and he divides the rest of his time between his job of translating manuals for machinery from German to Norwegian, porn and drawing a comic book about his sexual frustration and self-loathing, in which he appears as a portly rhinoceros.
In walks Malin (Josefin Ljungman), a pretty, waifish 20-something waitress from Sweden who's trying to get her life back in order, to not drink so much, or do drugs, or get involved with disastrous men. Rino's parents rent her a room in his apartment, and awkward antics ensue. You'd imagine, in a Hollywood movie, this story would climax with Rino and Malin getting together and helping each other get over their problems. "Fatso" doesn't. It climaxes with a scene of self-mutilation — huzzah! "Fatso" doges most of the usual lovable loser cliches by having its main character be, much of the time, genuinely repellent and self aware enough to know it, and by insisting on honestly in the changes he tries to make in his life. Rino's problems are not going to be solved by a manic pixie deus ex machina girl — he can only begin to approach them by deciding he actually want to engage with humanity again, instead of giving up and shutting himself inside for good.
"Corridor" and "Fatso" do not currently have US distribution.
[Additional photo: "Fatso," Paradox Spillefilm A/S, 2008]