Ryan Reynolds and Rodrigo Cortés Make "Buried" Come Alive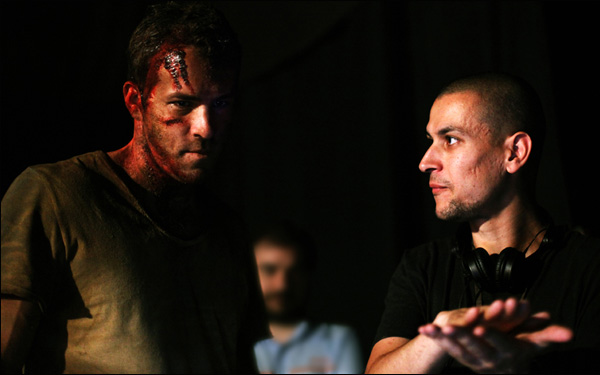 Posted by Stephen Saito on
There were exactly seven coffins used for the making of "Buried," each of which served a particular purpose for director Rodrigo Cortés in telling the story of Paul Conroy, a truck driver in Iraq who is left with three bars on his cell phone's battery, a lighter, a pen and the slow trickle of sand into the wooden tomb he's been locked inside. Each coffin inspired a different name, including the one that Cortés called "the Joker."
"There was nothing funny about it," a deadpan Ryan Reynolds replied at Fantastic Fest about the one that closed on all six sides that was reserved for the final day of shooting. Reynolds said he crossed the days off his calendar "like a kid waiting for summer break," made playlists for his iPod labeled "Paul Conroy Must Die," and waited 15 minutes after every scene for someone to free him from the box he was locked inside. Reynolds said in front of a packed house at the Paramount Theater, "It was a lot like dental surgery if the dentist went in through the penis."
In interviews, Reynolds has had no shortage of negative quips to describe the experience of making "Buried," which has been matched only by the plethora of positive adjectives that critics have used to describe his performance since the film first played in Sundance. As Conroy, Reynolds is able to show off his dramatic chops as well as his devilish grin every now and then as a low-level driver for a defense contractor running up against the scourge of bureaucracy within his own company, the U.S. government and even the hierarchy at home as he attempts to loose himself from the worst fate imaginable. Fantastic Fest co-founder Tim League described the film as his favorite horror film of the year in his introduction — and added, "And I see a lot of horror movies."
The day after "Buried" premiered in Austin, Reynolds and Cortés spoke of the film's arduous shoot, how to make one of the world's smallest sets seem big and the dedication of four fans who watched "Buried" while buried themselves in advance of Fantastic Fest.
Usually, I start out by asking about the challenges of a movie, but since those are obvious, was there anything easy about this shoot?
Rodrigo Cortés: Working with [Ryan]. It was extremely easy, extremely easy from the very first moment. He didn't want to see the takes. He didn't want me to show him the storyboards. He told me, "From my nails to my hair," he simply said, "I will give you my last drop of blood," which I took literally. So it was amazing. It's like a gift.
Ryan Reynolds: I have to echo that. For me, the easiest part was Rodrigo felt like he'd been living with this script for a decade and I found out, much to my disbelief, that he had only had it for a few months before we had met. Every question I had at the beginning was answered, so once we got to the physical production, I just said, "Look, I trust you. If you see something that you think sucks, just tell me. Don't candycoat anything. Let's just go for it. We'll do this together. We trust each other and I'm Thelma, you're Louise. Let's lock pinkies and drive off the cliff together."
RC: Oh yeah, you said that! I remember that. [laughs]
Was there a specific moment when you knew you could trust the other guy?
RR: You meet a lot of people in this industry and you get to be a character study pretty quickly, I think, and our lunch, we just kind of met each other and I just looked into his eyes and I thought, "Oh, I know this guy." I mean, I know this guy in a sense that he's a guy that I'll go to war with. I would trust this guy with everything and I feel like if I'm in his capable hands, I'm going to be fine. That's something that was pervasive throughout all of shooting.
That's something that happens very, very rarely because he didn't really come in with any other agenda than for this movie to be honest in these moments and not cheat and there's a real temptation in a movie like this to cheat – to do something to alleviate this tension, to do something outside of the box, to do something that is more traditional and I just felt like I was working with this Sam Peckinpah-type gunslinger.
RC: Actually, everything started in that meeting. I mean, he didn't even come with his entourage, the typical Hollywood shit. He came totally alone with his motorbike helmet under his elbow. That's how it started. And it was so easy with him from the first moment and I remember he said, "I love shooting fast." [looks suspiciously at Reynolds] You said it! And I said be careful what you wish because… [both laugh]
RR: Yeah…that's true. I shot one other movie called "The Nines," which was done in 19 days. This was shot in 17 days, this was the fastest I've ever shot.
You got to shoot "The Nines" in the comfort of writer/director John August's house, though. Here, you're working in Spain, which I think is one of your first shoots outside of North America. Did that add to the isolation of the character?
RR: Yeah, that sense of isolation helped. We shot in Barcelona and Barcelona's such a beautiful city. It's gorgeous, but I really saw none of it while I was there. We were so immersed in what we were doing. But very few people on the crew spoke English – Rodrigo, the exception, and I came there alone. I didn't have anyone with me and it was, at the time, very difficult and that difficulty only served to help our little experiment. In the end, I look at it like the spoils of war, but at the time, I was in a minor version of hell.
Of course, being in the box poses the major challenge as an actor, but did having such a direct relationship with the camera and doing your own lighting change your approach to the role?
RR: No, it was just so intimate that you kind of forget all that stuff. You forget that you're shooting a film and I certainly would assume that's one of the aspects of the movie that audiences are gravitating toward is that it feels very voyeuristic. It feels like we're watching something we shouldn't be watching, and I feel like that when I see the movie. I think God, this is vulnerable. I'm really letting an audience in, and I suppose that's my job, of course, but it's easier said than done. When you actually see it, it's a bit nervewracking because it feels like this is film that somebody stole somewhere and is now showing to audiences. That's what [Rodrigo] created in that scenario. That soundstage was a very intimate place.