Ryan Kwanten and Patrick Hughes' Bloody Road to "Red Hill"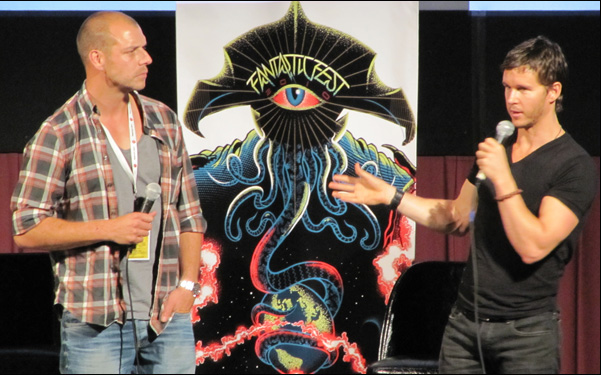 Posted by Stephen Saito on
Even before the opening credits run before "Red Hill," there's something mildly amusing about how Patrick Hughes named the couple at the center of his contemporary western Shane and Alice Cooper, the former an admitted nod to westerns past (Gary Cooper) and the latter a possibly inadvertent reference to something more rock 'n' roll. Ultimately, Hughes' film is a bit of both, set against the backdrop of a once prosperous gold rush town that has fallen into disrepair when a young cop (Ryan Kwanten) and his pregnant wife (Claire van der Boom) resettle from the city to raise their soon-to-be-born child. But Officer Cooper's first day patrolling the country roads is as pressure-filled as when he was minding the streets when a convicted murderer escapes and seeks revenge on the men who arrested him.
"It's like a prequel to Eastwood and Wayne," Kwanten said during the post-screening Q & A of the film of his character Cooper, a rookie who is tasked with covering the ominously named Skins Creek Road as an afterthought by his commander Old Bill (Steve Bisley). While Cooper's new squadron barely takes the new guy seriously, "Red Hill" itself is the real deal, a mashup of eras that sees fit to score an old fashioned bar shootout with Stevie Wright's tubthumping "Black Eyed Bruiser" from a nearby jukebox and illustrates the slow death of a town that time has simply passed by.
After years of directing commercials, Hughes had a similar fear of opportunity passing him by after trying to get a feature into production for years. Calling in favors from his commercials crew and shooting on the unused reel ends from bigger productions such as "Fast & Furious" (meaning the occasional stoppage of a scene just to replace the film in the camera), Hughes put up his own money to make "Red Hill" and developed the film as his wife was pregnant, which contributes to the resonance of our hero's struggle to make it out alive for the birth of his son. Following the film's premiere at Fantastic Fest, he and Kwanten sat down to talk about the "True Blood" star's first Aussie production in eight years, Hughes' plans for a trilogy and why fake blood makes Kwanten feel like a man.
What was strong enough about this that you decided it was going to be the first feature?
Patrick Hughes: I sat down and said I'm just going to write something I know I can shoot in four weeks with little money, but I felt like at the same time that I wanted to write something that would have impact. All any filmmaker wants to do is try and get noticed and get into the system and tell a story at the end of the day that you want to go and see. I felt like I wanted to go and see a movie like this, but no one's kind of made one. So I thought it was a bit fresh in that sense that it was a modern take on it.
Ryan, when you hear Patrick has literally bet the house on this movie, what makes you want to join in?
Ryan Kwanten: His madness. [both laugh] Because I think you have to have a chromosome missing to want to be a part of this business and I think you have to have two chromosomes missing to want to be a part of this film.
PH: [laughs] And three if you want to put up your house.
RK: Right. [laughs] I thought if this guy is willing to go to these lengths, he must believe in it. His script already made me a believer and then after speaking to him, I was more than ready to sign on. And he kept telling me in the conversation, this is going to be a tough shoot – very much appealing to me anyway. I wasn't after an easy shoot. And it was tough, but it was certainly memorable and I felt like it was a very worthwhile journey.