Romain Duris, A "Heartbreaker" At Last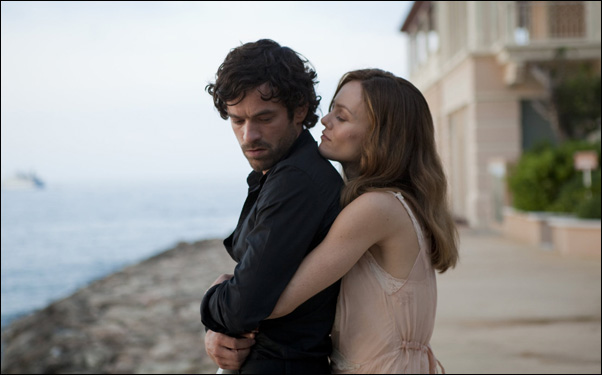 Posted by Stephen Saito on
Despite a wicked grin and a thicket of curls that makes the ladies swoon, Romain Duris has mostly avoided being cast in the role he was ready made for, so obvious it's the title of his latest film "Heartbreaker." Yet while it is a rare romantic comedy role for star better known for dramas such as "Paris" and "The Beat My Heart Skipped," it is a film that makes good use of Duris' status as one of France's most versatile actors. In it, he masquerades as a gospel singer, a construction worker, a Benihana chef, and a skyscraper window washer, among other guises, to infiltrate the lives of women in bad relationships, at the behest of their exes, friends and immediate family and bust them free to find love elsewhere. But even with two crack sidekicks ("Micmacs"' Julie Ferrier and François Damiens) at his command to find vulnerabilities to play upon, Duris' lothario Alex meets his match in Juliette, an engaged auctioneer (Vanessa Paradis) whose only flaws to exploit are a love of '80s American pop culture staples like "Dirty Dancing" and Wham!
An devotee of Ernst Lubitsch and Billy Wilder, not to mention the more recent "Notting Hill," Duris has done the genre proud in director Pascal Chaumeil's feature debut, a frothy screwball comedy by way of "Mission: Impossible." To mark the occasion, the actor recently flew across the Atlantic to be honored with a mini-career retrospective at the BAMcinématek in New York before making his way to the Toronto Film Festival in a week for the premiere of "The Big Picture," a drama in which he stars as a lawyer with a perfect life until a tragedy causes him to give it all up. During a short detour in Los Angeles, Duris spoke about both films, good times in Brazil and why he loves to cry.
You just got back from New York — is it strange having a career retrospective when you're so young?
It's an honor, but of course, it's strange for me to try to feel how people think about you when I'm here. I'm always surprised when I meet people who watch my movies. I'm like, wow, because it's far — L.A. and New York, so each time someone on the street or in bars recognize me and tell me [they notice me] from my films, I'm very, very moved because it's great because cinema is like that, it's free and it's traveling.
In regards to this film, both you and Vanessa are both better known for your dramatic work. Did that bring something to doing a romantic comedy?
I did the same work, the same research for the character I do when it's more dramatic. For me, I have no rules, no method, but I thought the same way for a drama as this comedy.
Still, Alex's closing move with women is to cry, which I hear was what appealed to you about the role.
Yes, I really loved this part of the character because to be honest, it reminds me of my beginnings when I had to cry in movies. I was like Alex, like this (wincing off to the side) and trying physically to make a strange face that would bring me some tears because I didn't have any method, so it was funny.
In order to win over Juliette in the film, you have to sing "Wake Up Before You Go Go" and learn Patrick Swayze's whole dance number for "I've Had the Time of My Life." Were you self-conscious singing and dancing in front of Vanessa who has such history as a pop star?
Yes! [laughs] It was intimidating, but I love to dance and I loved the challenge — and I like Vanessa, and she loves to dance too, so I wanted to be at the same level. It was challenging and I worked a lot for the dance to make it fluid.
Were you a fan of "Dirty Dancing" before the film?
No, actually I didn't see the movie before, but I like this kind of films from the '80s from the U.S. because there's a taste, a flavor that you can't find now. It's more a tenderness for these kind of movies.
You've talked before about how hard it is to find financing to make more difficult films in France. Did that contribute to wanting to make something a little lighter and are you getting more active in trying to get films made?
No, I think it's still difficult and it's getting more and more difficult to find money to do interesting movies and we can see that also with "Heartbreaker." It was difficult to find money for the producer to make it, so I don't know if [my] name… yes, I receive a lot of scripts. I'm lucky to choose, but I don't know if it helps.
Since we're in the U.S., I was wondering about your experience on "Afterwards," which was your first starring role in an English-language film. How was it for you?
It was great. Actually, the locations were crazy — to shoot in New York, Manhattan, Brooklyn, for a little Frenchman like me, it was a dream. So that was very strong and to play with John Malkovich also was a very important thing. And yes, to play in English was interesting for me because it was new and once again challenging and it's not the same rhythm as in French, so I had the pleasure to feel emotions and to react in English — it was great here.
Meanwhile, you're going to Toronto — are you excited about the premiere of "The Big Picture"?
We didn't show the film to other people, so Toronto will be the real first premiere. I'm very curious about what the audience is going to think because I like the movie. The movie is more a thriller — it's very different than "Heartbreaker."
You've been to lots and lots of film festivals at this point — do you have a favorite experience?
In Tokyo, it's crazy because the country is crazy. [laughs] What I like in festivals is even if you are doing a lot of interviews, you have the opportunity to travel and [be amongst] people and go out at night and feel the town. I have very good memories in Tokyo.
In Brazil, it was crazy because I did a festival in Brazil and I met someone who was working in the festival and he offered me the key to his house in front of the beach, so I spent ten days in his house! Obviously, I keep more human sensation than just interviews and how people react — I like to feel more how the people live there and the countries that I don't have the opportunity to go [to otherwise].
Are you enjoying the reception for "Heartbreaker"?
Yeah, it's crazy – to travel with a film is crazy, because yes, it's true, we discuss with people who don't have the same culture and who don't speak the same language and it's very interesting to see what they feel and sometimes it's surprised me a lot. That's the very great point of the cinema.
"Heartbreaker" opens in New York and Los Angeles on September 10th.