"Rambo 101" at Fantastic Fest 2009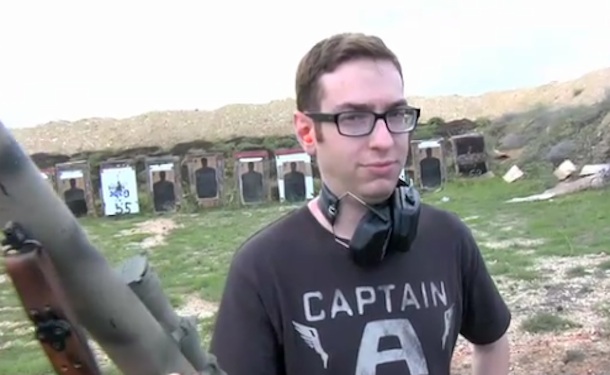 Posted by Matt Singer on
As a general rule, I avoid any and all situations where filmmakers and film critics hang out in one place in the presence of many automatic weapons. Too much can go wrong. But I had a hunch that "Rambo 101" at last year's Fantastic Fest was going to be cool. Austin, the home of Fantastic Fest, is such a laid back town. And Fantastic Fest itself, a celebration of all that is weird, wild, and wonderful about movies, is a pretty laid back festival. No velvet ropes, no impossible-to-get-into parties, it's basically a week long hang with great films and beer with occasional breaks for sleep and slow-cooked pork. Nobody, I reasoned, would want to shoot anyone at Fantastic Fest. Everyone's having too much fun to get mad.
And so one morning last September I joined a very enthusiastic group of directors, writers, and plain old film lovers (along with Fantastic Fest co-founder Tim League) and trekked out to a gun range about an hour outside of Austin to shoot a cache of weapons so enormous it would have made Col. John Matrix weep manly tears of joy. M-16s. AK-47s. Glocks. Shotguns. Basically every gun under the sun and the kitchen sink. And then I think some guys blew up the kitchen sink with a bazooka.
Technically, I was only tagging along as the day's unofficial videographer. But someone was nice enough to donate some of their ammo to me, so I got to shoot a little myself. The experience was thrilling and more than a little scary. The weapon you'll see me firing in the video below had a laser sight that made aiming ridiculously easy. I have PS3 games that are more difficult to operate than this very real, very deadly weapon. That really put things in perspective for me. And then I think some guys blew up my perspective with a bazooka.
One moment were especially memorable. And by memorable, I mean pants-wettingly terrifying. It was a warning from the security company who was providing the weapons and showing the Fantastic Fest crew how to properly and safely use them. "It may look small," the instructor said about an automatic pistol. "But this gun shoots faster than most of the rifles we have here today. And if you're not holding it carefully it can fly out of your hand, pinwheel, and shoot back at you." Before that moment, I never knew it was possible to do a spit-take without drinking.
Luckily, there were no incidents and the whole team, myself included, had a terrific time. Naturally; it's Fantastic Fest. Below is a short highlight reel from the trip. Now would be the appropriate time to put on your protective eyewear and headphones.