Pop Star Rihanna Makes Her Acting Debut in "Battleship"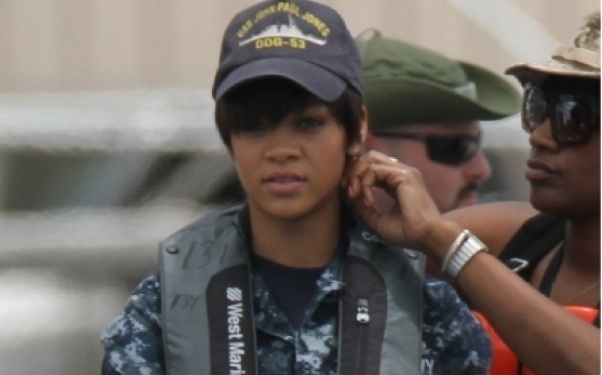 Posted by Brandon Kim on
What's most baffling about this movie, "Battleship," is not that someone decided to turn a Milton Bradley board game into a movie, or that the movie seems to have nothing to do with the board game (hello super lame brand recognition marketing scheme). Nor is it that they are taking until 2012 and $200 million to do it. It's that this is the movie that Rihanna decides to enter into acting with.
The cast is boggling at best with many relative unknowns in this budget heavy naval action movie that's about an alien invasion getting fought off at sea. Some of the cast come from the show "Friday Night Lights," created by Peter Berg — who is directing this movie. There are a few names I'm familiar with, Taylor Kitsch who played Gambit in "X-Men Origins: Wolverine" will be one of the leads. "True Blood's" Alexander Skarsgård plays his brother.
Then there's Tom Arnold, who I guess will be the comic relief. Photo's appeared the other day of Rihanna in naval costume, you can be the judge. If I knew this movie would keep her from making more repetitively annoying billboard pop hits, I'd put money for my ticket down now — and be happy to gorge on popcorn for a mere 2 hours on May 18, 2012 when this finally comes out. But at the risk of underestimating teenage boys a the box office, something tells me I might be the only one in the theater.