Notes from Fantastic Fest's Opening Night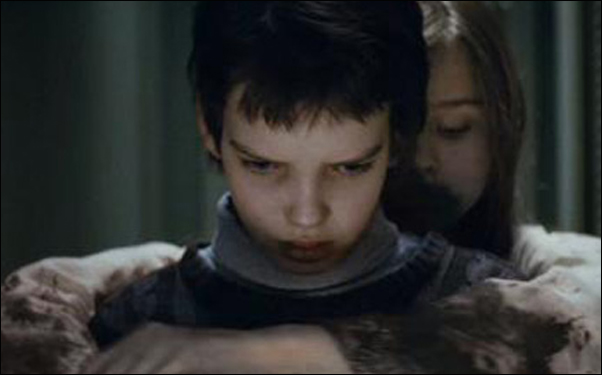 Posted by Stephen Saito on
If there was a more rousing way to kick off Fantastic Fest than bringing in the Texas Boy Choir to set the ominous mood for the opening night film "Let Me In," Tim League will figure it out for next year. The choir only came out after the P.T. Barnum-esque Fantastic Fest co-founder stripped down from a suit and tie to viking wear to celebrate the festival's Norwegian sidebar, brought out "Agnosia" director Eugenio Mira to serenade with Happy Birthday (It's his 33rd, just like Jesus, League noted, to which Mira got on his knee and said "I love you") and got the audience to down a test tube of "green blood" while taking an oath from a schlocky 1970s trailer.
Still, it was the choir that brought down the house, singing Michael Giacchino's brilliant score before raising the curtain on "Let Me In," which proved equally triumphant. (Matt Singer's review is here.) And to think, it was a score Giacchino was leery of writing, as he told the audience during the post-premiere Q & A, simply because he's afraid of blood. "It was terrifying because I'm not good with horror films," said Giacchino, adding that he usually looked away when watching the gory bits of the film, but wanted to do it because of the challenge as well as his friendship with Reeves.
As it turns out, the "Lost" composer was an easier musical get for Reeves than the jingle for Now & Laters, the candy that plays a key role in "Let Me In," serving as part of the bond between Kodi Smit-McPhee's lonely latchkey kid Owen and Chloe Moretz's vampire Abby. "It's kind of a rogue candy," said Reeves of the hardened sweets and their rights holders, which he tracked down only a day before shooting to use the catchy tune.
Reeves wouldn't reveal how he filmed "Let Me In"'s car crash scene, which in fact is far more harrowing than the original film's, not using a single cut. But when asked by someone in the audience why you never see Owen's mother, he made the intriguing reference to Wong Kar Wai's "In the Mood for Love" (one that went over well with the discerning cinephiles in Austin as Reeves described the fleeting glances of the film's two lovers) as showing the emotional distance between Owen and his divorced parents.
League, who moderated the Q & A as well as introducing the film, refused to let the audience go until someone asked a question of Elias Koteas, who plays the local cop investigating the recent murders around town. It turned out to be of little use — it was Koteas' first time seeing the film and after acknowledging that he wanted to do the film after identifying with Owen's childhood, with a lump in his throat, he admitted he was blown away by what he'd just seen. "I'm standing here just trying to keep it all together."
[Additional photos: The Texas Boys Choir with S. Bryan Priddy; Matt Reeves, Elias Koteas and Michael Giacchino on the Paramount stage; Stephen Saito/IFC.com]