Nine Women That Will Rule This Year's Toronto Film Festival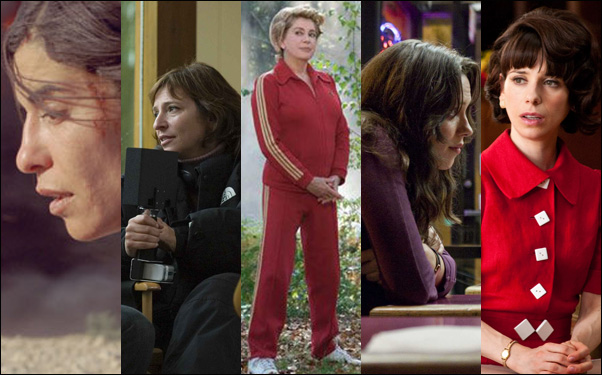 Posted by Stephen Saito on
The Toronto Film Festival starts today and throughout the festival, we'll be providing updates, interviews and reviews, but in scrolling through the massive schedule — 300-plus films in 11 days — there's a noticeable case of gender inequality. Yes, following rave reception in Telluride, a new king is expected to be crowned with a stuttering Colin Firth in the British historical dramedy "The King's Speech," while James Franco appears to have capped off a year of ubiquity with Danny Boyle's latest "127 Hours," which recounts the harrowing survival of rock climber Aron Ralston during five excruciating days in which his arm was stuck under a boulder. (On a less serious note, or too serious perhaps, "I'm Still Here" star Joaquin Phoenix and Vincent Gallo, who is in Canada with not one but two new films, should bring as much attention as they do the crazy.)
However, judging by many of this year's most anticipated titles, this year's festival threatens to be taken over by a group of very prodigious ladies. Up-and-comers Juno Temple ("Dirty Girl," "Kaboom"), Kate Mara ("127 Hours," "Peep World") and Emma Roberts ("It's Kind of a Funny Story," "What's Wrong With Virginia") each could have their own double bills alone, but it is mostly a group of veterans in their prime who look ready to make the most impact. While we'll be writing at length about some of these films further in the days to come, here's a primer on which women to watch out for.
Lubna Azabal
If the true mark of a great actress is not knowing her identity until well after the end credits roll, Azabal certainly fits the bill. Born in Brussels, but of Moroccan descent, Azabal might be remembered best for her role in 2006's Palestinean drama "Paradise Now," yet it's likely one won't realize the same person appears in the British drama "I Am Slave" and French-Canadian helmer Denis Villeneuve's highly touted multi-stranded "Incendies." Using her distinctive cultural background to slide seamlessly between roles as a cold Arab slave owner in contemporary England in "I Am Slave" and the stoic heroine who braves the hardships of war in "Incendies," Azabal speaks minimally in both films, yet says volumes with mere glances.
Susanne Bier
While American productions have fumbled in translating the Danish director's "Brothers" (made last year under the auspices of Jim Sheridan) and "Open Hearts" (which has languished in development since Zach Braff took a shine to it years ago), Bier returns to her native country after her own foray into Hollywood with "Things We Lost in the Fire" for "In a Better World." Once again collaborating with "Brothers" screenwriter Anders Thomas Jensen, Bier tells the story of a friendship between two 10-year-old boys who bring their families together and could pull them apart in response to a violent incident. The film was preemptively was picked up by Sony Classics, though it won't hit theaters until 2011, giving Toronto audiences a head start.
Catherine Deneuve
The legendary French actress is never ever out of style, but she'll be particularly in vogue in Toronto where she will be featured in "Potiche," "8 Women" director Francois Ozon's return to farce that promises a reunion with "Changing Times" co-star Gerard Depardieu and a chance to take charge as a long-neglected trophy wife who proves she can run her husband's company while he's said to be taken hostage by some striking workers. Deneuve will also appear with "Heartbreaker" star Romain Duris in "The Big Picture," a drama about a successful attorney who has to reinvent his entire persona when tragedy strikes, offering a show of range perhaps on par with Deneuve's glorious 1967 of "Belle de Jour" and "The Young Girls of Rochefort."
Rebecca Hall
Since last year's Toronto premiere of "Dorian Gray," Hall has had a pretty spectacular 2010, first making the most of one of her juiciest roles to date in Nicole Holofcener's "Please Give" and now returns to the festival with a pair of films that have her holding her own against the likes of Jon Hamm, Ben Affleck and Will Ferrell. In "The Town," Hall co-stars as a bank teller who finds herself drawn to both the FBI investigator (Hamm) and his target, one of the men responsible for robbing her bank (Affleck), while she helps bring out Will Ferrell's more dramatic side in "Everything Must Go," the directorial debut of commercial director Dan Rush based on the Raymond Carver short story "Why Don't You Dance?" about a man who loses his job and his wife on the same day and decides to set up shop on his lawn for a pity party. Hall plays his pregnant neighbor who could inspire him out of his stupor (or vice versa), something the actress may be doing quite a bit of during the fest as a whole.
Sally Hawkins
The "Happy Go Lucky" star will be nearly everywhere you look in Toronto, likely to inspire the most talk with her turn in "Made in Dagenham," in which she plays an unlikely crusader for equal pay for women during the 1960s as Rita O'Grady, a "Norma Rae"-esque rabblerouser at a Ford plant in the UK. However, equal attention should be paid to Hawkins' other two films at the festival: "Never Let Me Go," in which she has a pivotal turn not unlike her haunting appearance in last year's "An Education," and the Ben Stiller-produced coming-of-age comedy "Submarine," which has sleeper potential written all over it as the feature directorial debut of Richard Ayoade, a star of "The IT Crowd." Hawkins plays the mother of a 15-year-old who spends the summer trying to keep her from having an affair with her capoeira instructor while trying to lose his virginity to an eccentric classmate.