Nick Cave Gets Ornery When Asked Boring Questions, No One Knows How Grinderman Created That Sound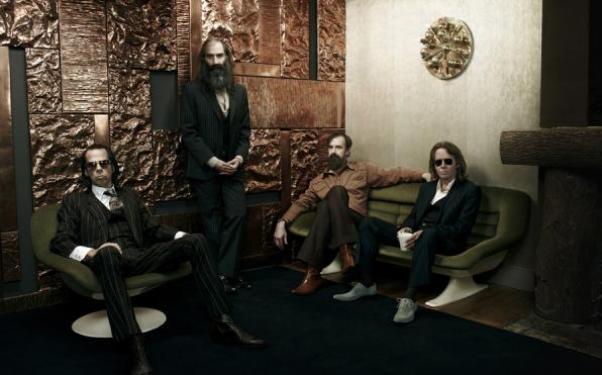 Posted by Brandon Kim on
It's a good thing someone was recording when Grinderman loosed their music on the world because the band either can't remember how they made some of it. In particular, there is some transmission from the mind of bandmate Warren Ellis at the beginning of the song "Heathen Child" that no one can decipher. Here's that (in "Super Heathen Child" version) if you are not yet familiar:
Grinderman – Super Heathen Child (with Robert Fripp) by MuteRecords
"Warren doesn't know," Nick Cave said in an interview with EW. "We got Robert Fripp, the guitarist from King Crimson, to come and do an extended version of 'Heathen Child,' and he did a guitar solo at the end. But Robert Fripp said, 'What is that at the start? What is that sound? It's fantastic.' I said, 'I don't know,' and rang up Warren and asked him. He said, 'I don't know either.' He doesn't write it down."
Incredible, it's so far out not even the band can fathom where it originally came from now. The interview degraded a bit after that when they strayed from Cave's favorite topics. "Chicks. Death. Love," you can almost feel him shrugging, what else is there? "The same stuff that I think I've been going on about from the start, really."
But the interviewer pressed him on tedious touring and album release questions to which he started "expansively yawning." When his heavily bearded bandmate, Jim Sclavunos, cut in and asked Cave if he needed some coffee, he replied, "No. Right, what's the next question?" Then aimed at the interviewer, "The last three questions you could have fucking Googled, mate."
I wasn't all a complete stand off from there though, we learn that Cave would probably not want to play his Bad Seeds song "(Are You) The One That I've Been Waiting For?" at Russell Brand and Katy Perry's wedding. And that he likes fucking with people. "I quite like the unsuspecting lyric, or line. You're sitting listening to a song and it's going along and suddenly there's that, 'Fuck, did he just say that?' kind of thing."
You don't want to rouse the Wolfman. Or do you?