Need Help Making a Poor Decision? Now, There's an App For That.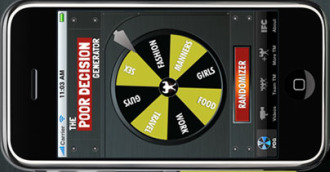 Posted by Melissa Locker on
Todd Margaret has made some, shall we say, increasingly poor decisions in his lifetime. There's the cat, the girlfriend, the Thundermuscle, and the whole I-grew-up-in-England thing. Not sure what we're referring to? Go watch the premiere episode online right now. If you aspire to be more like Todd Margaret but tend to make good decisions, tell the truth, and opt for excellent life choices, we are here to help.
To help you make your Poor Decisions in life, IFC has launched its first-ever iPhone application. For your consideration we present The Todd Margaret Poor Decisions Generator. It is available via Apple's
App Store and on ifc.com.
Unlike a lot of poor decisions in life, the Poor Decisions App won't cost you anything: Not money, dignity, or the respect of your in laws. Simply download the free app and start making Poor Decisions about guys, girls, sex, work, food, travel, fashion and manners. Not sure what category your Poor Decision falls into? Don't worry, there's a "Randomizer" button, which provides a list of things to say and do to make things awkward for yourself and everyone around you. Want to make sure your friends know what an ass you made of yourself? You can share your Poor Decisions with friends on Facebook.
For further Poor Decision inspiration, watch this woman who made the Poor Decision to dye her hair to match her cat:
And this cop just trying to do his job, but making a Poor Decision about a guy's anatomy:
Check out the Poor Decision to announce the wrong winner by this judge on Australia's Next Top Model:
Or this ad agency's Poor Decision:
Want to make Poor Decisions like these characters? Of course you do! Download your Poor Decision app now. When it comes to Poor Decisions, IFC is here to help.