"Mortal Kombat" and "Prince of Persia" HD Collections Coming Soon?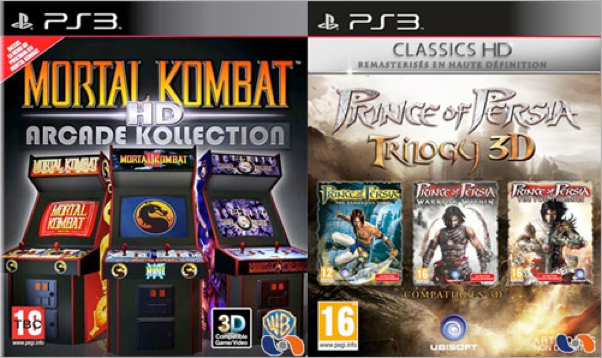 Posted by Evan Narcisse on
French video game site JeuxVideo has apparently outed two remastered compilations of games from the last console generations. Barely a week after Sony confirmed that shinier versions of "ICO" and "Shadow of the Colossus" would be coming to the PS3, signs of up-rezzed anthologies for "Prince of Persia" and "Mortal Kombat" have spotted. The set for "MK" would include "Mortal Kombat," "Mortal Kombat II" and "Ultimate Mortal Kombat 3" while "Prince of Persia: The Sands of Time," "Prince of Persia: The Warrior Within" and "Prince of Persia: The Two Thrones" would be offered in enhanced form on the other set.
Also, the report says that a demo of the all-new, upcoming Mortal Kombat reboot will be playable in the boxed set and that the better-looking Prince of Persia games would be playable in 3D. The Ubisoft Montreal studio that made the tie-in game for James Cameron's Avatar–the first to use stereoscopic 3D in a major game release–also made all of the "PoP" games, so that lends a little credence to the rumor. And ever since the remastered re-release of the first two "God of War" games earned Sony some easy backcatalog dollars and primed the audience for "God of War III" at the same time, companies with lots of past titles under their belts have been looking to try out the same strategy. I, for one, endorse this line of thinking since it could make a lot of great games made for older machines available again in shinier form. The games will allegedly be out by November in Europe, with no word of a North American release.