Thin Red Lines, Black Metal and More New DVDs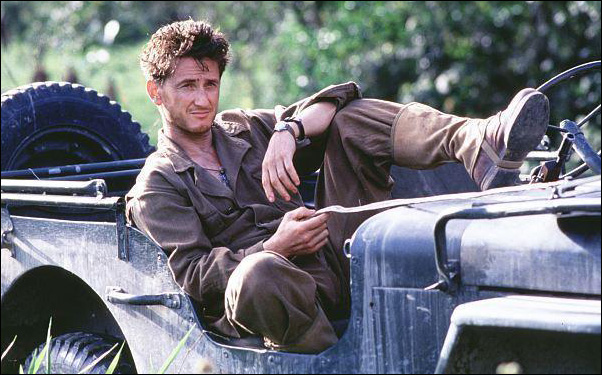 Posted by Stephen Saito on
A look at what's new on DVD today:
"The Thin Red Line" (1998)
Directed by Terrence Malick
Released by Criterion Collection
No, you won't be getting the hours of deleted Adrien Brody or George Clooney footage from Malick's World War II epic, but this Criterion version is most certainly an upgrade from the previous bare-bones DVD edition with 14 minutes of outtakes, new interviews with Sean Penn and composer Hans Zimmer, among others from the cast and crew, an audio commentary with cinematographer John Toll, production designer Jack Fisk and producer Grant Hill and more.
"7 Days" (2010)
Directed by Daniel Grou
Released by MPI Home Video
French Canadian horror author Patrick Senécal adapts his own novel to celluloid about a doctor (Claude Legault) who intercepts the man (Remy Girard) who raped and murdered his young daughter and turns the tables on him in a cabin in the woods. With a résumé including TV series like "Vampire High," Daniel Grou, known in some circles by the nickname Podz, seems like the right man for the directing gig, making his feature debut here.
"Babies" (2010)
Directed by Thomas Balmes
Released by Focus Features
French filmmaker Balmès' globetrotting documentary follows the development of four infants in four separate countries. From the womb to the first time they stand upright, the film shows toddlers from Namibia, Tokyo, San Francisco and Mongolia during their first few months of life.
"Carcasses" (2009)
Directed by Denis Côté
Released by Vanguard Cinema
A selection of the Cannes Directors' Fortnight in 2009, Canadian helmer Côté blends fiction and nonfiction to tell the story of Jean-Paul Colmor, the owner of a junkyard for used cars in Quebec who takes in four teens afflicted with Down syndrome.
"Cat City" (2008)
Directed by Brent Huff
Released by MTI Home Video
Julian Sands, Rebecca Pidgeon and Brian Dennehy star in this thriller about a hotshot real estate developer whose affair with his wife's law partner spirals out to affect a shady business deal the two have plotted, ultimately leading to murder and mayhem.
"Chasing 3000" (2008)
Directed by Gregory Lanesey
Released by Maya Entertainment
Set in the 1970s, Trevor Morgan and Rory Culkin star as brothers who hit the road with the hopes of seeing Roberto Clemente notch his 3000th hit for the Pittsburgh Pirates, a journey that takes on a more noble purpose when Culkin's Roger starts to succumb to muscular dystrophy. Ray Liotta and Lauren Holly co-star in this coming-of-age drama.
"Coco Chanel & Igor Stravinsky" (2010)
Directed by Jan Kounen
Released by Sony Pictures Home Entertainment
Now available to be enjoyed as the second half of a double feature with last year's Audrey Tatou starrer "Coco Before Chanel," Sony Pictures Classics' other acquisition concerning the French fashion designer stars Anna Mouglalis as Chanel on the eve of the great success of her famed fragrance Chanel No. 5 as she indulges in a torrid love affair with Igor Stravinsky (Mads Mikkelsen), whose career is on the wane, after the death of her lover Boy Capel. (Aaron Hillis' interview with Mikkelsen is here.)
Fangoria Frightfest
The legendary horror fan magazine is breaking into the branding distribution business (a la After Dark) with a collection of frightening flicks that were festival staples in recent years including the Jeffrey Combs haunted house thriller "Dark House", the simply titled "Pig Hunt" from "Skinwalkers" director Jim Isaac, the psychological drama "Hunger", the Michael Madsen-starrer "The Tomb", the Spanish drama "The Haunting", the Australian rampage thriller "Road Kill", and the Keri Russell-Thomas Kretschmann truth-based "Grimm Love".
"Frozen" (2010)
Directed by Adam Green
Released by Anchor Bay Films
With "Hatchet 2" about to hit theaters, Green's other 2010 horror film is already hitting DVD, telling the story of three friends whose ski vacation turns into a nightmare when they become stranded on a chairlift.
"Gangster's Paradise: Jerusalema" (2010)
Directed by Ralph Ziman
Released by Anchor Bay Films
Writer/director Ralph Ziman uses South Africa as the setting for the "Scarface"-like tale of two teens in Johannesburg who rise through the criminal underworld to escape the life in the slums. (Bruce Bennett's review of the film is here.)
"Get Him to the Greek" (2010)
Directed by Nicholas Stoller
Released by Universal Home Entertainment
Russell Brand's debaucherous rocker Aldous Snow gets his own film with this "Forgetting Sarah Marshall" spinoff from writer/director Nicholas Stoller that sees Snow as the unwilling charge of Jonah Hill's lowly music company intern, who must accompany the rocker from London to Los Angeles in 72 hours.
"The Girl From Cortina" (1994)
Directed by Maurizio Vanni and Isabel Russinova
Released by Mya/Ryko Distribution
Vanessa Gravina stars as a frightened young woman who comes back home to escape the literal and figurative ghosts of her past, only to find that some horrors she hasn't been able to leave behind.
"Good" (2008)
Directed by Vicente Amorim
Released by National Entertainment Media
Long delayed on DVD because of the legal woes of its now-bankrupt distributor ThinkFilm, this World War II-set drama stars Viggo Mortensen as a literature professor who finds himself caught up in the Nazi party. Jason Isaacs and Jodie Whittaker co-star. (Aaron Hillis' interview with Mortensen is here.)
"Harlow" (1965)
Directed by Gordon Douglas
Released by Olive Films
Carroll Baker stars in this biopic of the 1930s blonde bombshell Jean Harlow, co-starring Peter Lawford, Red Buttons and Angela Lansbury.
"The Haunting Cinema of Frantisek Vlacil"
Directed by Frantisek Vlacil
Released by Facets Multimedia
Czech filmmaker Vlacil gets a double feature of his humanist dramas, 1970's "Adelheid," about a soldier's affair with his servant, and 1960's "The White Dove," about a young boy who nurses a pigeon back to health.
"Helen" (2008)
Directed by Joe Lawlor and Christine Molloy
Released by Vanguard Cinema
A vet of Telluride and Thessaloniki Film Festivals, this British drama centers on an 18-year-old woman whose role as a stand-in for a police investigation into a local murder leads to soul searching in her own life after realizing the victim had the life she never got a chance at as an orphan.
"I Want Your Girl" (2009)
Directed by Miks Ozolins
Released by Osiris Entertainment
"Indecent Proposal" done up country style, Lochlyn Munro stars in this comedy about a man who is offered $1 million to leave his significant other with a farmer (Robert Pike Daniel) after they're stranded by a thunderstorm on his land.
"I'm Gonna Explode" (2008)
Directed by Gerardo Naranjo
Released by MPI Home Video
Brought to you by producers Diego Luna and Gael Garcia Bernal, Naranjo's unusual romantic drama sees two teens hit the road after serving detention for a talent show prank to free themselves from a world in which they feel like misfits.
"The Iron Bodyguard" (1973)
Directed by Chang Cheh
Released by Media Blasters
Another kung fu epic to emerge from the Shaw Brothers vault, "Iron Bodyguard" follows a rebellious security guard (Chen Kuan Tai) who fights on behalf of the criminals he believes have been wronged during the Ching Dynasty.
"Iron Man 2" (2010)
Directed by Jon Favreau
Released by Paramount Pictures
Robert Downey Jr. reprises his turn as Tony Stark in the Jon Favreau's follow-up to the 2008 superhero extravaganza that firmly believes the more the merrier with the addition of Sam Rockwell's Justin Hammer, Scarlett Johansson's Black Widow and Mickey Rourke's Whiplash into the mix. (Matt Zoller Seitz's review for the film is here.)
"The Kid: Camacho" (2009)
Directed by Miguel Necoechea
Released by Maya Entertainment
Martin Sheen stars in this boxing drama about an estranged father and son (Kirk Harris) who make up for lost time by training a younger fighter (Alex Perea). Who else but Michael Madsen co-stars in this film from Miguel Necoechea.
"Knock on Wood" (1953)
Directed by Norman Panama
Released by Olive Films
Olive Films dusts off this Paramount comedy that stars Danny Kaye as a ventriloquist whose puppet gets jealous when his fiancée enters the picture, a problem that snowballs into international intrigue when the puppet's maker turns out to be a spy who hides secret documents in the ventriloquist's suitcase on his trip to Zurich.