Michael Madsen Learns to Be, Zoe Kazan Explodes, and More New on DVD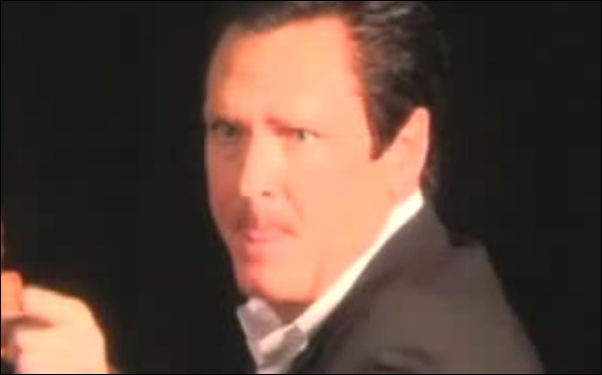 Posted by Stephen Saito on
"Being Michael Madsen" (2010)
Directed by Michael Mongillo
Released by Midnight Releasing
While not as distinguished or meta as "Being John Malkovich," expect this mockumentary about the "Reservoir Dogs" star to be equally surreal as Madsen recruits sister Virginia and "Kill Bill" co-stars Daryl Hannah and the late David Carradine to co-star in this film that sees him accused of murder. Rather than sit idly by, Madsen turns the table on the paparazzi photographer fueling the allegations by hiring a trio of filmmakers to follow his every move.
"Beneath Clouds" (2002)
Directed by Ivan Sen
Released by Cinema Epoch
This Australian drama stars Dannielle Hall and the late Damian Pitt as Lena and Vaughn, a pair of strangers thrown together by circumstance to travel across the country to Sydney where Lena hopes to learn more about her long-absent father and Vaughn hope to leave behind his criminal past and see his ailing mother.
"Blood Into Wine" (2010)
Directed by Ryan Page and Christopher Pomerenke
Released by Dreamy Draw Releasing
Drinking was likely a part of the touring lifestyle of Tool frontman Maynard Keenan, but here he turns it into an artform in this celeb-filled doc about the vineyards he co-owns with Eric Glomski in Arizona. Patton Oswalt, Milla Jovovich, and Bob Odenkirk come by for a sip.
"By the Will of Genghis Khan" (2010)
Directed by Andrei Borissov
Released by MTI Home Video
For fans of "Mongol," this Russian-produced epic offers another take on the life of the famed conqueror as he expanded his empire across Asia and Eastern Europe during the 10th and 11th century.
"A Call Girl" (2009)
Directed by Damjan Kozole
Released by Film Movement
A festival favorite from Rotterdam and Toronto, Kozole's drama follows a Slovenian prostitute trying to make ends meet for her college tuition when a member of the European Parliament dies on her during a date and brings unwanted attention and notoriety her way.
"The Exploding Girl" (2009)
Directed by Bradley Rust Gray
Released by Oscilloscope Laboratories
Winner of a Best Actress prize when it premiered at last year's Tribeca, the fast-rising Kazan gets her first lead in Gray's Brooklyn-based character study of an epileptic college student who finds it hard to keep her emotions in check when she starts to have romantic feelings towards her longtime friend (Rendall) even as she's still involved with another man who's largely ignoring her. (Alison Willmore's review is here and Aaron Hillis' interview with Kazan is here.)
"The Fixer: The Taking of Ajmal Naqshbandi" (2009)
Directed by Ian Olds
Released by Passion River
"Occupation: Dreamland" documentarian Olds earned an Emmy nomination for this chronicle of Naqshbandi, a middle man in Afghanistan for foreign journalists looking to make contacts and connections for their stories who was abducted with Italian reporter Daniele Mastrogiacomo by the Taliban and killed when their demands were not met.
"Growth" (2009)
Directed by Gabriel Cowan
Released by Anchor Bay
Perhaps a nice double bill option for Vincenzo Natali's "Splice," this horror flick stars Mircea Monroe as a woman who lost her mother to a scientific experiment on an island during the 1980s where residents were exposed to a parasite that improved their strength and awareness, but had terrible consequences down the road. Twenty years later, she returns to the island with her half-brother where she learns the worst is yet to come.
"John Rabe" (2009)
Directed by Florian Gallenberger
Released by Strand Releasing
A big winner at the German Film Awards where the historical drama picked up seven nominations (including a rare one for the American Steve Buscemi) and took home best film, "John Rabe" features "North Face" star Ulrich Tukur as a businessman who saved the lives of 200,000 Chinese by using his Nazi Party connections to create a safety zone for those fleeing Asia during the rape of Nanking in 1937. Buscemi plays an American physician who reluctantly helps Rabe with medical care for the refugees while "Inglourious Basterds" star Daniel Brühl plays a Jewish diplomat who inspires Rabe to create a safety zone.
"Killers" (2010)
Directed by Robert Luketic
Released by Lionsgate
Dismissed by some as a "Mr. and Mrs. Smith"-lite (by the few critics that saw it), the comedy part of this action comedy stems from the fact that only Ashton Kutcher is an assassin while his new bride Katherine Heigl is blissfully unaware until their neighbors come over one day to kill them. Hilarity ensues.
"The Loss of a Teardrop Diamond" (2009)
Directed by Jodie Markell
Released by Screen Media Films
Memphis-born actress Markell takes on another Tennessee with her feature directorial debut, an adaptation of Tennessee Williams' unproduced screenplay from the late '50s about a rebellious heiress (Howard) who defies the rules of her Southern high society circle by taking the son of her father's caretaker (Evans) as her escort during the social season, but what started as a financial arrangement between the two flourishes into something more. (Alonso Duralde's review is here.)
"MacGruber" (2010)
Directed by Jorma Taccone
Released by Rogue Pictures
This "SNL" spinoff film, itself a takeoff of master handyman "MacGuyver," didn't exactly set the world ablaze when it came out theatrically this summer, but Will Forte, Kirsten Wiig and Ryan Phillippe still got to blow a lot of shit up in the course of making this raucous comedy that pit MacGruber against his toughest foe to date, Dieter von Cunth (Val Kilmer). (Also check out Matt Zoller Seitz's review, my review from SXSW and an interview with the cast.)
"Solitary Man" (2010)
Directed by Brian Koppelman and David Levien
Released by Anchor Bay
Last seen playing the ultimate scuzzy playboy in "Ghosts of Girlfriends Past," Michael Douglas stars as an all-too fallible used car dealership titan whose life falls apart when his bad business dealings come back to haunt him and he begins to lose his touch as a ladies' man, pushing away both his recently divorced ex-wife (Susan Sarandon) and daughter (Jenna Fischer) as he settles into a relationship with a well-connected younger woman (Mary-Louise Parker). "Ocean's Thirteen" and "The Girlfriend Experience scribes Koppelman and Levien return for their first foray behind the camera since 2001's "Knockaround Guys." (My interview with Koppelman and Levien is here.)
"Sorry, Thanks" (2009)
Directed by Dia Sokol
Released by Cinema Epoch
Wiley Wiggins, Andrew Bujalski and Kenya Miles star as twentysomethings adrift in San Francisco in Bujalski cohort Sokol's feature directorial debut. When the film premiered at SXSW in 2009, Alison Willmore wrote, "'Sorry, Thanks' is filled with the expected and somewhat tiresome semi-whimsical digressions…but [Sokol] is in touch with another emotion that'll be familiar to anyone who's watched similar films: the desire to give everyone on screen a good shake and suggest that they are actually well into their adult lives."
"That Evening Sun" (2009)
Directed by Scott Teems
Released by Image Entertainment
Teems' directorial debut was the hit of SXSW when it premiered in Austin, with many buzzing about the performance of 82-year-old Hal Holbrook as a Tennessee farmer who returns from an unpleasant stay at a nursing home to his farm and finds that his son (Walton Goggins) has leased the land to a ne'er do well (Ray McKinnon) who is trying to get his life together. (Aaron Hillis' interview with Holbrook is here.)
Also making their first appearance on Blu-ray: "Forbidden Planet," Tim Burton's "Mars Attacks," Robert Altman's "The Player," "Rising Sun," Matthew Vaughn's adaptation of Neil Gaiman's "Stardust," George Lucas' "THX-1138"
[Additional photos: "The Exploding Girl," Oscilloscope Laboratories, 2009; "The Loss of a Teardrop Diamond," Paladin Films, 2009; "Sorry, Thanks," IFC Films, 2009]